GU Hires Jim Simon as Director of Sustainability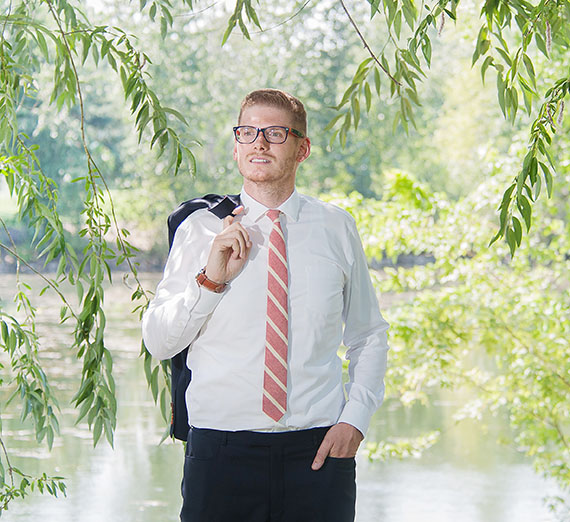 ---
Gonzaga News Service
SPOKANE, Wash. — In further recognition of its commitment to ecologically sensitive and sustainable practices, Gonzaga University has hired Jim Simon to serve as its first director of sustainability. Simon started his duties Aug. 1. Most recently, he served as the sustainability engagement coordinator at University at Buffalo.
"I am excited to join the team of students, faculty, and staff working to advance sustainability at Gonzaga University and in the Spokane community," said Simon who brings more than seven years of higher education sustainability experience to Gonzaga. "Through the dedicated work of the Advisory Council on Stewardship and Sustainability (ACSS), Gonzaga is well on its way toward becoming a sustainable campus and I look forward to supporting the ACSS as we strive toward this goal together."
At UB, Simon advanced sustainability within the university's research, teaching, and public service missions by supporting, implementing, and measuring sustainability, communicating sustainability, fostering student engagement and leadership, and promoting community engagement and involvement. He served in leadership roles with the organizations including Clean Air, the Erie County Environmental Management Council (ECEMC), and Buffalo CarShare.
In 2012, Simon was honored to be a member of the inaugural class of Buffalo Business First's "30 under 30," an annual award recognizing 30 young professionals who excel in their profession and in the community. "I am excited to bring my passion for sustainability to a world-class Jesuit institution like Gonzaga University, and to work with the community to continue fostering a culture of sustainability that is resilient and responsive to the dynamics of higher education and our changing world," Simon said.
Gonzaga has long been committed to responsible environmental stewardship through a host of sustainability initiatives including faculty and student research projects, operations and student organizations. The actions respond to calls by Pope Francis, the Society of Jesus, and the U.S. Catholic Bishops for mission-based sustainability consistent with Gonzaga's Catholic and Jesuit identity. Gonzaga will expand its sustainability commitment in the John J. Hemmingson Center under construction.
In April, Gonzaga became the first U.S. Jesuit university to commit to the "Real Food Challenge," a pledge that 25 percent of food served on campus will be sourced from ecologically sound, fair and humane, and local- and community-based providers by 2020. In 2013, Gonzaga President Thayne McCulloh and Gonzaga Preparatory School President Al Falkner together signed the St. Francis Pledge to Care for Creation and the Poor, joining the national movement for faithful action on climate change. Also in 2013, Gonzaga joined the Environmental Protection Agency's Food Recovery Challenge, which cuts food waste to save money, help communities, and protect the environment.
Since 2009, Gonzaga's sustainability work has been spearheaded by the ACSS, an advisory body composed of Gonzaga faculty, staff, and students that has made recommendations to the president's Cabinet. Starting as a small grassroots effort, the group has shaped and led proposals to manage Gonzaga's impact on the environment, promoted campus awareness of environmental issues, and served as a campus information hub.