Green Fund Supports Four Student-Generated Sustainability Initiatives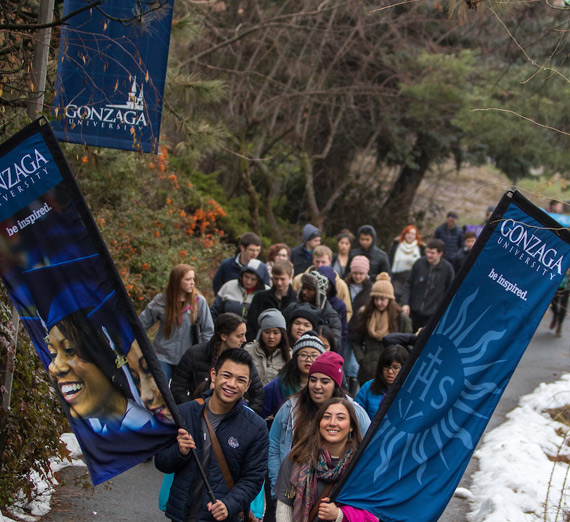 ---
SPOKANE, Washington – Starting in 2011, Gonzaga University students were invited to submit ideas to help the University become more sustainable and environmentally friendly. Now, those suggestions have been synthesized into four projects financed by the Green Fund, a unique model to support student-generated sustainability initiatives.
With a budget of $20,000 in this, its first year, the Green Fund will implement Compost Cycle, Plant Our Future, GU Campus Garden, and the Real Food Calculator programs. The Green Fund, financed by an optional $5 per semester student fee, was envisioned as part of Gonzaga first comprehensive
Climate Action Plan
(approved in 2013) that aims for Gonzaga to achieve climate neutrality – zero emissions – by 2050.
"The importance of these projects is not only to create sustainability on campus but also to get students more involved and aware of sustainability," said Alexis VanDrey, a freshman Green Fund committee member. "I want to ensure that the Green Fund is successful, benefits students, and will help make this campus a better place."
The Compost Cycle involves students managing the collection and use of compost campuswide. The compost produced will be used to fertilize the Campus Garden, which will, in turn, offer students opportunities to learn how to create and care for a flourishing garden. Plant Our Future involves placing plants in classrooms to add oxygen to the indoor air, create a more pleasant learning environment, and bring more natural beauty indoors.
The Real Food Calculator will track University food purchases over time and serve as a platform for student discussion and action on food issues related ranging from human rights to environmental sustainability. In April 2014, Gonzaga became the first U.S. Jesuit university to commit to the "
Real Food Challenge
," a pledge that 25 percent of food served on campus will be sourced from ecologically sound, fair and humane, and local- and community-based providers by 2020.
The projects not only align with Gonzaga's mission to create a culture of sustainability and environmental stewardship, but also will bring students together to create a sense of unity and accomplishment within the campus community.
"The Green Fund supports sustainability projects, which previously didn't have any sort of way to be funded," said H.I.M. Khan, senior Green Fund committee member and a member of the student group Gonzaga Environmental Organization.
The Green Fund projects empower students to fortify their leadership skills through hands-on experience, and provide networking opportunities with guidance from campus resources.
"The Green Fund fosters a sustainable environment throughout the community on campus," said Venezia Hyland, a sophomore Green Fund Committee member. "Students have the chance to collaborate and make the campus a more sustainable place, which I think is cool because we'll only see change if the students are interested. Our goal is to spark that interest."