GU Students Preview Careers through Treks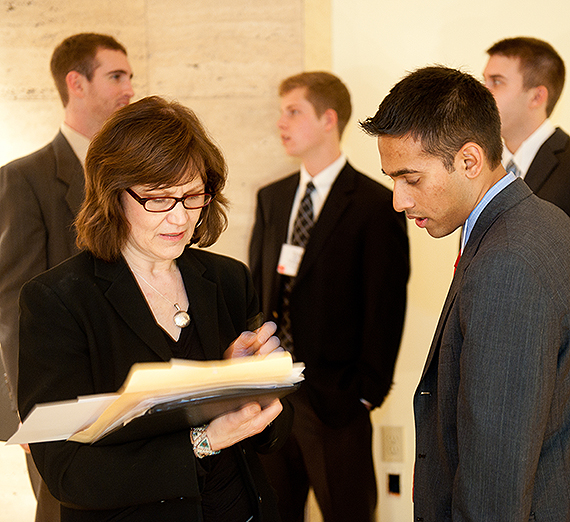 ---
Gonzaga News Service
SEATTLE, Wash. — Gonzaga recently completed its 9th annual Portland Trek and 10th annual Seattle Trek earlier this month to help Gonzaga students and alumni develop their careers.
Designed to increase the visibility of Gonzaga students and alumni in key metropolitan areas, the treks are sponsored by the Gonzaga Alumni Mentoring Program (GAMP) and are designed primarily for career development and networking. The treks consist of corporate excursions, which allow students to view organizations from the inside-out, and career fairs held exclusively for Gonzaga students. Also, keynote networking socials provide an opportunity for alumni and local professionals to meet GU students and for all groups to strengthen or develop their personal networks. The program continues to expand across the country.
Junior accounting major Everett Smith described the Seattle and Portland Treks as "tremendously fun, insightful and awe-inspiring with respect to becoming acquainted with first-class companies and the professionals who run them."
Recent enrollment trends at Gonzaga reveal that students are coming from every region of the country. As the Trek Program goes outside of Spokane, the goal is to create opportunities for students to network with alumni and employers in their home region or the region they hope to work in following graduation.
"The advantage of these events for students is the exposure to alumni contacts that are available at the corporate excursions, the networking socials, and the career fairs," said GAMP Director Kevin Pratt. "Our alumni are willing to provide realistic career advice, and are willing to go the extra mile to help our students find quality internships and full-time opportunities."
These career-development events also give Gonzaga students the opportunity to explore career options and gain a better sense of career fields or specific companies matching their interests and values. The companies at this year's treks included: Nike, Columbia Sportswear, adidas, Hewlett-Packard, Kraft Foods, Widmer Brothers Brewing, The Portland Trail Blazers, The Boeing Company, Microsoft, Nordstrom, Amazon.com and Redhook.
A Women's Symposium also is held in conjunction with the Seattle Trek. The on-site visits provide students with an inside perspective on the business operations, available career opportunities and recommendations from corporate recruiters on how students can differentiate themselves in a competitive job market.