Career & Professional Development Services for GU Students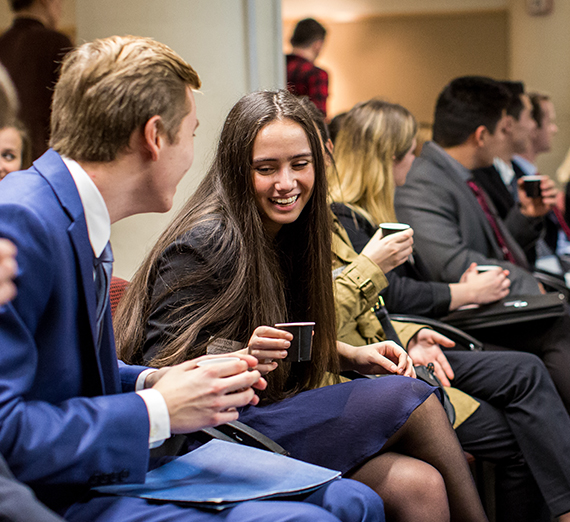 ---
My name is Alexandria Campbell, and I am a Junior at GU serving as Co-President for the Professional Representatives Club within the Career and Professional Development Office. The CPD is located on the first floor of the Crosby Building and includes a great, quiet study space for any students to use. The office was founded to serve students in identifying their postgraduate career goals as well as enhancing their strengths for their lifelong career development.
The office is open to any undergraduate, graduate, or law school student of Gonzaga. Students can inquire about anything from a job search, to taking the Myers Briggs assessment, to any other personal career assessment tools, to pinpoint what type of worker they may be. Any student can schedule an appointment via Handshake, or simply drop by the office to meet with one of our career professionals.
Other resources offered through the office include on-campus recruiting events and info sessions, career fairs where students and employers can network on campus, ZagsConnect (which connects alumni mentors with current students), business cards, and internship workshops. One of our most popular services is the Career Treks, which are are career development opportunities for students to network with alumni and employers in some of the largest cities in the country.
Students practice and gain networking skills through socials, career fairs, and corporate excursions. Our sites include Spokane, Silicon Valley, San Francisco, Denver, Seattle, Los Angeles, New York City, Portland, and our first international location, London. Treks are a great chance for students to spread their wings in the corporate field and connect with alumni and employers who are specifically interested in hiring Gonzaga students and graduates.
Finally, before a student sets out on a Trek or career fair, they should make sure their cover letter and resume is up to date. To do that, all students should also drop by the CPD during the ProRep office hours. Professional Representatives are undergraduate student volunteers who hold office hours to edit resumes and cover letters, as well as assisting with internship and job searches through our online databases. The CPD has much to offer any student who is ready to take that next step into their professional lives. All of our career professionals are excited to see the new faces that drop by the office so please don't be shy!