Alumni Hosted Career Treks Across the Country and Abroad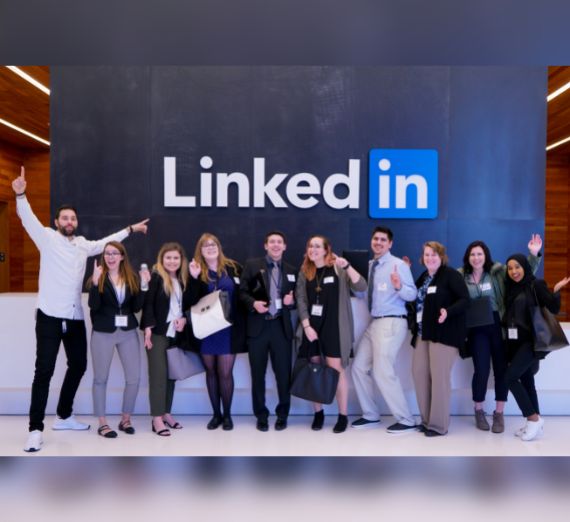 ---
While most of our campus is quiet during the semester break, our Alumni Relations and Career and Professional Development offices are busy working on final details for next week's Career Treks in Portland and Seattle. This year will mark the 22nd year of a day devoted to career exploration and connections in Seattle and our 21st year in Portland.
The Trek concept was initiated by proud alumni who believe in the talent of our Zags, and observed that many key employers in the Puget Sound region weren't going to come to Spokane to recruit. To give our students a competitive edge in the job market, we needed to bring Gonzaga students to the employers and leverage our strong base of alumni professionals. Now, 22 years later, we have expanded the Treks to New York City, San Francisco, Silicon Valley, Denver, Los Angeles, Spokane, and across the pond to London.
All Career Treks are made possible through relationships with alumni and friends who open the doors of their organizations to students. These partners strongly believe in the education, skills, and character Zags bring to the workforce, and are committed to supporting their career development. Events include career fairs exclusively for Gonzaga students, multiple alumni-hosted "corporate excursions" which are visits to organizations to provide an inside look at operations, culture, and opportunities, and networking dinners focused on building relationships within ZagsNation. Treks range in size from our largest in Seattle, typically involving 175-200 students and roughly 100 alumni, in San Francisco we host 40 students and 50 alumni, and in London, we host 12 students and around 10 alumni.
The goal of these Treks is to create opportunities for GU students to clarify their career goals while connecting with alumni and employers in their home region, or the region they hope to work in following graduation. Each year, many successful connections are made via the Treks, resulting in permanent positions, summer employment, and internships. Frequently, our successfully employed Trek graduates reach out with great enthusiasm, asking to host a Trek excursion at their organization or come recruit at the Trek career fair. The experience was instrumental in their journey to a job they love, and they want to help provide that same opportunity to others. Another beautiful example of the Gonzaga spirit of giving back, or as we say on campus "Zags helping Zags".
If you are interested in our Trek schedule for this year, read below to see where we have been and where we are going. For more information regarding the Trek program, contact Erin Shields, Director, Alumni & Employer Engagement at shieldse@gonzaga.edu.
Spokane Trek - October 13th & 14th, 2022
Featured visits to Avista Utilities, The Ronald McDonald House, Northwest Farm Credit Services.
New York Trek - October 24th & 25th, 2022
Featured visits to the New York Stock Exchange, Federal Reserve Bank, Goldman Sachs, JP Morgan, PwC, Bow Wave Capital, Societe General, and Dyal Capital.
Portland Trek - January 10th, 2023
Featuring visits to NIKE, Garmin, McKinstry, Fairway America & Laurus Wealth Management.
Seattle Trek - January 12th, 2023
Featuring visits to Microsoft, The Seattle Mariners, Boeing, Washington Public Health Labs, Adaptive Biotechnologies, Slalom, T-Mobile, Chinook Capital Advisors & Verus Investments, Seattle Reign, and Various Seattle Theater Companies.
Silicon Valley Trek - March 16th, 2023
Has featured visits to Google,Stryker, Meta, eBay, Shazam, and PayPal.
San Francisco Trek - March 17th, 2023
Has featured Salesforce, Stripe, DocuSign, JP Morgan, Edelman, Inkhouse, and Linkedin.
London Trek - March 16th & 17th, 2023
Featuring visits to Accenture, Salesforce, Deloitte, US Embassy, Boeing, and Splunk.
Denver Trek - May 18th, 2023
Has featured visits to KPMG, FAST Enterprises, MOO, AECOM, and FirstBank.
Los Angeles Trek -May 2024 (We alternate the Los Angeles and Denver Treks each May)
Has featured visits to SoFi Stadium, West Monroe, Homeboy Industries, TOMS, and LA Dodgers.
Learn more about our Career & Professional Development Office!