PACCAR Earns Gold for 'Green' Building Design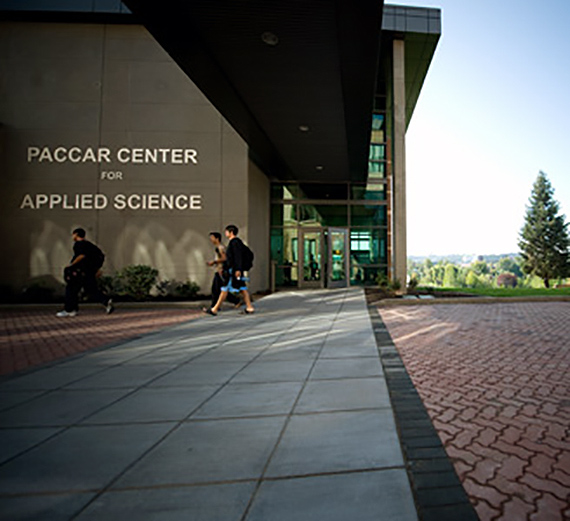 ---
Gonzaga University's First 'Green' Building Golden
SPOKANE, Wash. — The three-story, $8.5 million PACCAR Center for Applied Science at Gonzaga University, dedicated in 2008 for Gonzaga's School for Engineering and Applied Science as the University's first "green" building, has received the prestigious "Gold" certification from the Leadership in Energy and Environmental Design (LEED) rating system.
Only the platinum ranking is a higher recognition in the LEED rating system, which was designed by the U.S. Green Building Council to support development of more sustainable buildings. The LEED green building certification program encourages and accelerates global adoption of sustainable green building and development practices through a rating system that recognizes projects that implement strategies to optimize energy efficiency, minimize environmental impacts and enhance the experience of building users.
Among the more significant achievements of the PACCAR project are the following:
It has reduced potable water use by 34.4 percent from a calculated baseline;
Achieved an energy cost savings of 30.5 percent;
Diverted 210 tons (90.2 percent) of on-site generated construction waste from landfill;
More than one-third (34.6 percent) of the total building materials content by value have been manufactured using recycled materials; and
34.4 percent of the total building materials value is comprised of materials extracted, harvested or recovered, and manufactured within 500 miles of the project site.
Project architects were ALSC Architects of Spokane. The mechanical and electrical engineers were MW Consulting Engineers of Spokane, and the general contractor was Alan Douglas of Hoffman Contractors, also of Spokane.
"It has been a long process but the result is surely satisfying," said architect Steve Hindley with ALSC Architects. "Congratulations to all involved."
Dennis Horn, dean of the Gonzaga University School of Engineering and Applied Science, lauded PACCAR for its visionary leadership in support of the project, and called the Gold LEED achievement a dream come true.
"It was always my dream to see a LEED-certified engineering building, but I never thought we would achieve gold status," Horn said. "This was a team effort, but a big 'thank you' goes to our architects who did a fantastic job."
The PACCAR Center is located immediately south of the Herak Center for Engineering and Applied Science. The site provides access to views and day lighting, promotes open public green space and provides opportunities to connect and extend the campus pedestrian system consistent with the campus master plan.
"The key to achieving LEED Gold is a committed client," Hindley said. "Gonzaga University adopted Dean Horn's vision for a new facility that embraced sustainable concepts and functioned as a demonstration site for the principals and technologies that the School of Engineering and Applied Science teaches." Those factors combined to create an environment that allowed the design process to fully explore the potential for the facility, he added.
More about how the PACCAR building is used today