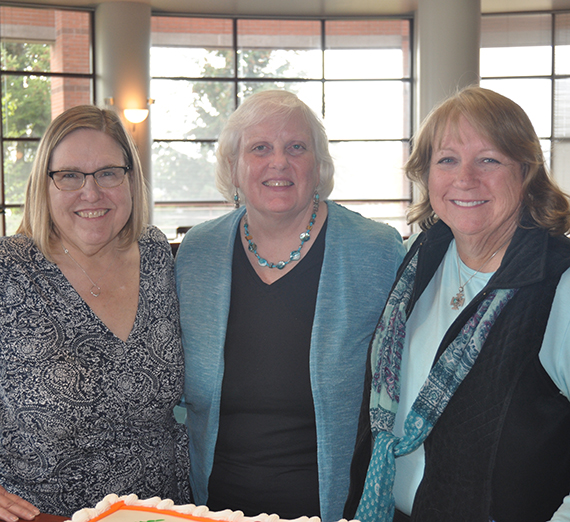 By Anji Mertens
On Wednesday, May 1st, Foley Library celebrated the upcoming retirements of three long time librarians: Theresa Kappus, Linda Pierce and Kathleen Allen. Between them, they have 83 years of cumulative work at Gonzaga, and over the years, they have each served in numerous roles at Foley at varying levels of leadership, including overseeing departments, projects, transitions, losses and additions to the library.
I have worked at Foley for 16 years, and over the course of my career each one of these women has served as my supervisor for a time. So before they move on to new adventures the four of us went to lunch to chat about their time as librarians at Gonzaga and all the changes they have seen in the University and the profession.
Our lunch started with a casual conversation. I was a little quiet, listening as they each discussed the minutia of retirement. Moving houses, selling possessions, the reality that retirement is truly a major life change. A group of long time colleagues like this can talk indefinitely, but Linda Pierce is the consummate leader. She at one point looked at me and said, "Do you want to ask your questions now?"
We directed our discussion towards where they each began. I wanted to know how they started as librarians, what drew them to the career.
Kathleen began, "I was a page at the public library during my high school days." As it turns out, Linda also started as a Page at the Spokane Public Library (as did I), both Linda and Kathleen having grown up in Spokane. However, I learned later, they never met until graduate school at University of Washington.
Kathleen grew up in the Gonzaga neighborhood. After high school, she came to Gonzaga originally, as a student. "My parents knew someone at the library. They got me a job at the Crosby library, but being a librarian never really occurred to me." It was not until life took Kathleen down another path, married and training as a book buyer at Purdue University bookstore, trying to decide what to do next with her career. "One day I was walking down the hall at Purdue, and there was an advertisement for a professional Librarian. All of my past experience leads to this, it made perfect sense. So I went to UW and got my MLIS… all from one advertisement in the hall".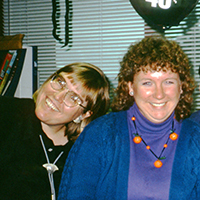 Linda on the other hand picked the career a little earlier on. "In junior high, when you picked what you wanted to be, I chose Librarian." And the junior high career testing confirmed her choice. Then as mentioned, a high school job in the public library and a college job in the WSU library for four years. Linda's certainty from junior high had faded though, and in college she thought she wanted to be a lawyer. Everyone around the table agreed, she would have made a great lawyer. However, "after a few constitutional law classes, I thought – I don't think so." She ended up with a degree in education. Student teaching was not a pleasant experience, and she was left wondering, "what do I know how to do? I know how to work in libraries. So I got a job at Whitworth as a library tech". After a year at Whitworth, she realized she needed her masters, so she entered graduate school at age 22.
Theresa approached the career with a little less certainty. "I became a librarian by default." Theresa's passion is theater. "What I really wanted was to be an actor," but in a challenging and competitive field, "I got less and less confident in my abilities." Theresa had a hard time settling on a major but eventually ended up in a Media Assistance course at Portland Community College. The course included one week of work in the library. "Making signs, making videos, painting windows, I did a practicum at a high school running projectors," all those 'other duties as assigned' aspects of working in a library. After community college, the jobs available were mostly for "typing" which was not very appealing, so some friends at the University of Oregon invited Theresa to join them there. Arriving at campus and needing a work-study job, the choices left were for grounds keeping or in the library, so she chose library and worked there for three years. "I don't know that I would have said I wanted to be a librarian, but it was a good job and indoors" she laughs. After graduating with her Bachelors in English, Theresa returned to Portland Community college to work in the library there. After four years, she "realized I had done everything I could do with the job. So the library director and assistant talked me into going to graduate school at the University of Denver because that was where they went. I was 29 when I finished."
After lunch, we changed gears a bit to discuss when each of these librarians came to Gonzaga. Both Kathleen and Linda started in the Crosby library, Linda in 1989 and Kathleen in 1986. "Linda and I shared an office, there were four other librarians in public services, and two, at least in technical services. We had one TRS80, a RadioShack microfiche computer. At that time most bound periodicals were in the basement of Catherine Monica, and we did a twice a day run". Linda recalled, "When I started I was in Crosby, Bob was head librarians ("Not dean?" "No, head librarian") and he smoked in his office and it always smelled like smoke! We had a database office on the first floor." Kathleen pointed out that the office was built out of leftover parts, "The law library was remodeling and they had these glass walls they were getting rid of, so we asked for them and that was how we built that office".
In our current era we are all so used to searching, any number of times, and if we don't like the search results we search again paying no heed to time spent or resources accessed. But when Linda was hired, "Database access was paid by the minute, some were cheap and some were expensive, so we wouldn't just let people search themselves! No! I was hired to do database searching." Theresa remembers that "ERIC (Education Resources Information Center) was cheap, but there was no easy keyword searching." When Theresa arrived at Foley in 1998, "It was pretty common to work with microfiche and film. I already had experience doing dialogue searches when I came to Foley. But then everything went to CD's and databases." Linda added, "The WLN catalog was on CD and we had LaserCat, back then the WLN was a rival of OCLC." I will admit I had to do a little research on the topic. WLN was the Washington Library Network. At that time, OCLC stood for Ohio College Library Center, but in later years changed to Online Computer Library Center. OCLC is now a major conglomerate in the library world, so it is hard to grasp the WLN was once on equal footing. 'LaserCat' was a CD-Rom library catalog that pulled together the collections of 300 Pacific Northwest, Canadian, and Alaskan Libraries, with KEYWORD searching capabilities. This was a precursor to the online library catalog.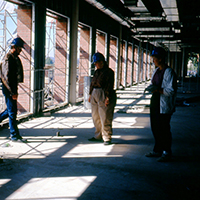 Hints of the internet started popping up in 1989. Linda did a presentation on "Gophers" and the World Wide Web. Theresa attended workshops on the internet, but at that time you had to know a web address to get to a site, there was no searching capability. Linda remembers first hearing of Google at a conference. "There was this new thing, whatever they called it, that will let you search the internet. They were right. It was revolutionary." Eventually, Kathleen remembers, they got rid of the RadioShack computer.
As the 80's drew to a close, the ground had already been broken on what would be the Foley Library. To get ready for the move, all the books in Crosby had to be barcoded. This was a major undertaking that both Kathleen and Linda recall, Kathleen saying "That doesn't seem like it was that long ago!" She also remembers when the last card was filed in the card catalog. As the new library preparations continued, Kathleen, Linda and Paula Grennel were able to visit the new library in construction. There is a photo of them "in Foley when the building was all concrete and didn't have windows yet." Then in 1992, the big move to the new Library. "We hired a lot of new staff when Foley opened. Staff doubled, we suddenly had all these new people in Foley. We added departments too." Kathleen's favorite movie is The Right Stuff, and she has lived her life and career by the quote: "never turn down a combat assignment." So when Bob Burr asked for a librarian to head up the new Hanford Archive, Kathleen volunteered.
Theresa started at Foley in 1998 as the Public Services Assistant: "I did a lot of 'jack-of-all-trades' type work for the first year." Some staff changes brought opportunity, and after a year Theresa transitioned to a position in the ILL department. "I did that for about five years, and then became the Distance Services Librarian," though still supervising Interlibrary Loan, as I moved into the ILL Assistant role at that time. One of Theresa's first major projects in her new role was to implement a top of the line ILL management system, ILLiad, which ironically will be retired as well this summer as we transition to a new software system. ILLiad made ILL extremely popular, and Theresa and I together oversaw one of the busiest eras in ILL history at Gonzaga. Theresa served as the chair of the Public Services department, and recalled the changes that took place before and after that time "A lot of rules changed… like we didn't used to allow food or drinks in the library!" Linda agreed a lot has changed "Physically the building was so different, almost the whole building was the library. When we started we had VHS tapes, and they were in closed stacks, guarded in a vault, and you had to request them to get access" Theresa added, "They were expensive!"
We all can acknowledge how much technology has changed in the last 30 years, but Theresa, Linda and Kathleen have also seen how Gonzaga has changed. Linda sees that it has gotten much bigger: "in the first 10 years, I knew 90% of the faculty. It is obvious that the student population has grown, but the numbers of faculty has shifted so much, you can't know all the faculty any more". When Kathleen started in 1986, they were building Jepson. "It was the first building that had been built in 40 years, then it was building after building". Theresa remembers when the view out the back of Foley looked out on a line of trees that were eventually removed to build McCarthey Athletic Center. A major change is also the popularity of basketball! Kathleen remembers, "You used to be able to take your ID card and go to a basketball game and take as many people as you want." Theresa recalled, "That was still going on in 1998 when I started, but then after the 1999 run that all changed!" Kathleen recalls a year that basketball tickets were distributed to all faculty and staff during the Christmas break, to try and get people to go to the games "I collected about 30 tickets because no one wanted them!"
As these three look forward to what lies ahead, I asked what advice they would give to those of us with a few years (or decades) before retirement. Kathleen refers back to her favorite quote, "Never turn down a combat assignment," always take opportunities that come along, be willing to "accept a responsibility you might not be prepared for." She also said it is worth getting your MLIS. "It's a ticket to something that you can move into; once you have it there is so much diversity of choices". Linda echoed this; in 30 years, she has had a great variety of roles at Gonzaga. She recommends finding "ways to change or enhance your job, find a new emphasis to put on your job." An example from her history was her transition from Public Services to Acquisitions. She also pointed out that if you get your MLIS, you must be willing to move. For their first professional jobs, Linda moved to Texas, Theresa moved to North Dakota, and Kathleen moved to Seattle.
We chatted a bit more, about what they will miss about Gonzaga and Foley library. Kathleen said "It was an incredible career path, I never didn't like my job. I can't imagine how lucky I was to become a librarian and to work at Gonzaga in so many good times, and with so many good people… I never experienced anything but professional collegiality." All three spoke of the support they received from Foley's leadership when times were tough, through motherhood, through health issues, through loss. Kathleen emphasized, "Gonzaga was a place that recognized the importance of family and allowed you to make that work in your life." Former Dean, Eileen Bell Garrison was mentioned. Theresa said she understood so well the demands of being a mom. "Foley is very supportive of the people that work there." Theresa and I recalling our "step-mom support group" from years past, and how at the times when we needed support we always received it from each other. The friendship and encouragement amongst the colleagues here is invaluable. Linda pointed out, "Especially in the library, you had the privilege of knowing your colleagues family, watching kids grow up. I received so much support when Carl (Linda's husband) passed away." Theresa added "we get in everybody's business", but we all agreed, in a good way.