Q & A with Kelly
How did you start working in the library world?
I got a job as a student assistant when I was an undergraduate—I was a Freshman and working at the Health Sciences Library at the UW, and I was there for four years. I really like libraries. I was already exposed to libraries (my mom's a librarian), and so that kind of cemented my desire to go to library school, so I just went straight into library school. I was planning just to do the MLIS, and then I applied for a dual degree program kind of on a whim at the University of British Columbia, and then I got accepted, and then I started working in archives, and I really kind of just fell in love with the field, so here I am!
What is your favorite thing about being a librarian or working in libraries?
That's a hard one. My favorite thing? There's a lot of things. I'd say providing access (that sounds kind of stereotypical! laughs) but especially in archives a lot of my work is for patrons to access the archives, and archival material can be somewhat obtuse sometimes. I just enjoy working with patrons.
What is one thing you wish people knew about librarians or libraries?
I think I wish people would realize that we've evolved. I grew up with libraries so I've kind of always known what they offer, but people walk in and they expect to be silent and that the only thing we offer is books, or hard copy books. And I don't know, sometimes people just don't want to talk to librarians, they think we are going to shush them. So go to your public library and see what they have to offer! It's a lot more than books (but still, also check out books).
What's one thing that you learned about Foley Library that surprised you?
We have some weird stuff in the vault, or stuff you wouldn't expect to have. You kind of get that in any archives, but we have like a baseball from the 1920's signed by the Yankees that was given to a Jesuit. So that's kind of weird... but there's a lot of weird stuff in the archives!
What's one thing you wish the students knew about Foley?
Come to the library! I remember I was just walking back to [my office]—I'm on the third floor—and I heard a tour guide say that the third floor was scary, to never go up there, it's so intimidating, so I was kind of disheartened. It's like, come to the library!
I wonder if he wanted that as a special study space and he was trying to get people not to go up there?
Maybe? I mean it is silent study up there. But it's like, come in to the archives! But yeah, I would just say to students, that like the public library, we have so much to offer! It's more than just books. We got e-books, we got movies, we got databases.
What drew you to want to work for Gonzaga?
I guess it was a bit by reputation. I knew a lot of people who had gone to Gonzaga and they loved it. So I saw the job and was like, well, it's in my home state! I've been to Eastern Washington, I'll apply! I don't know if that's the most inspiring answer, but that's the answer.
Where are you from?
I grew up in the greater Seattle area, so Kirkland, Washington. I lived my whole life in Kirkland, Washington, then I went to the UW, then I went to the University of British Columbia.
What do you like so far about living in Spokane?
The traffic. There is none. Well, okay, there's traffic. My commute used to be an hour to two hours, and now it's like 10 minutes. Definitely a plus.
What's your favorite thing that you've learned since living here, like a cool place or tidbit about Spokane that you would want students to know about?
Hmm. I'd say the hiking? There's a lot out there. I've hiked in the Pacific Northwest, and I wasn't expecting the same level of outdoorsy-ness. There's a lot out there!
Favorite book, series, or author?
My favorite book? I wouldn't say I have an all-time favorite book, but I read a lot of non-fiction. I mean like, all non-fiction, I don't read fiction anymore, which is kind of bad for my reader's advisory, but, I'm not a public librarian! So my favorite book most recently is called Ghostland: An American History of Haunted Places. I don't have a favorite author or favorite series. Although, I guess when I was a kid, the Magic Treehouse series was my jam.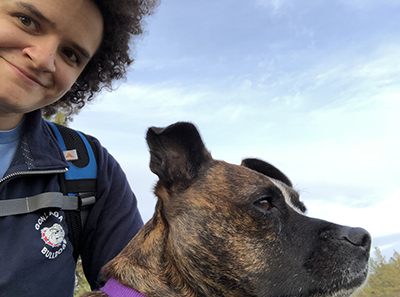 Do you have any pets?
I have one dog. His name is Sammy. He is 3 years old, and he is a rescue. I think he's a Boston Terrier/Boxer mix, but I'm not sure.
What are your favorite hobbies?
I really enjoy hiking. I enjoy sports, but only specific ones. I like basketball—you know I'm a bandwagon fan here, since none of my alma maters are good at basketball (laughs). I like football, and I used to be really into horse racing, went to the derby, but I don't follow it as much anymore. I guess I'm kind of also-- and I sound like such a librarian when I say this, I'm like, "I'm into needlework!" But I am into needlework. And I like to do a lot of crafting. And I guess also reading (laughs).
Favorite restaurant in Spokane?
Mizuna.
Favorite food?
Coffee.
Prefer coffee or tea?
Coffee.
Anything else you want to tell the students or staff of Gonzaga?
Please come to the library! Come to the third floor—no, we're not scary. Come and talk to me!