Reyes a Clear Definition of Loyalty and Service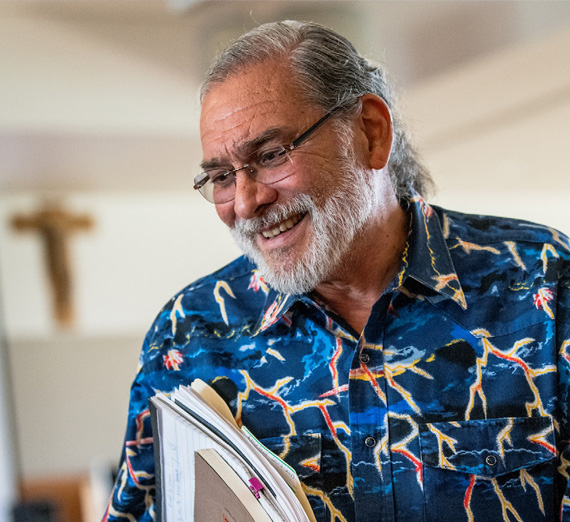 ---
Few could speak with Raymond Reyes for more than a few minutes without being drawn into his wit, wisdom, wonder for the world and his passion to make it better.
He's a visionary, a healer, an extraordinarily bright and well-read luminary, highly sought speaker and capable administrator . . . but what he likes best is teaching because "when I'm in front of a class or in a circle of students, I'm learning."
Beginning his 36th year at Gonzaga, he came as a lecturer, and has taught for most of his 35 years. In partnership with Robert "Bob" Bartlett and others, he collaboratively contributed to establishing the Unity Multicultural Education Center and also was a founding member of the Gonzaga Center for the Study of Hate (GCSH), initiated the Office of Diversity, Equity and Inclusion, co-chaired the Council on Campus Climate, served on the Spokane Task Force on Race Relations and was appointed Gonzaga's first chief diversity officer/associate vice president in 1998, among many other roles.
"My work at Gonzaga is trying to understand how culture is a way of life that allows one to walk the spiritual path with practical feet," he often says.
He has taught hundreds of training and technical assistance seminars, from Kenya and Colombia to Canada and Zimbabwe, and a half dozen other countries in between, on an array of subjects from spiritual significance of human difference to optimizing organizational performance through intercultural competence nation's experts in teaching Native American culture and intercultural dynamics.
From 1994 to 1998, he delivered classes to Olympic athletes at the U.S. Training Center in Colorado Springs on sports psychology and optimal performance for Native American elite runners.
But all his trails lead back to Gonzaga, what he calls his "Happy Place; a place of love, where I belong. It's home, it's fertile ground, a source of nurturing and nourishment. A place where I've grown up. A place where I am always working to move us toward a better common good," he says.
On July 13, Reyes received the Harry H. Sladich Loyalty & Service Award from Gonzaga's Board of Trustees, the 16th person to be so honored since its inception in 2009.
In presenting the award, President Thayne McCulloh thanked Reyes "for blessing Gonzaga University with your guidance, leadership and the vision for what could be, and what should be. You are a leader who embodies the values of our mission and exemplifies them for the good of all."
He's had a remarkable career, but in hindsight, he could just as easily followed another path.
"I think I've had 14 or 15 different offices during my time here. One day my mom visited and saw that the University had moved my office to the second floor and was happy to see it landed between two priests," Reyes says with delight."
"I've always been interested in God. If I knew as a young man what I know now, I would have become a Jesuit priest," he says. "The Jesuit founder St. Ignatius of Loyola has captured my imagination, and his Spiritual Exercises have helped form the person I am today." Reyes has been a lot of things to a lot of people, as a friend, colleague, confidant and confessor in his many roles served.
He fondly equates his work at Gonzaga to group therapy. "Through relationships here I learned who I am," he says. "In relationships, everything is an abundance of potential waiting to be activated, it's God's presence in my heart and a willingness to express love in relationship to others."
He learned to explore his restless curiosity from GU's students. "I have always been curious about the 'what ifs,'" he says. He is a practical visionary, whose idealism draws inspiration, but whose feet are on the ground, getting things done. He is always experimenting with ideas for his presentations or teaching. A mad scientist of sorts, always asking "what if."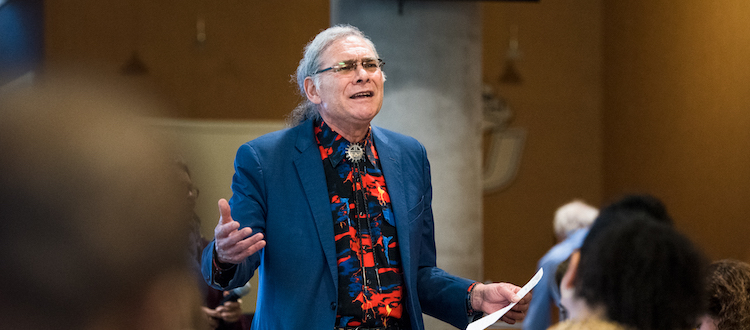 He sees Gonzaga as a place where he can bust the binary. "There is always either/or, but I always try to figure ways to a third option or position, finding a common ground where we can experience uniformity without conformity," he says. "We can have opposing views and critique each other, but still find solidarity.
"It is not important that I always be right. Righteousness can get in the way of collaboration, agape love, and representing the full ability of the human spirit to bring God's presence here.
"Jesuit spirituality got me here. The spiritual life in this community kept me here," Reyes proclaims.
He says the quality of faculty we have at Gonzaga right now is one of the University's strongest assets. "We might disagree on a lot of things, but their creative genius and academic acumen is phenomenal. They walk the talk. Faculty have always nourished my passion to be a lifelong learner."
Reyes says he is planning to retire from full-time work at Gonzaga sometime this academic year. But he'd rather refer to it as "reinventing or recreating himself," with no intention of slowing down much.
He wants to continue working with Jesuits in their global social apostolate around global Indigenous community-based education, write a few books from the stacks of materials he has written over the years, teach one class per semester (when the time is right), do some form of work with tribal colleges, play more music on a guitar begging for his attention, and hang out with his 91-year-old father and 5-year-old grandson.
As Reyes often quotes Maya Angelou, "Prepare yourself to be a rainbow in somebody's cloud."
He is indeed that rainbow shining his colors on the lives of many others.