Celebrating the Magis: 2018 Awards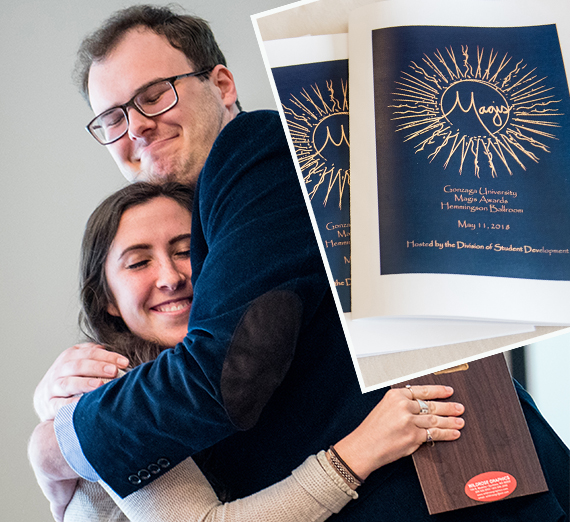 ---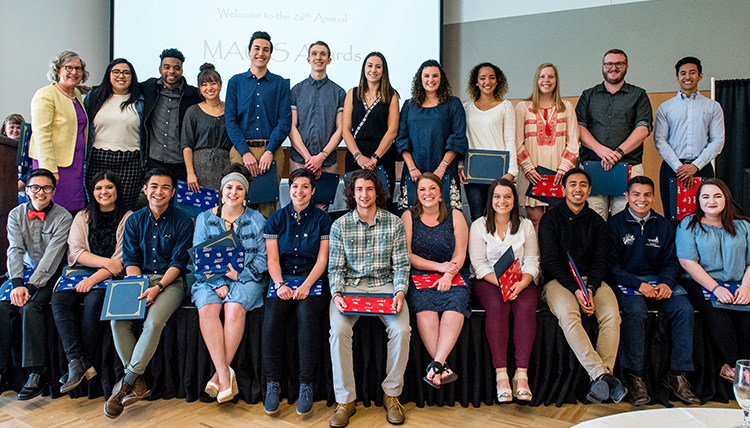 Every year for 26 years, Gonzaga's Student Development division has celebrated students who exemplify the idea of "magis" – a Latin expression meaning "the more" or "better." It's a term connected to the motto of the Jesuits: "Ad majorem Dei gloriam" or "for the greater glory of God." "As a University rooted in the Jesuit tradition, our students strive for the Magis in and out of the classroom," said Judi Biggs-Garbuio, vice president of Student Development. "I am sure that this concept has served as an aspiration and an inspiration for the students we are recognizing today." She continued, "We gather to recognize, embrace and give thanks for some of the amazing Gonzaga students who have represented the Magis during their undergraduate years. These students have used their love of each other, Gonzaga University, Spokane and the world to make a difference in significant ways."
Center for Community Engagement

Sister Virginia Claire Carvey Award: Elly Zykan ('18)
In addition to GU Specialized Recreation and Mission:Possible participation, Elly advocated for those experiencing uncertainty and marginalization as a result of immigration policies, through the Ignatian Family Teach-in for Justice in Washington, D.C. A core leader for Reality Camp, she also planned a week-long program for 40 incoming students and developed training for the leadership team. (Pictured at left with Darcy Phillips)
Father Leo Robinson Award: Lydia Lopez ('18)
One supporter of Lydia's wrote: "There are several names I will be watching for in the future – students who no doubt will go on to make headlines. Lydia will be among them. Her passions, priorities and goals come together in a powerful package as she stands for vital causes, guides others in their understanding on those issues, and walks alongside others to encourage meaningful action." (Pictured at right with Julia Larsen)


University Ministry

The Saint Peter Faber Award : Ally Clapp & Davis Phillips
Saint Peter Faber was one of the earliest Jesuit companions, along with St. Francis Xavier and St. Ignatius Loyola. The award is in his name is presented to students who live out an authentic faith, with spiritual maturity, and enrich our faith culture here on campus. Ally and Davis worked for Campus Kids and Christian Life Communities, served as lectors and Eucharistic ministers, and were student live-in ministers, sharing their spiritual gifts with the residents.


The Sr. Laura Michels Award: Emma Wolfram
Earlier this spring, the Gonzaga community lost one of our most beloved members, Sister Laura Michels. To honor her memory, this new award will recognize an outstanding senior student athlete who has demonstrated extraordinary leadership by his or her dedication to a life of faith grounded in love of God and made visible by service to those most in need. Emma served on the Student Athlete Advisory Committee, was a ZagOlympics captain, and was a leader for Bulldog Athlete Ministry. (Pictured at right with Janeen Steer)


Career & Professional Development
Excellence Award: Delaney Aucott and Amanda Dea
To support all students in clarifying and attaining their educational and career goals, we enlist students from every academic area to increase our reach across the university. Today, we would like to recognize Delaney and Amanda for their consistent high-quality work and their intentional emphasis on furthering the professional development of others.



The Compass Award: Dr. Heidi Nordstrom
Career and Professional Development recognizes a faculty member for their contribution to the career development of students. Dr. Nordstrom has attended multiple Treks, helped build the Williston Internship program, and organized a "Careers in Sport Panel and Networking Event" last year. (Pictured above with Ray Angle)


Housing & Residence Life
Assistant Residence Director of the Year: Analee Scott (Pictured below, left, with Weston Presbey)
Residence Life Staff Member of the Year: Cassie Fielding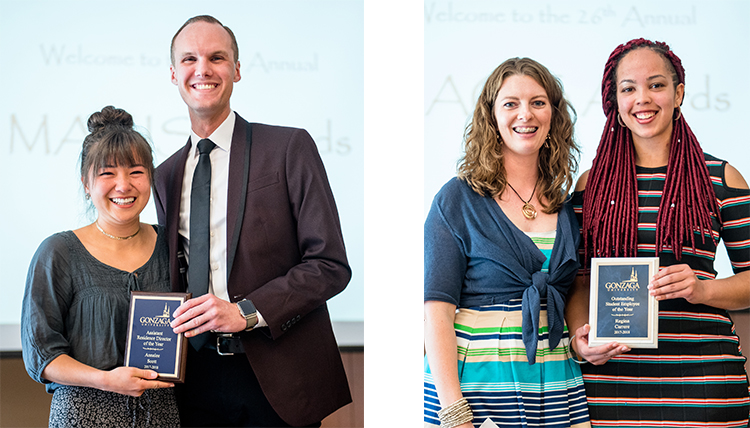 Student Employment
Off campus: Joe Wilson (etailz)
On campus: Regina Carrere (theatre) (Pictured above right, with Leslie Stamoolis)
Sodexo Dining Services: Hannah Flack


Student Media
Editor of the Year: Sarah Kersey


Center for Student Involvement
Father Tony Lehmann Organization Advisor of the Year: Dr. Kevin Measor
For the second time, students honor Dr. Kevin Measor for his voluntary support of the Health Sciences Club, where he truly cares for each student and the club's success.


Student Organization of the Year: Setons
The Setons work behind the scenes on campus to help anywhere there is a need, from commencement and Mass to raising funds for local charities.


Unity Multicultural Education Center (UMEC)
The Fr. Pedro Arrupe, S.J. Award for Unity, Excellence and Leadership: Amayrani Chávez-Godinez ('18)
"Rani" took an active leadership role in La Raza Latina, the Center for Community Engagement and Gonzaga Student Body Association. She has been a tireless advocate for social justice, cultural fluency and inclusion for various marginalized folks. Rani embodies social justice using an intersectional lens and by mentoring future generations of student leaders. She will continue to be a valuable contributor to the mission of UMEC as she organizes the Students of Color Conference to be held at Gonzaga in October.
Lincoln LGBTQ+ Resource Center: Debbie Jean Brown ('18, DPLS)
Debbie has helped improve the Safe Space curriculum, create marketing materials, research best practices and mentor other students. She will leave Gonzaga with a Ph.D. in Leadership Studies and has modeled servant leadership, care for whole person, and Magis from her first day in the Resource Center.



The University Awards
The following six awards are considered university awards. To be considered, graduating seniors must be nominated by a faculty or staff member, then must submit a resume and application materials for review by a selection committee. Collectively these nominees represent the "best of the best" in the senior class. This year 22 individuals were nominated for consideration: All are amazing and have left an indelible mark on the Gonzaga community.



Ignatian Award: Jaden Zwick
This award is presented to someone who has actively modeled the values of Ignatian spirituality with significant commitment to leadership and selfless service to the Gonzaga community. In keeping with the ideals set forth by St. Ignatius Loyola, this award recognizes those who have dedicated their spirit to serving others and making a difference in the lives of all people. Jaden has many gifts and strengths that make her a skilled and effective student leader. She was involved with leadership development, Center for Community Engagement, the BRIDGE pre-orientation program and many more. She is also an ACTSIX Scholar involved off-campus with internships at the Spokane Mayor's Office and the Spokane NAACP. (Pictured above with Kara Hertz)


Sue Weitz Spirit of Gonzaga Award: Carlo Juntilla
Named for a long-standing Vice President for Student Life, this award is given each year to students whose time at Gonzaga has focused on building bridges amongst constituents and working to unify the student body. Carlo sought – in all of his many leadership roles – to uplift the voice of students. He was a tireless advocate for those who were on the margins, either culturally or economically (or both). (Pictured below, left, with Matt Lamsma)



The St Aloysius Award for Faith & Service: Abigail Stolp
St. Aloysius Gonzaga is the patron saint for youth and students. This award is presented to a senior who has led a life of faith made visible in a commitment to justice, ministry, compassion and service. Abby has been involved with the Setons of Gonzaga, Dance Marathon, and Science in Action and participated in the Walking School Bus program with Spokane Public Schools. (Pictured above right with Fr. Brad Reynolds)


The Gonzaga Award for Solidarity in Action: Amayrani Chavez-Godinez
This new honor recognizes someone who is a person with and for others, cultivating deep relationships with others to create a more just and equitable world; a senior who, through advocacy and activism, leads their peers in holding the university accountable to its goals of being a just, equitable and inclusive learning environment. (Pictured below, right, with Raymond Reyes)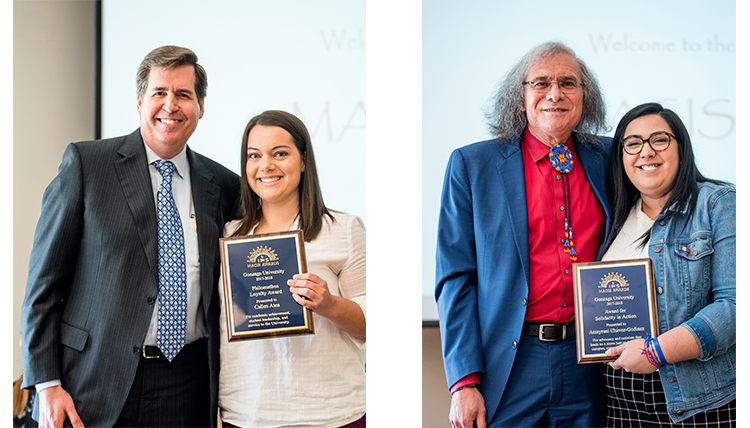 Philomathea Loyalty Award: Callen Aten
These long-standing awards are presented to seniors who have embodied academic achievement, student leadership and service to the University. Recipients must have demonstrated a commitment to obtaining a holistic undergraduate experience while at Gonzaga by graduating with a cumulative GPA of 3.50 or above, obtaining progressive levels of responsibility in student leadership. (Pictured above, left, with Thayne McCulloh)



Carl Lindberg Loyalty Award: Jordon Cotton
Jordon has been involved in leadership development, the Center for Community Engagement, the Black Student Union and the BRIDGE pre-orientation program. One of his nominators wrote, "Jordon sees faith, service and passion for justice as one in the same. His open and honest approach to dialogue across difference taught me how to listen, how to identify oppression, and how to talk about social justice with compassion and human dignity at the core of every conversation." (Pictured above)