Gonzaga Day: Joined in spirit, service and camaraderie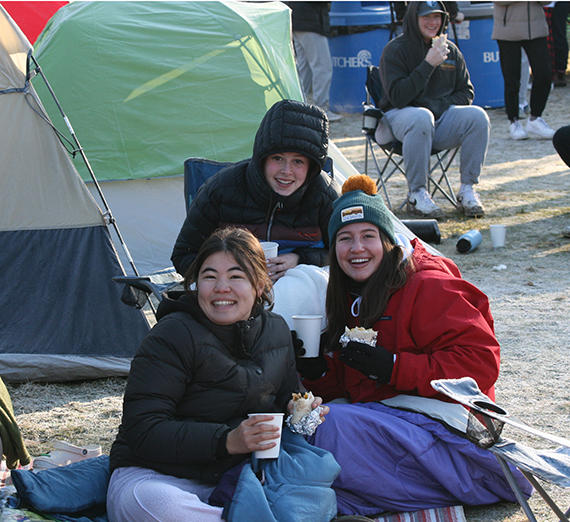 ---
"Gonzaga down by two, Hickman with the ball, over to Strawther, shot clock running down, Strawther shoots a long three … and it's good!"
Another lead change against BYU and the Kennel, already deafening, pushes the decibel level yet again. Spike jabs a paw skyward. Students decked in GU regalia rave in the stands. A grinning fan fist-pumps, yelling, "It's Gonzaga Day, baby!"
Indeed it is. The Kennel is rocking. Across Mulligan Field, Hemmingson's Bulldog watch party is rocking. Likewise, the Blake Street Tavern in Denver, the Graystone in Chicago, the Marco Polo in Seattle, the Corner Draft House in San Diego, all rocking; filled with Zags sharing the love of the game, a school and a fellowship spanning graduating classes and generations. On Feb. 11, all across Zag Nation, "it's Gonzaga Day, baby!"
"Gonzaga Day is the one day we set aside each year that's completely intentional to celebrate who we are," says Mike Kelsey ('10, '12 M.B.A.), and president of Gonzaga's Spokane Alumni Chapter.
"Gonzaga Day is a game day, our own holiday and a great chance to reflect on the loyalty and shared experience that is Gonzaga."
For Kelsey, Gonzaga Day 2023 began with burritos. Lots and lots of burritos. At 8 a.m. he was looking over a sea of tents pitched across Gonzaga's Herak Quad, frosted over from freezing overnight temperatures. Students bundled up, huddled up and warming up with the hot burritos and coffee supplied by volunteers from the Spokane Alumni chapter and Zag Dining. Kennel Campout is a rite of passage as this year hundreds of students queued up 30 frigid hours early for the Gonzaga Day men's and women's basketball matchups.
"This is what it's all about," says Kelsey. "It's camaraderie, it's fellowship, it's making memories. And as alumni, we take this time to give back. It's being a Zag."
Joining Kelsey is fellow chapter member Heather Bowman ('10, '16 M.A). The 2008 WCC Women's Basketball Player of the Year and four-time First Team All-WCC standout is overseeing breakfast for more than 800 current Zags.
"It's a real bonding experience," Bowman says. "Especially if you're out here and it's 20 degrees!"
"This is such a special place, and we carry that with us everywhere," she says, reflecting on the esprit de corps she experienced during her Gonzaga career. "I remember playing down in Vegas and we'd have the biggest crowd against California schools, schools that have a much easier drive. But we sold out in Vegas. It's not just Spokane, it's more than that."
"And when you graduate, you look for ways to provide something back like this. We have other initiatives for service projects in the area, which is really, really great, and we want to fill everybody with that spirit."
This year, students and alumni were invited to "Ignite the Zag Network," which is truly extensive. Around the world, more than 68,000 Gonzaga alumni and thousands more students, parents and supporters are connected by Gonzaga's shared mission. More than 50 Alumni and Friends chapters and affinity groups are home to 1,800 alumni who offer career mentorship. More than 400 companies recruited Zags over the past year through career fairs, Gonzaga's employment database and career Trek programs. And it's built one Zag at a time.
"Gonzaga Days is always a great reminder of the doors that have opened for me, and now the doors our chapter has been able to open for students and parents and friends of the University," says Danielle Cendejas ('04).
Cendejas is 1,200 miles from Spokane but feels as close to campus as she was as a first-year Zag in 2000. Cendejas has been the president of the Los Angeles Gonzaga Alumni Chapter for more than a decade, as well as a founding member of the Alumni of Color Community. Over the years, Cendejas, a partner in an LA political consulting firm, estimates she has talked with hundreds of students, prospective students and families as they navigate college and professional careers.
"I have been able to have experiences that I wouldn't have had if not for my Gonzaga experience," Cendejas says. "The Zag Network is really quite special and something I cherish. When I'm traveling around for work or pleasure, I'm always connecting with people I know from college."
"I'm the first in my family to get a college degree," she adds. "To be an example to my siblings and people in my community, where they can see that you can not only achieve but you can thrive, that was really incredible. Gonzaga fostered an experience that was beyond my expectations."
Throughout the day the LA Alumni Chapter raised money for a local Jesuit parish food pantry and a Catholic charity serving the homeless. Later, Cendejas joined Zag alumni on the patio of Cinco Restaurant, the site of LA's Gonzaga Day Game Watch. The owner? Cendejas' friend from her days on the Gonzaga Florence campus. Again, connections.
"This is a real testament to the Gonzaga spirit of camaraderie and community, and it's always there for you."
That sentiment reverberates across the country. Cynthia Reyes Methvin ('93 and '01 M.A.), has been part of alumni chapters in Spokane, Phoenix and Dallas.
"Zags are for life," she says. "We show gratitude with community and giving back. We have pride in who we are as Zags."
"I come from a long line of Zags," says Jaunessa Walsh ('06, '07 M.B.A.). "Both parents and all five siblings are grads. I met my husband at Gonzaga. So the Gonzaga connection definitely runs deep, and a big part of the journey of the Zag Network is to continue to reach into the community. Together we all rise."
Capping off Gonzaga Day back in Spokane, GU's women kicked off a loud afternoon in the Kennel with a big third quarter and decisive 63-53 win over Portland, capturing sole possession of first place in the West Coast Conference. Bowman remembers that energy.
"We get to relive these memories and see how the University has progressed and what the students and athletes are doing now, it's so much fun and means so much."
Through the day, Kennel Campout becomes Kennel crowd, alumni chapters pitch in and gather 'round. Social media hellos flash across the country. The Zag Network Ignites as the Gonzaga men take on BYU and fire up Zag Nation one more time.
Final minute, Strawther hits three free throws, Bolton adds six more, Sallis with two and the Zags pull away for the win, 88-81. The buzzer is drowned out by the roar of the Kennel. Echoed in Boston. In Boise. In Calgary and Coeur d'Alene, Palm Springs and Portland, NYC and DC. Zag Nation – separated by the miles, joined in spirit, service and camaraderie. And a unanimous "Go Zags!"
See what the Gonzaga alumni network is up to next