University of Washington School of Medicine Graduates Accepted into Spokane Residency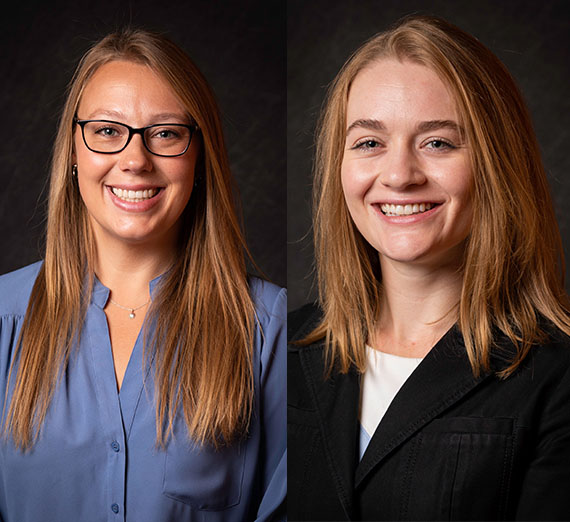 ---
UWSOM grads fill one-third of local first-year residency slots
Dr. Darryl Potyk, associate dean for the UW School of Medicine and chief of medical education for Eastern Washington at the UW-GU Health Partnership, expressed excitement at the record number of graduates who matched into local residencies this year.
"The majority of them are UWSOM-Spokane graduates," he said. "This is significant because studies show that students who attend medical school and do their residencies in the same city are highly likely to stay and work in that community."
Potyk noted there are five Graduate Medical Education programs (residencies) in Spokane; Internal Medicine, Transitional Year, Physical Medicine, Psychiatry and Family Medicine.

It was the opportunity to work in rural or underserved areas that attracted Trinell Newby to the UW School of Medicine. Newby will be part of the Spokane Family Medicine-Colville Rural Training Track residency.
As an undergrad at UW, I knew rural medicine was the track for me. I grew up in Whatcom County and was raised with lots of farm animals. After years of study in a big city, I wanted to see chickens and cows again!
Newby said she did a sub-internship in Colville.

"I fell in love with it," she said. "It just really spoke to me. I enjoyed being in the hospital and getting to know everyone's names. The doctors there meet so many healthcare needs."

When the time came to apply for residency programs, Spokane Family Medicine-Colville Rural Training Track was her first choice. Established in 1986, it's the first Family Practice Rural Training Track site in the U.S.

Newby will spend her first year working with Providence Family Medicine in Spokane and then will work in Colville for her second and third years.

"I'm excited," she said. "You can have a big impact in a smaller population. I'm looking forward to living in a small community."

After her residency, she will likely stay in the area. Of the 27 family physicians who have graduated from the Colville RTT, more than 80% have stayed in rural medicine, and about 1/3 have remained in or near Colville.

By contrast, her classmate, Paxton Smith, thrives in the larger hospital environment. Smith is joining the Internal Medicine program in Spokane.

"I had an in-patient internal medicine rotation in Seattle," she said. "I loved it—the wide variety of patients and the acuity of care. I knew that it would feed my soul."

Her initial assessment proved correct when she did an internal medicine sub-internship in Spokane.

"I liked the challenge of taking care of very sick patients," she said.

The sub-internship offered her a glimpse of what it would be like to be a resident in the program.

"The residents and attending physicians were super nice," said Smith. "And the residency is very community-focused."

That especially appealed to her.

"I'm from Cheney," she said. "My goal has always been to come home to practice here."

Fellow UWSOM grad Tawny Gonzalez-Yetter has also been accepted into the Spokane Internal Medicine program.

Gonzalez-Yetter grew up dividing her time between the East and West coasts. Her father, originally from Cuba, settled in Georgia, while her mother lives in North Idaho.

"In high school, I was drawn to medicine, but I had no idea what it entailed," she recalled.

Initially, she pursued a teaching career in Georgia, but the pay was so low that she took a job as a registrar at a local hospital.

"I still had that lingering desire to be in medicine," she said. "I worked with someone who was finishing pre-med studies and was encouraged to attend medical school."

She took night classes to get her prerequisites, eventually moving to Idaho to study at North Idaho College and then at the University of Idaho.

"I earned a double major in chemistry and biology with a minor in physics," said Gonzalez-Yetter. "I finally figured out 'physician' fit me."

Though she was accepted at other schools, she chose UW School of Medicine.

"I really like their philosophy of keeping physicians where they are needed," she said.

Adding to the draw was the University's Indian Health Pathway, which allowed her to foster a connection to the Native American community.
"I studied in Moscow for two years, then spent a long session in Sandpoint, and enjoyed a fourth-year rotation at the Spokane Native Project," said Gonzalez-Yetter. "Rural and underserved medicine is a passion."

Internal Medicine has always appealed to her.

"I like the diagnostic challenges and putting the pieces together to discover what's going on with a patient," she said. "I was excited to match here, and I'm looking forward to seeing how I grow in knowledge and experience."

While Gonzalez-Yetter and her fellow graduates are entering the next phase of their medical education, another program will soon be added to the existing residencies.

"It's exciting that this time next year there will also be a pediatric residency here in Spokane. This additional residency will help meet workforce needs in our community and will hopefully be home to additional UWSOM grads," said Potyk.

With six residency programs in Spokane, Potyk expects even more UWSOM graduates will continue their education here and will choose to launch their careers in the Pacific Northwest.

"These deepening professional connections add to the high quality of medical care in our area and enhances our community," he said.
---