Stevens Center an Ace in the Hole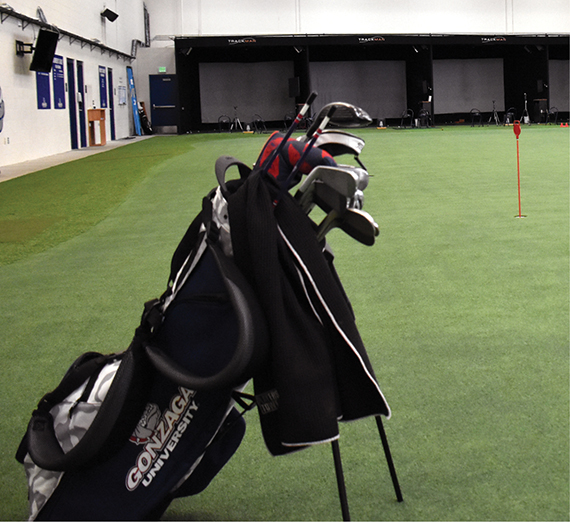 ---
Brad Rickel, Robert Gray, DJ Gurule and Natalie Pluskota-Hamberg literally have grown up together under the same roof.
Gonzaga's golf and tennis head coaches have counseled and cajoled each other, and they have found a home in Stevens Center where they help their student- athletes flourish.
Now in its 10th year of service, the Stevens Center offers six courts for tennis practice and competition and the Powers Golf Training Center boasts four Trackman computerized golf stations and 6,000 square feet of indoor putting and chipping area.
The importance and impact of this center cannot be underestimated, and it has contributed to the increased success men's and women's tennis and golf teams have enjoyed.
"Before we had this facility, our guys would hit into nets in the racquetball courts at Rudolf Fitness Center, or into a net strung the length of the Class of '63 Court in Martin Centre," says men's golf coach Gray. "When we would travel for that first trip of the spring season our guys were hesitant, not knowing where their ball was going to go. Now, with Trackman, the world's foremost golf ball tracking system, players can see club path and club angle, and direction and distance the ball goes, giving them a good sense of where they need to adjust."
Adds women's golf coach Rickel, who became full-time head coach in 2007: "This center gives us a real home on campus. Our players are not having to carry their clubs across campus to hit balls into a net at the Martin Centre.
"While this center provides a recruiting advantage for all of us, it has been really critical to our program in the fall and early spring to knock the rust off and be ready when the start of spring season begins."
Women's tennis coach Pluskota- Hamberg, who assisted Gurule and became head coach in 2021, sees a great advantage that her team can compete and train year-round.
"And it's the players' home," says Gurule, who for 17 years was the women's head tennis coach before taking the men's role in 2021. "They feel very comfortable here. They take care of this place, value it and defend it. The locker rooms are fantastic."
He also echoed the feelings of the other three coaches. "This facility, and the improvements in all four of our programs, would not have happened without the success of our basketball programs," Gurule says. "Building namesakes Jeff and Sharon Stevens and Jim and Gwen Powers were basketball fans, and that's how they got to know us. But more than that, they understand who we are as a university and take pride in being a part of it."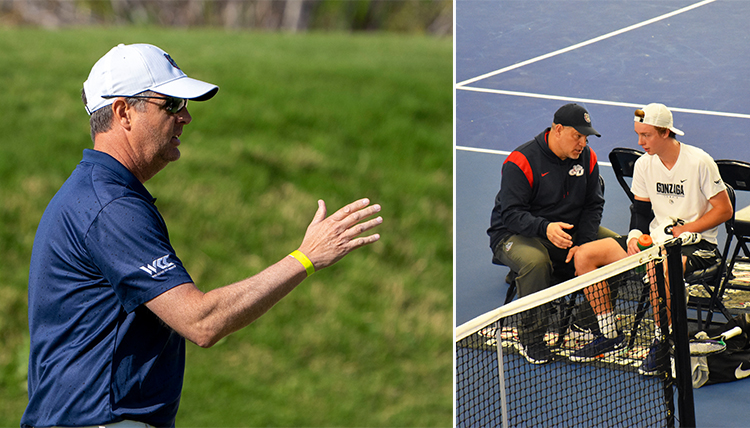 The facility has helped draw top players from all around the country and internationally. Men's tennis has nine players from as many countries. Sophie Whittle was the No. 1-ranked International Tennis Association singles player during her senior year in 2019 and, with her partner Graciela Rosas, ranked No. 10 in doubles. Women's tennis also earned the department's highest team grade point average over the past three years.
The men's tennis team received its highest national ranking in 2022 at No. 47 and beat No. 32 Utah.
In women's golf, the Zags earned five consecutive trips to the NCAA regionals as a team, and twice Bianca Pagdanganan earned an individual spot in the NCAA championship, playing on the last day in the 2017 national championship.
"Fifteen years ago, this would have been inconceivable," Rickel says.
Gray, who became head men's coach, in 2007, is most proud of his teams' 35 academic all-America selections. In addition, James Fahy in 2015 and Sean Walsh in 2016 competed at NCAA regionals, Brandon Crick in 2007 and Sean Walsh in 2013 were named West Coast Conference Freshman of the Year, and Walsh earned WCC Player of the Year in 2016.
But this group finds their greatest joy in their programs' esprit de corps.
Take, for example, road trips.
"We try to expose our student-athletes to as many new things as we can," Pluskota-Hamberg says. "Learning to wake surf, or shopping for shoes in a new city. The coaching staff and players love shoes and Lululemon, and that's often at the center of many conversations," she halfway jokes.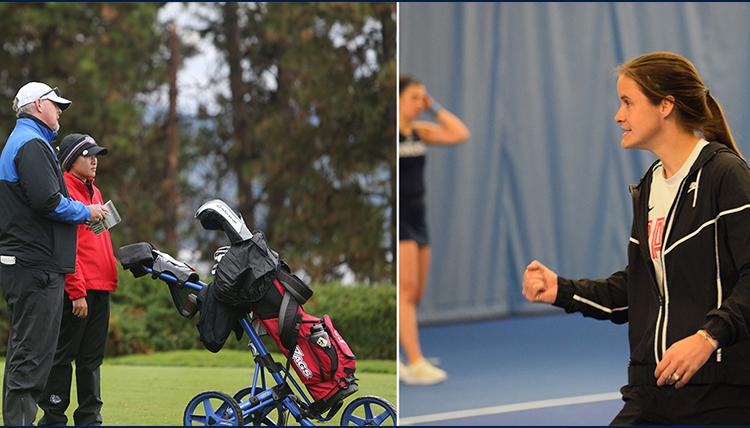 Gurule began a tradition with the women's program that has extended to the men's team.
"We used to rent a house for our spring break trip where we cook our own meals and share time together. We did that with the women at the WCC tournament in 2019, and the men's team came over and hung out with us. We have traveled to play opponents in the hometowns of our players, which is always fun for their families."
Gray rents a house for a team retreat in the fall, giving new players a better chance to get to know their teammates — and vice versa. His teams also enjoy fun outings on the road, like bowling, movie nights, Indy cart racing and taking in the sights.
Players on all four teams enjoy new and sunny places, but none better than competitive trips to Hawaii, which provides recruiting advantages as well.
Deputy Athletic Director Shannon Strahl is a former Gonzaga soccer athlete and recognizes the wonderful relationship these coaches share with each other and their impact on the programs.
"Not only do they support one another throughout their respective seasons, but they share a common bond that persists outside of their roles as coaches," Strahl says. "Similarly, these coaches all do an amazing job recruiting student-athletes who want to excel in competition, in the classroom and in the community," a hallmark of Gonzaga's athletic program.
But when you boil it all down, home is at the heart of these four programs. And these coaches and their student-athletes have found it at Gonzaga.
See the most recent issue of Gonzaga Magazine.