Abby Cota Awarded CEL Student of the Year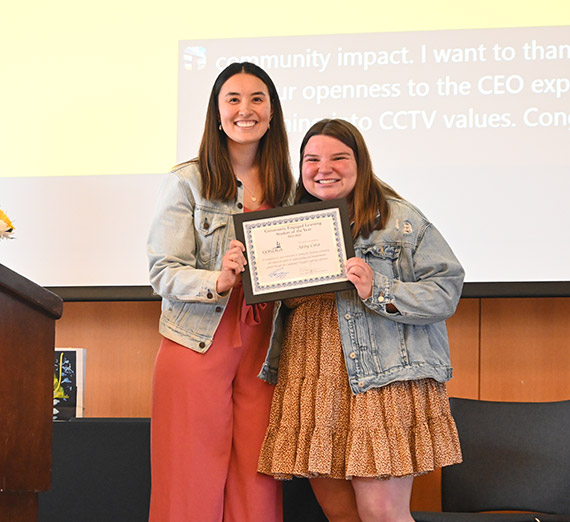 ---
Abby Cota ('26), a first-year student majoring in education, took home the Community Engaged Learning (CEL) Student of the Year Award for her work with Campus Kids, a one-on-one mentorship program for fourth to sixth graders.
CEL is housed by Gonzaga's Center for Community Engagement (CCE), which offers students a variety of opportunities to serve the community and support causes they're passionate about. Abby was recognized, along with other standout students involved with CCE programs, at the Center's annual award ceremony.
Abby began as a mentor in Campus Kids, then jumped into a leadership role at the encouragement of program leaders.
"Obviously it was nerve wracking because I'm a freshman stepping into a new role," Abby says. "But because I want to be a teacher, I thought it was a perfect opportunity to plan different activities."
She made an immediate impact and was later nominated for the CEL award by a peer, who shared, "Abby is great at organizing age-appropriate activities and is a joyful and natural leader who makes others feel seen and appreciated."
Rooted in the Jesuit mission to educate students for lives of service, the CEL program unites classroom theory with real-world impact.
Each year, Gonzaga offers over 100 community-engaged learning courses with partnerships in almost every department, including business, philosophy, religious studies and psychology. Typically, a student complements course content with about 20 hours of outside community service work.
CEL presents the Student of the Year Awards to a student, who has demonstrated an impressive depth of understanding of the course material and has experienced personal growth as a result of the community engaged learning experience.
As an education major, Campus Kids was a natural fit for Abby. This year she enrolled in three CEL courses with focuses ranging from special education to theories of learning. That said, she sees the program's benefits as going far beyond her academic area of study.
"I think every college student should do Campus Kids or something like it," says Abby, who worked with youth at Logan Elementary, located in the same neighborhood as Gonzaga.
"I'm from San Diego, so it's been a great opportunity for me to get to know the community. Logan is a Title I school, and I think it's important for all students to be aware of some of the injustices in the local community."
Title I is a federal program designed to help close educational gaps in areas where students are impacted by poverty.
For Abby, a highlight of Campus Kids is seeing the growth of mentees, and she's excited to continue serving as a program leader during her time at Gonzaga.
"You see kids do a complete 180," Abby says. "For example, there was one girl who was new to Spokane. She was very shy and struggling to find her place. I've seen her grow so much, and she's way more confident now. That's been special to see, and I've seen that throughout all our kids."
Want to learn more about the Center for Community Engagement?