Business Students Excel in Competitions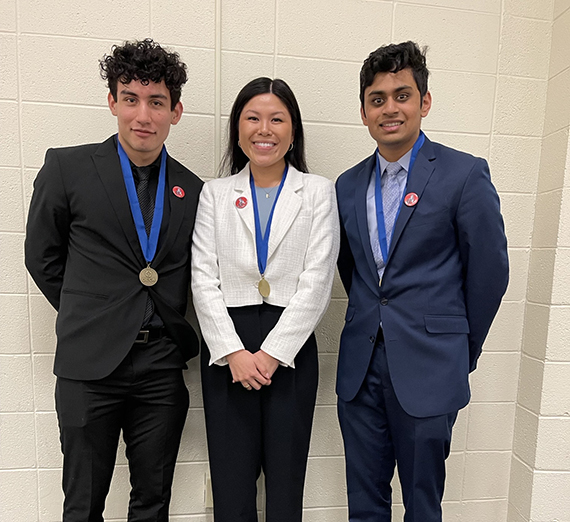 ---
School of Business Administration students are showcasing outstanding performances at business competitions across the nation.
DECA
Four Gonzaga University students are among a hundred competitors from other state colleges to compete in the Washington State Collegiate Distributive Education Clubs of America (DECA) Competition.
Maya Ortiz-Camacho ('24), Jailen Patel ('26), Jadon Sansgaard ('26) and Mateo Cabrera-Gil ('24) competed in various events on March 4th, 2023, against students from Washington State University, Bellevue College, Shoreline College and Columbia Basin Community College.
Gonzaga DECA chapter students secured first place in all categories, advancing to the Collegiate DECA International Career Development Conference (ICDC) in Orlando next month. The four competitive events include: sales management, hotel management, travel and tourism, and marketing management.
"The success of Gonzaga DECA students in state competitions is a significant achievement that reflects the school's strength and effectiveness," said Danielle Xu, professor and advisor of the Gonzaga chapter. "It demonstrates that the program is providing students with the knowledge, skills, and confidence needed to compete and succeed at a high level."
ACG
The Association for Corporate Growth (ACG) Cup is comprised of seven teams representing the top MBA and undergraduate programs in Oregon and Washington that competed in a finance case competition. Congratulations to Gonzaga's "Spike Capital" on an outstanding performance and being named this year's champion. This win represents Gonzaga's first ACG Cup Championship and the first time the cup was won by a team of undergraduate students.
The members of this outstanding team are Andy Hovland ('23), Peter Kulseth ('23), Reid Quiggins ('23) and Jadon Sansgaard ('26).
EWU (Avista) Business Pitching Competition
The EWU (Avista) Business Pitching Competition is a free collaborative startup competition for high school and college students in eastern Washington and northern Idaho.
Three Gonzaga students from the Creativity, Innovation and Entrepreneurship class won and received $250 at the first phase of this event. They will move on to phase two after spring break. Those three students are Natalie Terterov ('24), Carson Duling ('24) and Mateo Valdez ('24).
D.A. Davidson
The D.A. Davidson Wealth Management Research team recently hosted students and faculty from Gonzaga as part of the D.A. Davidson Student Investment Program.
Gonzaga has regularly maintained a strong student team over the years and has earned the program's top award three times.
How do Gonzaga students find career paths?