Why Hire Zags? Five Companies Answer
The question of whether Gonzaga produces graduates equipped for the workforce is not up for debate.
Gonzaga sets students up for success in all areas of study, and employers who hire graduates from programs like education, business, engineering and nursing have some specific praise to offer. Spokane Public Schools (SPS), Boeing, Big 4 accounting firms such as Deloitte and KPMG, as well as Providence Health and Services all frequently hire Gonzaga graduates for good reason.
EDUCATION
Spokane Public Schools oversees eight high schools, eight middle schools and 34 elementary schools. Paul Gannon, a former principal and current human resources leader for SPS (as well as a Gonzaga graduate himself), speaks highly of the teachers coming out of GU's School of Education.
"Applicants from GU typically have a solid foundation around lesson planning, curriculum, instructional pedagogy and assessment practices, and ability to work positively with students and educational colleagues," Gannon says. He also says the student teachers come very prepared, which reflects highly on Gonzaga's ability to equip future teachers.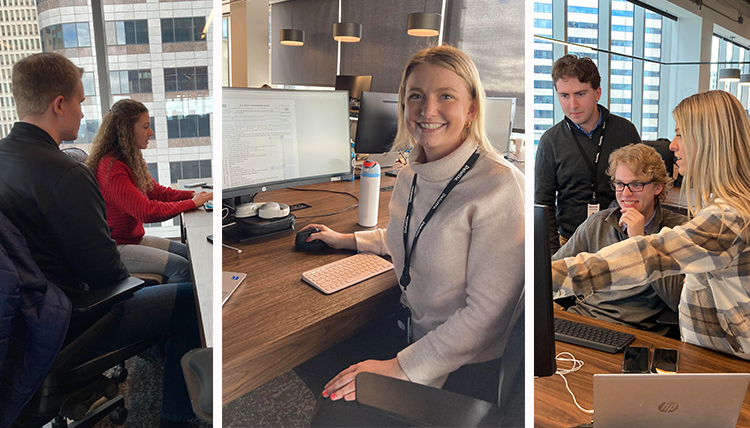 BUSINESS
Deloitte and KPMG are both Big 4 accounting firms "with a rich tradition of recruiting Zags," according to Andrew Brajcich, director of graduate accounting and associate professor in Gonzaga's School of Business Administration. In speaking with the two firms' leadership, Brajcich says that they "appreciate Zags for their ability to communicate effectively. They also find Zags to be among the most technical among their new hires," something that is attributed "to the rigor our accounting and tax programs have long had."
Taylor Cherry, a campus recruiting specialist for Deloitte, says that "the reason Deloitte hires so many Gonzaga students is that Gonzaga produces graduates who are prepared for the workforce," which Deloitte believes is because of Gonzaga's reputable faculty, staff and other student support systems. Additionally, Gonzaga's liberal arts education creates critical thinkers whom companies, such as Deloitte, value highly.
Brian Eike, a partner at KPMG, believes that "Gonzaga students thrive at KPMG because of their experience with the tradition of cura personalis," or the care and concern for the whole person, because KPMG values "doing what is right for our clients, our professionals and our communities."
The culture at KPMG "aligns with the values that Gonzaga instills in its students" and that "when paired with the robust academic programs and mentorship they receive, Gonzaga alumni are recognized as some of KPMG's strongest talent at the firm," Eike says.
"To think like an accounting professional and trusted business advisor takes a lot of hard work. These two firms, and others, recognize that work ethic in Zags." – Andrew Brajcich
HEALTH CARE
Providence Health and Services provides health and social services across 52 hospitals and more than a thousand clinics throughout the western United States and is one of the top employers of Gonzaga graduates. According to Julie Orchard, interim director for HR in the Inland Northwest at Providence and Gonzaga graduate herself, "It's the mission. There is an alignment between Gonzaga and Sacred Heart (Spokane's Providence hospital) in that mission."
Orchard explains how Gonzaga's small community is similar to the one at Providence, saying that "students have that full experience, not just about education but about who they are as a person. We do the same at Providence; we care about the whole person."
ENGINEERING
Boeing has a decades-long history of hiring Gonzaga grads, many of whom spend their entire careers at the aircraft industry giant. Oftentimes, that connection starts during students' final year when they work on senior design projects. This year, Boeing is sponsoring eight of those projects.
Nick Questad, customer engineering, says, "The engineers we hire from Gonzaga are not only technically sound, but their well-rounded Jesuit education prepares them to think critically and creatively to work with others to solve problems, setting them up well to be future technical leaders at our company."
No surprise, Questad himself is a Zag. He graduated from the School of Engineering and Applied Science in 2006 and the School of Leadership Studies in 2010.
Learn how Gonzaga measures the outcomes of each class, in terms of employment following graduation.
Careers & Outcomes
Academics
Alumni
School of Business Administration
School of Nursing & Human Physiology
School of Education
Academic Vice President
Alumni