Finding Success from the First Step After Graduation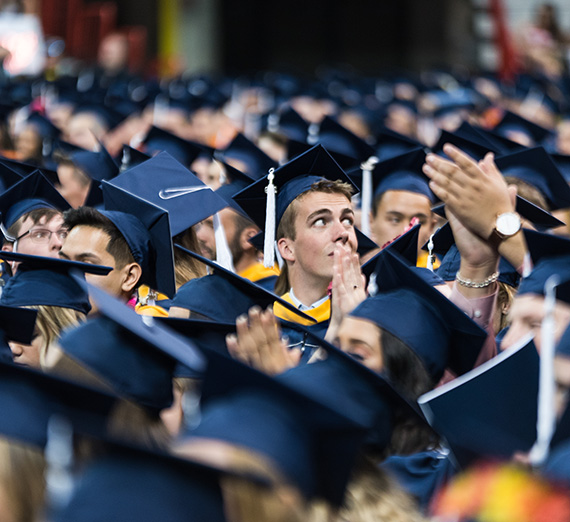 ---
When Ray Angle and his team dive into researching the statistics that help make up Gonzaga's annual First Destination Survey Report – an effort to illustrate what graduates are doing in the year after earning their degrees – few stones go unturned.

Angle, GU's assistant vice president of Career & Professional Development, and his cohorts survey recent grads, and generally hear back from about 30% of their informational targets, a typical statistic for email surveys. They also do a lot of online detective work, combing the graduates' LinkedIn accounts, Facebook pages, anything that might help. "Believe it or not, an internet search of a recent grad led us to a wedding registry, which provided some very helpful data," Angle said.

All of that work is done to provide the most accurate picture possible of students' first steps after graduation, adhering to the standards of the National Association of Colleges and Employers, or NACE. And Gonzaga's team is exceedingly skilled at surpassing those standards.

"NACE would like for us to at least know where 65% of our class is, and we're averaging 84%, so the sheer number is really great," Angle said.

Even better is the story told by the data mined by the Career & Professional Development crew about those who earned degrees between July 1, 2020, and June 20, 2021 – the most recent year tallied for the First Destination Report.
Gonzaga enjoys a 96.2% Outcomes Success Rate, which is measured by the number of graduates working, pursuing continuing education, volunteering, joining the military or simply not seeking a position after graduation, among both undergraduate and graduate alumni.
That number continues a near-constant upward trajectory of the Outcomes Success Rate that started with the inaugural 2015-16 First Destination Survey Report, save for the influence of the COVID-19 pandemic on the 2020 report.

Other features from the survey include what companies are hiring the most Zags, where GU students tend to do internships, where recent students spend their first year living after graduation and more. But Angle knows most people will be interested in what the data says about the value of a Gonzaga education.

"People who follow the news know that the return on investment of a college education has been a hot headline for over a decade. 'Is it really worth it?'" Angle said. "There's an advantage to a four-year degree because of all you're exposed to, and the way that you're taught to think."
Top 6 Employers of Gonzaga Graduates 2020-2021
Providence Health & Services-Swedish
Gonzaga University
United States Armed Forces
(tie) Deloitte, Seattle Children's Hospital, Spokane Public Schools
Top 5 Continuing Education Institutions
Gonzaga University
University of Washington
Seattle University
(tie) Arizona State University, University of Michigan
Top 5 States Where Recent Grads Reside
Washington
California
Oregon
Colorado
Idaho
Read the report for the class of 2020-2021