Wellness Lab Addresses Dancers' Pain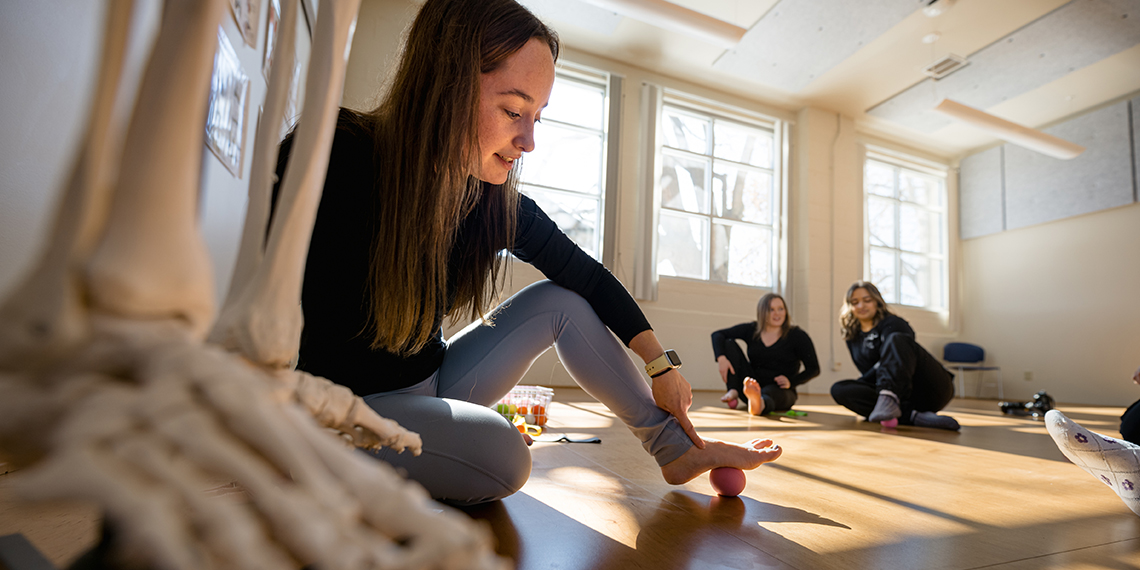 Since it began in 2000, the Gonzaga Dance Program has flourished. Suzanne Ostersmith, founder and director, has watched it flourish with a cautious eye for the health and wellness of her students. Her latest endeavor to meet this need is a Dance Science and Wellness Lab.
The idea formed while Ostersmith was on a sabbatical last spring, visiting other university dance programs. While she was proud of all that GU's program offered compared to other large schools, she realized a wellness center would bolster the appeal for dancers. Upon her return to Spokane, Gonzaga remodeled an existing space into a Dance, Science and Wellness Lab.
Previously used for storage or small group activities, the lab now has sprung floors, sound-deadening panels on the ceiling and walls and a new sound system. However, the best addition is the new physical therapist, Nola Petrucelly, a former dancer herself. Her specialty is targeting the root cause of a dancer's pain, which typically lies in the form of the movement. The Wellness Lab has dedicated lab hours for students to visit Nola for evaluation and guidance.
According to Ostersmith, a gap in wellness is common when the well-being of dancers' muscles has been overshadowed by competition. The Dance, Science and Wellness lab is taking the program to a "whole other level" by really focusing on educating student dancers about their bodies and movement, she says.
The Dance Science and Wellness Lab provides a place to foster new connections between dance and Gonzaga's human physiology department, especially with the implementation of a physical therapist.
"Dancers are only able to dance professionally if they have been able to care for their bodies," Ostersmith says. So, implementing strategies to promote their health and wellness helps students move forward with less dance-inflicted pain.
Learn more about Dance at Gonzaga
Academics
Student Life
College of Arts & Sciences
School of Health Sciences
Academic Vice President
Dance
Human Physiology