Meet Karli Honebein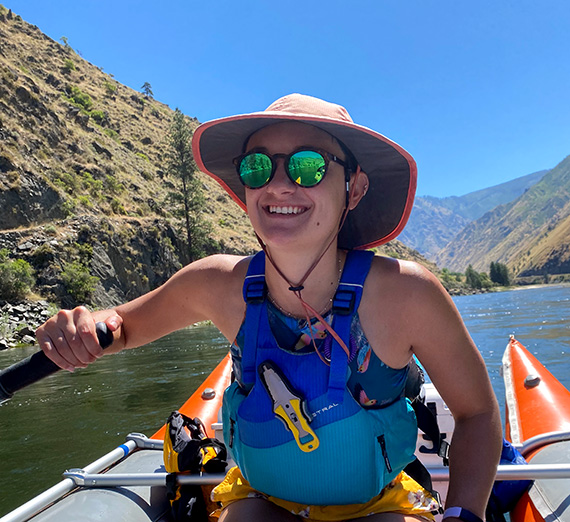 ---
This month's installment in the ongoing series of Q&A sessions from the Office of Sustainability catches up with Karli Honebein. Keep reading to learn about Karli, her views on sustainability, and how she implements sustainable practices into her daily life.
---
What is your position/department/year/major/club affiliation at Gonzaga?
I am the Climate Literacy Program Coordinator at the Center for Climate, Society, and the Environment
What does sustainability mean to you?
For me, sustainability means living with intention. It includes thinking about where my food comes from, shifting how I get around town, and being aware of my more than human surroundings. It also means thinking critically about how my sustainability efforts are impacting other people, places, and lives around the world.
How have you been involved in promoting sustainability on campus?
While my involvement on campus has been limited, my job allows me to promote climate literacy and sustainable lifeways in local schools. I supervise undergraduates who develop lesson plans and visit schools in Spokane to teach climate science and climate literacy lessons. The Climate Center is working to expand who in our community is learning about climate and sustainable lifeways beyond the Gonzaga bubble.
What are some things you do in your personal life to live sustainably?
I have a home composting system, my partner and I own a hybrid car, and I am a pescatarian. That being said, I think living sustainably is about more than the little things we can do at home. I vote in local elections, I attend teach-ins and protests, and I talk to my friends and family about climate change regularly. Small conversations with people you know is one of the most effective models of changing values and behaviors.
How could Gonzaga continue to improve its sustainability efforts?
As a Jesuit institution, our commitment to solidarity with the poor and vulnerable and care for the planet requires that we not only decarbonize our operations as quickly as possible, but ensure all students graduating from Gonzaga understand how they impact the environment and how the environment impacts them.
How will you continue to promote sustainability at Gonzaga?
I particularly enjoy supporting programs on campus that highlight student power and agency, such as the green fund. I truly believe that students are the best advocates for change at the institutional level and do my best to support students promoting sustainability on campus.
How do you see sustainability intersecting with social justice issues on an institutional, country, or global scale?
Environmental and climate justice is social justice. As with many environmental problems, those who have done the least to cause the problems usually are the least well equipped to respond to the impacts. It is the responsibility of folks like me to actively create spaces for resilient communities to lead sustainability and environmental conversations.
Interested in more stories from the Office of Sustainability?