Meet Ben Chu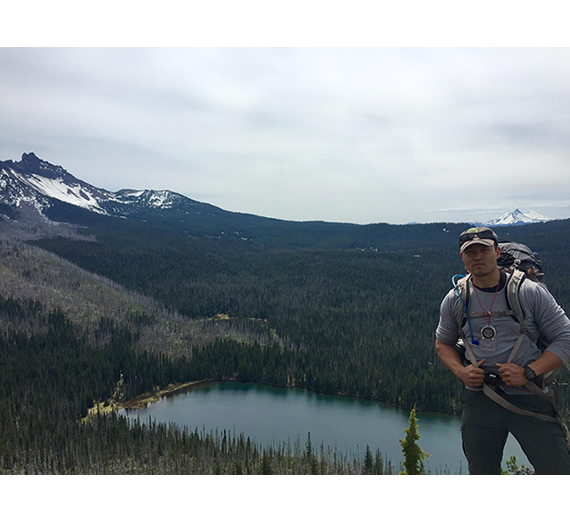 ---
This month's installment in the ongoing series of Q&A sessions from the Office of Sustainability catches up with Ben Chu. Keep reading to learn about Ben, his views on sustainability, and how he implements sustainable practices into his daily life.
---
What is your position/department/year/major/club affiliation at Gonzaga?

I'm a Specialist for Ecological Spirituality with our Office of Mission and Ministry, and I also teach in the Comprehensive Leadership Program with our School of Leadership Studies.

What does sustainability mean to you?

For me, sustainability means being in life-giving relationships both intra-generationally across cultures and inter-generationally across time in a way where we examine and imagine how our actions affect others and the Earth we call our common home.

Sustainability is also a practice of abundance and simplicity by not buying into the idea that you need to buy more stuff to be happy or safe. Of course, we need a baseline of material possessions to survive and thrive, but I've recognized in myself that my own tendencies towards greed are usually rooted in fear, and I believe it starts to become unethical to hoard excessive resources when so many of our fellow humans lack basic needs.

How have you been involved in promoting sustainability on campus?

It's been a blessing to collaborate creatively with partners all around campus such as the Office of Sustainability, the Climate Center, GU Outdoors, the Gonzaga Environmental Organization, Fossil Free Gonzaga, the Green Fund, the Employee Sustainability Ambassadorship, and staff and faculty from many different disciplines and departments. My approach is not to be the sustainability police. My hope is to help others find their own intrinsic motivation to deepen their relationship to the sacred in people and planet, and this happens through transformation - not just information.

What are some things you do in your personal life to live sustainably?

It's an ongoing journey of discovery. My family and I live by the motto of "enough." We do our best to prioritize our relationships to God, to others, and to our Earth, and that is the source of our life's joy and meaning. Who we are is enough, and what we have is enough.

Practically, we live out the best practices of sustainable living in the capacity that we can: composting, xeriscaping, recycling and using TerraCycle for things our city doesn't take, supporting local businesses and B Corps like The Grain Shed and Roast House Coffee, subscribing to Community Supported Agriculture through Vinegar Flats Farms, thrifting and upcycling, shopping online on Earth Hero, and making do with what we have. We recently got solar panels and are offsetting 95% of our yearly electricity usage, which we're excited about. I used to be somewhat indifferent to this way of living, figuring it wouldn't make much of a difference in the grand scheme of things, but my perspective changed after my wife and I had kids. I decided to take ownership in doing my part to leave a better world for not just our children but for all of humanity.

Obviously, there are colossal systemic changes that need to happen for lasting positive change, but we want to live out what we value, and in terms of resiliency amidst eco-anxiety, it's important to do small things that give a sense of agency along with encouraging hits of dopamine and serotonin.

How could Gonzaga continue to improve its sustainability efforts?

I'm new here so I'm still learning about our community, but the recent Climate Summit I attended was a great example of groups on campus working together, and it seems like we're rowing in sync. The more we work together as a cohesive team, both within and outside of our school, the more successful we will be in our shared goal of the common good.

I'm proud to be a part of Gonzaga which was the first university in the U.S. to sign the Laudato Si Action Platform, and I'm deeply grateful for the creation of the position I'm now in which animates Pope Francis's Laudato Si: On Care for Our Common Home. The work we have ahead is challenging, but we have hope and are taking meaningful steps.

How will you continue to promote sustainability at Gonzaga?

Our world needs policy changes and structural evolutions, and I believe that starts with a profound transformation of our philosophy, spirituality, and worldview, which is where my role comes into play. My hope is to foster what Pope Francis calls an "ecological conversion" in which we recognize our intrinsic interconnectedness, move beyond a throwaway culture that only values planet and people for their utility, and deepen our connections to the sacred that is immanent in creation. All of these happen through life-giving relationships and experiences.

How do you see sustainability intersecting with social justice issues on an institutional, national, or global scale?

My role explores the intersection between faith, environmental justice, and social justice, all of which are inextricably linked. My mother is a Secular Franciscan, and I grew up around Franciscans, so I'm deeply inspired by St. Francis who loved and saw God in both nature and in the poor. For me, it's as simple as this: I believe that God's goodness is imbued in creation, so I want to love and care for our planet and the people on it. I don't do this perfectly, but it's a calling I feel drawn to in which we heal and grow together as a human family in community with all living creatures on our one, beautiful planet.