Catholic Church's Primary Voice on Climate to Speak at Gonzaga
Cardinal Michael Czerny S.J., a 1968 Gonzaga alumnus, works on issues ranging from migration patterns to global economics to social services and more.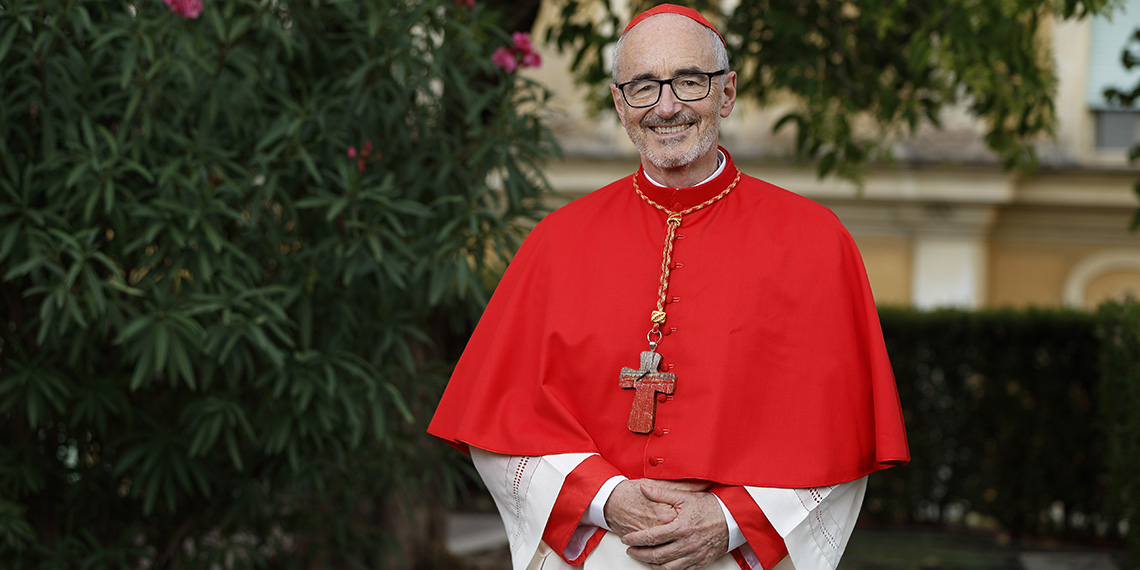 Cardinal Michael Czerny S.J., Pope Francis' appointee to lead the Catholic Church's efforts to become a better caretaker of the planet and all its creatures, will travel from Rome to Spokane to speak March 9 at Gonzaga University. Czerny will speak on "caring for our common home."

In 2015, Pope Francis authored an encyclical, or letter, inviting people around the world to undergo an "ecological conversion." That letter, called Laudato Si': On Care for Our Common Home, then inspired the 2021 Laudato Si Action Platform as a means to hear and respond to "the cries of the poor and the cries of the Earth." In 2021, Gonzaga became the first American university to commit to the Laudato Si Action Platform, aiming to advance such Laudato Si' goals as offering ecological education and adopting sustainability practices on campus.

Czerny's official title is "Prefect of the Vatican Dicastery for Promoting Integral Human Development," which means he's in charge of the Catholic Church's efforts to assure humanity's ability to live in dignity. Given how climate-related disasters — wildfires, hurricanes, floods, deadly heat in the summer — disproportionately affect the world's poorest citizens, Czerny's work involves not just the science of climate change, but migration patterns, social services, global economics and more.

"As one of the Catholic Church's foremost leaders addressing urgent human and ecological challenges, Cardinal Czerny's visit demonstrates that Gonzaga University and its Center for Climate, Society and the Environment are emerging global leaders in helping communities in our region and around the world understand and respond to the climate crisis," said Brian G. Henning, the climate center's director.

Henning notes that the center's activities — its climate lecture series, faculty climate microgrants, K-12 Climate Literacy Project, extreme heat and climate resilience programs, and more — all "seek to connect the flight of vulnerable people and the destruction of our common home." That is work Czerny's been doing for the church on a global scale for decades.

The 72-year-old Czerny, a 1968 Gonzaga graduate, is uniquely qualified to tackle the complexities of the climate crisis, as he's worked on several far-reaching hot-button issues for the church since being ordained as a Jesuit priest in 1973.

Early in his career, he assumed the director's role of the University of Central America's Institute for Human Rights after his predecessor was one of six priests murdered in El Salvador; he later worked with the United Nations in mediating an end to that country's civil war. In 2002, he founded the African AIDS Network, leading the organization for nine years in coordinating efforts in nearly 30 sub-Saharan African countries to provide health care, education and social services for victims of HIV/AIDS, channeling funding from a multitude of foreign sources in the process. In 2016, Pope Francis put Czerny in a major role working with migrants and refugees around the world.

"This is a world leader in the work of Laudato Si, and the commitments of the church for the environment and how it impacts people, primarily the world's poor," said Ellen Maccarone, Gonzaga's acting vice president for Mission Integration.
"Cardinal Czerny's visit is significant because it allows us to highlight what is distinctive in the approach to caring for the environment from the church's perspective — deep suffering of the world's poorest will continue if we do not better attend to the environment."
"Laudato Si helps us see that care for the environment is care for the world's most vulnerable people, care for human dignity, for creation."

Maccarone notes that the goals of Laudato Si connect directly to the Jesuits' Universal Apostolic Preferences, which include protecting the planet, working in solidarity with the marginalized and poor, and creating a hope-filled future for youth. Czerny's decision to speak on the Gonzaga campus emphasizes the church's belief in youth, and education's vital role in pursuing the Laudato Si goals.

Czerny's talk will address how care for the Earth and concern for its most vulnerable inhabitants are not distinct efforts, but "two parts of a single mission for social and environmental justice," Henning said.

"Pope Francis' Laudato Si encyclical invites people of all backgrounds to undergo an 'ecological conversion' in order to live in better harmony with God, with one another, and with all of God's creation," he continued. "The church's focus on the climate crisis, and the work of Cardinal Czerny, underscores that climate change is not only an issue of concern for scientists and environmentalists. It must be a priority for the entire global community. Gonzaga prides itself on developing students eager to be a force for positive change in the world, and Cardinal Czerny's presence on campus and the wisdom he'll bring in discussing the climate issue is sure to inspire all who hear his talk."

Czerny's visit is co-sponsored by Gonzaga University's Center for Climate, Society and the Environment, the Office of Mission Integration, and the Jesuit Community.

Cardinal Michael Czerny's talk "Caring for Our Common Home, in This World and with This Climate," is Thursday, March 9, at 7 p.m. at the Myrtle Woldson Performing Arts Center on the Gonzaga University campus. It is free and open to the public, but tickets are required. Tickets and more information at Gonzaga.edu/Cardinal.
Academics
Alumni
Faith & Mission
Global Impact
Health & Wellness
Service & Community Impact
Student Life
Sustainability
Center for Climate, Society, and the Environment
President's Office
Office of Mission & Ministry
Alumni
Myrtle Woldson Performing Arts Center
University Advancement
News Center