Gonzaga Featured in New Book About College Basketball 'Done the Right Way'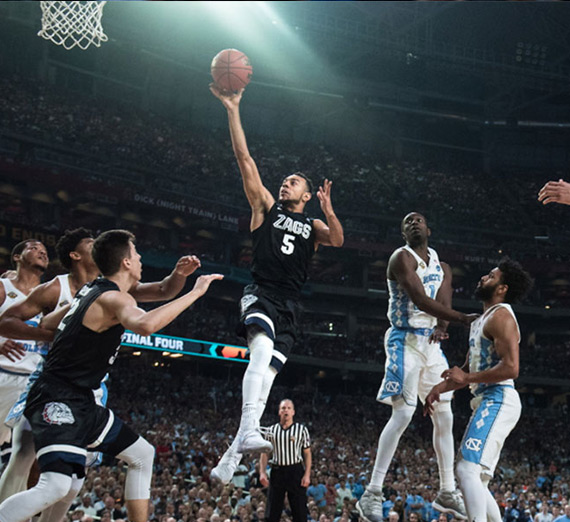 ---
"Unbracketed: Big-Time College Basketball Done the Right Way" chronicles four smaller NCAA Division I institutions – Gonzaga, Villanova, Loyola-Chicago and Davidson – which turned Cinderella runs in the NCAA tournament into a seemingly permanent invitation to the Big Dance.
Each institution had already established reputations for their academic credibility. But once their basketball teams became marquee names in the tournament, their institutions' stock rose. These are programs devoted to their schools' missions.
The book's authors – Graham Honaker, executive director of principal gifts at Butler University, and Jerry Logan, assistant dean of faculty affairs at Brown University School of Public Health – capture the allure of these four basketball programs which built their success to last the test of time.
At Gonzaga, Mike Roth had recently been promoted from within to athletic director and knew his department and the university needed to think bigger. A year later, Father Robert Spitzer, S.J., was selected as president. He could feel the momentum gathering after Gonzaga's 1999 trip to the NCAA's Elite Eight and was ready to grow the program and the university. When Coach Dan Monson left after that historic tournament, assistant Mark Few was promoted, a sign of consistency repeated by each of the four profiled institutions.
In this streak of 23 years of NCAA tournament participation, enrollment has grown from 4,400 to 7,300, the endowment has grown from $10 million to over $450 million. The university is now ranked among the Top 100 academic institutions in the country. Gonzaga has added or renovated two dozen buildings. And the university's brand is known around the world . . . and people can pronounce our name.
Despite entering the arms race for the country's top players, our student-athletes are still a part of the campus scene and embellish the university's values, in the classroom and in community service.
Basketball became a catalyst for work to be done in admission, fundraising and marketing, but it is not the substance, the authors note. The substance remains the people within the community, and their enactment of the schools' mission day to day and year to year.
Interested in buying a copy of "Unbracketed"?
Check out our basketball page for hoops-inspired stories, tournament updates and more.