Gonzaga Basketball Books: A Zag Nation Reader's Guide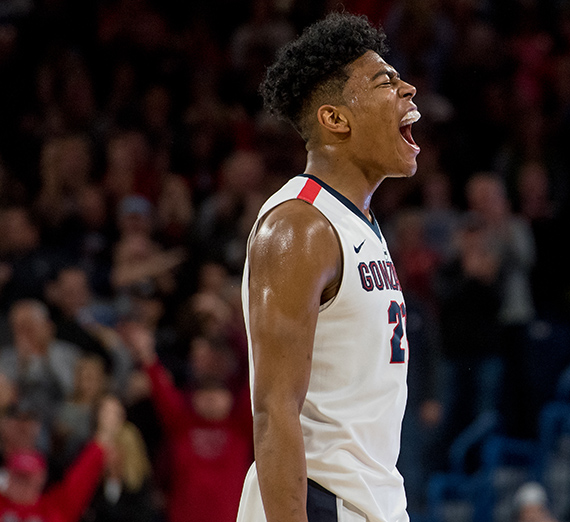 ---
Over the last two decades and change, Zag Nation has experienced the remarkable rise of both the women's and men's teams. Here's some our favorite books that capture the players, fans, coaches and community who made it all possible.
We Are G.U.: The Origins, History, and Impact of Gonzaga University's Kennel Club
Written by Kennel Club co-founder Mike Shields ('84) and Gonzaga Alumnus Aaron Hill ('01), We Are G.U. tells the story of Gonzaga's student fan group, the Kennel Club, from its beginning in 1984 to its recognition as one college basketball's most raucous student fan sections.
Read Our Book Review - Order Now

Unbracketed: Big-Time College Basketball Done the Right Way
Unbracketed explores how four smaller DI institutions – Villanova, Gonzaga, Davidson and Loyola-Chicago – have turned Cinderella runs into long-lasting success on and off the court.
Read Our Book Review - Order Now

Glory Hounds: How a Small Northwest School Reshaped College Basketball. And Itself.
Glory Hounds explores the far-reaching stories that have made Gonzaga basketball what it is today, delving into Coach Mark Few's decision to stick with the team, Adam Morrison's unforgettable season in 2006, the women's team's own rise to prominence and much, much more. It's the first book to explore the full breadth of Gonzaga basketball and find the common thread that ties this powerful story together.

Lasting Mark: Coach Mark Few's Legendary Career with Gonzaga Basketball
This collector's book celebrates Gonzaga Coach Mark Few's remarkable career in a hardcover book full of stories, photos and stats that showcase his pivotal role in the transformation of Gonzaga basketball and his impact on the greater Spokane community.

BraveHearts: The Against-All-Odds Rise of Gonzaga Basketball
Acclaimed college basketball writer Bud Withers retraces the touching and inspirational journey of Gonzaga's men's basketball team. Published in 2002, readers meet the players, coaches and university leaders that laid the foundation for Gonzaga's current success.

Tales from the Gonzaga Bulldogs Locker Room: A Collection of the Greatest Bulldog Stories Ever Told
It's the mom-and-pop store that has become a national franchise. The most renowned player in school history grew up three blocks from the cozy campus, yet the program has grown into a perennial top 25 power with a coast-to-coast following—even if those casual fans still mangle the name.
Check out our basketball page for more hoops-inspired stories and content.