Gonzaga Again Ranked Among the Top 100 National Universities by U.S. News & World Report
12th for Best Undergraduate Teaching; top 15% for Retention; Business, Engineering, Undergraduate Nursing Among Nation's Best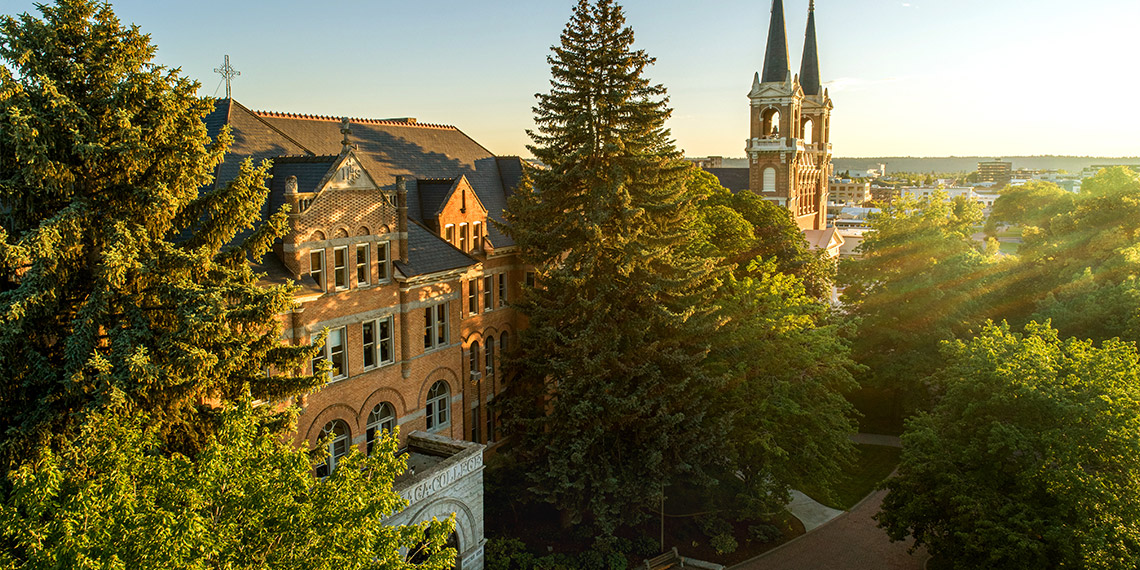 SPOKANE, WASH. – With a relentless drive for academic excellence, Gonzaga University is ranked by U.S. News & World Report's 2023 annual rankings in the top 100 National Universities for the fourth consecutive year, this year moving up and into the top 19% of schools in this category.
Gonzaga's commitment to teaching excellence contributes significantly to its high institutional ranking. Among National Universities, Gonzaga advanced to be ranked 12th in the category of Best Universities for Undergraduate Teaching. Excellent teaching leads to success in other important outcomes. Fully 85% of GU's students graduate within six years or less, compared with the national average of 64%. The University's first-year retention rate remains among the very best in the country at 93%, placing Gonzaga in the top 15% of National Universities.
U.S. News and World Report's National University category this year includes 440 schools ranging from elite privates to large state research institutions based on criteria established by the Carnegie Classification of Institutions of Higher Education. National universities offer a full range of undergraduate majors as well as master's and doctoral degrees and emphasize faculty research or award professional practice doctorates.
"These rankings are reflective of our commitment to creating an excellent, comprehensive educational experience focused on student success," said Gonzaga President Thayne McCulloh.
"I am extremely proud of our entire Gonzaga community for the accomplishments these rankings represent, especially in a time when our students, faculty, and staff achieved incredible things in the context of a worldwide pandemic.
"Over the past two years, we remained committed to in-person, on-campus learning as well as supporting opportunities for remote education," McCulloh said. "We remained deeply invested in fostering a supportive campus community so that our students could focus on their academics and their personal and social development, and our faculty could continue their intensive teaching, research and scholarship. Gonzaga is a community that forged a path to maximize student success despite the challenges and limitations the pandemic imposed. I will always be proud of the commitment our people demonstrated during this historic time."
That commitment is reflected in the achievement of more programs making U.S. News and World Report's top tiers. GU's Undergraduate Nursing is ranked in the top 13%; Undergraduate Engineering places in the top 15%; and Entrepreneurship, Management, Finance and Accounting combine to advance GU's Undergraduate Business to a top 20% ranking. Computer Science ranks in the top 36%.
"Gonzaga is fiercely committed to creating a world-class teaching and learning environment," noted Provost Sacha Kopp. "Our 11-to-1 student-to-faculty ratio is focused on the learning experience. More than 40% of all class sections have fewer than 20 students, and only 1% of Gonzaga's classes are larger than 50 students in size. To me, these strong rankings show how students can thrive in an intentionally caring educational community."
Gonzaga's commitment to academic excellence is further reflected in its high-performing intercollegiate athletics. In data released by the NCAA at the close of 2021, Bulldog student-athletes are among the nation's elite academically: GU had a 98% Graduation Success Rate (GSR) last year, tied for second-best in the nation. Gonzaga's graduation success rate is the highest in its athletics league (West Coast Conference) and 10 out of its 13 Division I teams had a perfect 100% score.
"Core to our educational mission as a comprehensive Catholic, Jesuit, and humanistic university, is our commitment to educating individuals to make meaningful contributions in their chosen professions, and to be leaders in service to society," McCulloh said.
"We will continue to sponsor excellent academic programs, support the remarkable work of our faculty, and cultivate the capacities for critical thought and lifelong learning," McCulloh continued. "In the past year alone, we have expanded that commitment with the dedication of two state-of-the-art academic facilities. The Bollier Center for Integrated Science and Engineering expands the University's STEM footprint on campus to 270,000 square feet. And the newly opened Health Partnership building, in collaboration with the University of Washington, is aimed at bolstering the healthcare workforce in our region. Both facilities will provide even more opportunities for students across disciplines."
Gonzaga offers a diverse spectrum of undergraduate degrees and master's programs in addition to five doctoral-level degrees – a Ph.D. in Leadership Studies from the School of Leadership Studies, as well as four professional doctorates: Juris Doctor from the School of Law; Doctor of Educational Leadership from the School of Education; Doctor of Nursing Practice and Doctor of Nurse Anesthesia Practice, both from the School of Nursing and Human Physiology. In fall 2023, Gonzaga will add a Doctor of Psychology program in the School of Education.

"At Gonzaga, we want our students to experience a truly world-class education in the context of an environment that challenges them to develop as full human beings," said McCulloh. "We are here to help our students develop into their very best selves. While we are proud of rankings, we are most grateful for our staff, faculty, students, and supporters – for they truly create the environment where this wonderful work comes to fruition."

The rankings are available online and will be in the print edition of the "Best Colleges 2023" guidebook.
That's not the end of the accolades. See more of our rankings and recognition.
Interested in becoming a Zag?