Projects Run the Gamut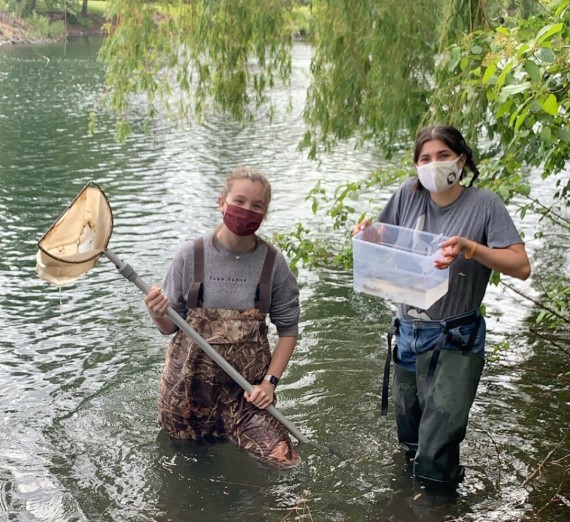 ---
Gonzaga's summer 2022 undergraduate research ranges from environmental and human health issues and water purification to mass incarceration and cultural insensitivity.
Note that most of the research described in this article resonates around the tenets of Gonzaga's mission to serve the underrepresented for the common good.
A few other topics include genetic analysis of immunity and defense in bacteriophage viruses, applied seed microbiology for restoration biology, the role of tick personality in disease transmission, experimental nuclear-level density studies and rhodoquinone biosynthesis as an unorthodox treatment for microbial infection and oxygen deprivation.
Those titles may not all make sense to the non-scientists in our audience, but Matt Cremeens, director of Gonzaga's Center for Undergraduate Research and Creative Inquiry, is confident Gonzaga's faculty are helping students to make sense of the world's issues and engaging them in finding solutions.
"Faculty create the recipe for students to learn as they go. The result of their inquiry and engagement transforms our students," Cremeens says. "Our summer research programs help students to unlock a world of opportunity, spark their interest in topics they didn't before realize, and provide them with skills to make them better students and better people."
"And the school doesn't shut down in the summertime," Cremeens reminds. Take student-athletes, for example. Often, they can't conduct research during the traditional academic year due to travel schedules. Summer offers them the chance to participate in this important component of their education.
Breadth of Opportunities
Gonzaga Science Research Program enrolls 60-80 students every summer in the program. "One of the highlights of our 10-week summer program is weekly noontime meetings where students present their research to the group," says Research Coordinator Angie Hinz. Pizza is a nice motivation, she adds.
Biology Professor Julie Beckstead coordinates the Seeds for the Future program, an immersive research experience for five students funded by the U.S. Department of Agriculture. "Students will interact with local seed industry partners and conduct cutting-edge research that explores seed-microbe interactions with applications to agriculture and restoration ecology," Beckstead says.
The McKinstry Fellows Research Program is in its inaugural year, orchestrated by Biology Professor Mia Bertagnolli. One of two projects will be led by Assistant Professor Clint Wutzke, Human Physiology, to determine the influence of "executive function on dynamic balance tasks," such as walking, in people with Parkinson's Disease. A second project will be undertaken by a team including a UW medical school professor, a GU academic consultant, one student from the UW School of Medicine and one GU undergraduate student, to examine equity, diversity and inclusion practices in rural clinical training sites to identify educational and training resources needed to better support students in those environments.
The UWSOM-GU Seattle Volunteer Research Experience is returning in 2022 after a two-year leave for COVID. This summer's program matches six GU undergraduate students with UWSOM researchers in Seattle based upon specific interests of these students.
Cremeens is point on the Morris Undergraduate Research Program. Eight student projects have been accepted for summer funding, including Hayley Mayer's ('23) Familial Needs in the Era of Mass Incarceration; Tia Moua's ('23) The Rise of Anti-Asian Hate During Covid-19 and Combating Anti-Asian Racism; Emma Richardson's ('23) Making Ableism on Campus Visible: Recommendations for Removing Barriers that Marginalize Disabled Students; and Evangeline Wilder's ('23) How to Love a Trans Woman: Reclaiming the Joy of Trans Embodiment.
Cremeens says summer research with faculty mentorship is teaching and inspiring the next generation to tackle the world's problems and improve STEM literacy. "We're fortunate to have the support through grants and internal means to offer students these educational challenges."
The Center for Undergraduate Research and Creative Inquiry offers students the opportunity to explore their passions.