Center for Climate, Society and the Environment Drives Change, Mapping Spokane Heat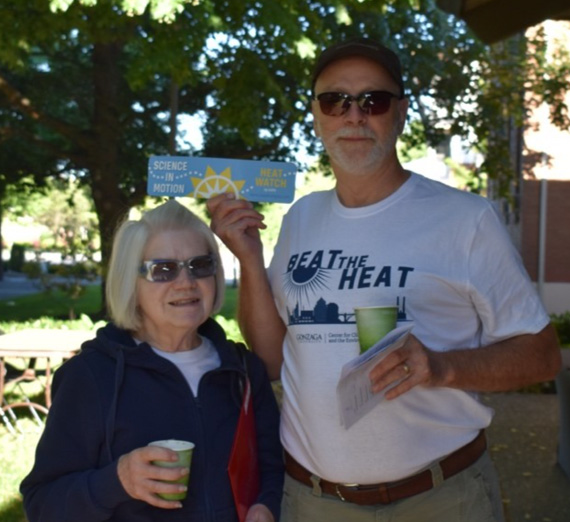 ---
SPOKANE, Wash. – The Center for Climate, Society, and the Environment at Gonzaga University teamed up with 40 local volunteers to map urban heat islands Saturday, July 16, marking the launch of Spokane Beat the Heat, the Climate Center's new heat-focused climate resilience project.
Spokane Beat the Heat follows the 2021 heat dome in the Northwest that saw record temperatures across the region, accompanied by the tragic loss of numerous community members due to heat-related illness.
"We are excited to work with community and city leaders to better understand and respond to extreme heat," said professor Brian G. Henning, director of GU's Climate Center. "As we saw last year in Spokane and this summer across the world, lack of planning for extreme heat can be deadly, especially for the elderly and those with underlying medical conditions."
During extreme heat events, surface and ambient temperatures can be greatly impacted by the built environment. Trees and green spaces reduce temperatures, while dense concentrations of dark surfaces and buildings have been shown to absorb and retain heat. These areas of heightened temperatures amid developed urban spaces are called "urban heat islands."
Using innovative thermal cameras that turn a smartphone into an infrared camera with precise surface temperature measurements, the urban heat island effect can be seen on the Gonzaga campus, volunteers found.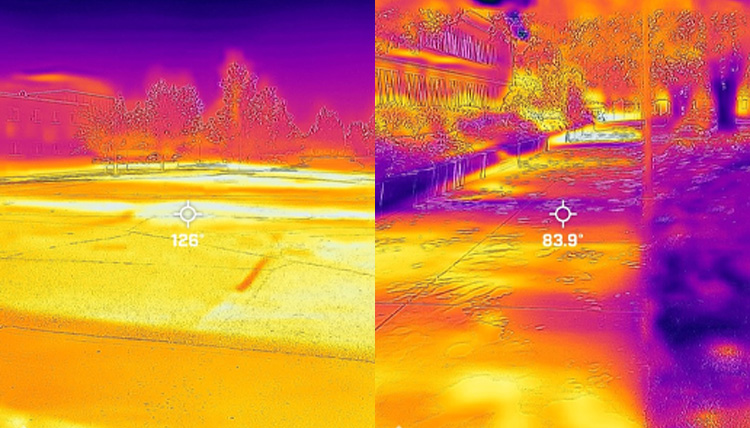 Mapping urban heat islands in Spokane can help to guide tree plantings, community event planning and cooling resources during extreme heat events.
The urban heat island mapping project is made possible by a grant from the National Oceanic and Atmospheric Administration (NOAA). The agency has been working with cities around the country to help them understand how to better prepare for warming temperatures and elevated instances of extreme weather events.
"The National Integrated Heat Health Information System (NIHHIS) is proud to support Spokane in mapping its urban heat island. We hope that the mapping efforts were able to bring awareness of heat and health issues to its citizens, and that the citizen science aspect of the mapping campaign is able to bring the community together to implement equitable, community based solutions based on the data," says Morgan Zabow, climate and health communications and outreach coordinator for NOAA.
Volunteers for the project had their cars equipped with sensors provided by another project partner, CAPA Strategies. The sensors collect real-time atmospheric data, capturing temperature and humidity measurements every second while activated. Pairs of volunteers drove predetermined routes throughout the day to collect more than 100,000 total data points.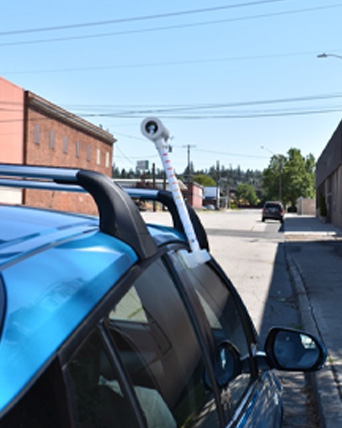 Ben Brown, a senior environmental studies and economics major at Gonzaga and a climate project assistant for the Climate Center, saw plenty of enthusiasm from the volunteers.
"Community science is a special thing, especially in the age of climate change," Brown said. "We had so many folks who wanted to help however possible, all driven by equitably improving the condition of their communities and neighbors."
Volunteers ranged from college students to retirees.
"The intersection of different professions, personalities, and generations gives me hope in our fight for climate action," Brown said. "Involvement on this level, especially, invokes a feeling of agency and fulfillment that drives our shared yearning for justice."
The maps from the Urban Heat Island campaign will be created, analyzed and returned to Climate Center in six to eight weeks.
In the meantime, a second facet of Spokane Beat the Heat is launching, with a communitywide survey to learn about Spokane residents' perceptions and experiences of extreme heat. As an incentive, survey respondents will be eligible for men's or women's Gonzaga basketball tickets.
"Our hope for the community survey is to better understand how people from across Spokane think about and experience extreme heat. The survey and the maps together will provide a solid foundation to make concrete steps towards a more resilient Spokane," said Karli Honebein, Program Coordinator for the Climate Center.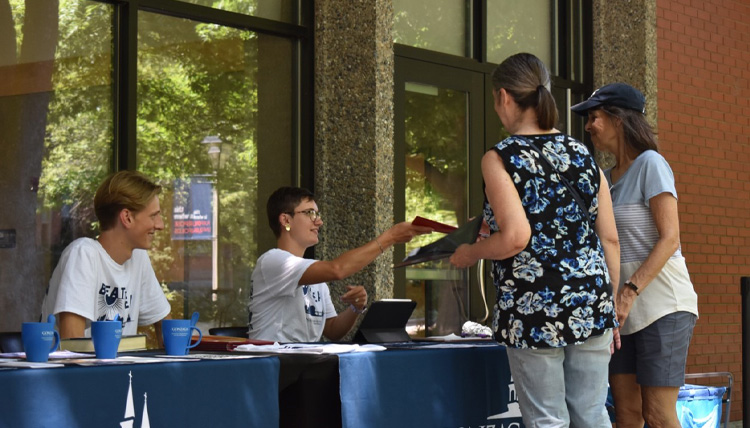 The Climate Center will continue its Climate Resilience and Climate Literacy work this school year. Now in its second year, the Center for Climate, Society, and the Environment is broadening its efforts in Spokane.
Learn more about the Center for Climate, Society, & the Environment