Letters to the Editor: Gonzaga Magazine, Summer '22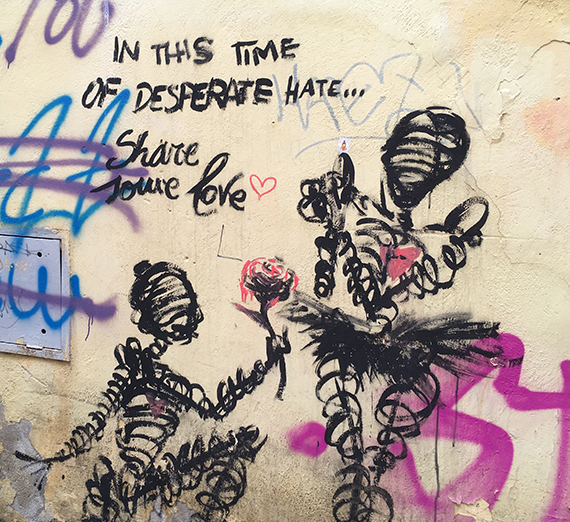 ---
Following are letters from readers responding to stories in the Spring 2021 issue of Gonzaga Magazine.
SACRAMENT OF LOVE
It was beautiful to see the Word of God (the Torah) in the Spring 2022 issue, upheld with great respect as it was transported across the Gonzaga campus in a reverent procession. I couldn't help but think the source and summit of our Catholic faith, the Holy Eucharist, be given similar attention.
So many students aren't even aware that Jesus is physically present 24/7, just a few steps away in the tabernacles of St. Al's Church and Ignatian chapel, waiting to lay His loving gaze upon anyone who visits Him there. In these challenging times it would be a tremendous gift for a Eucharistic reawakening on behalf of the Gonzaga community to find God's presence, power and peace in the Most Blessed Sacrament.
In the article "A Constellation of Stressors," yoga, meditation and cooking were some of the activities promoted for helping the Gonzaga community de-stress. There was no mention of prayer, attending Mass, receiving Holy Communion and spending time before Jesus in the tabernacle. We have been given a great gift in the Catholic Church. It is my hope Gonzaga will turn toward Him, the Divine Physician, in this most sublime sacrament of love.
Jeannie Richard
Trabuco Canyon, Calif.
BASKETBALL COURTS OF THE PAST
The article on the old gym ("Then & Now: Hoops at Gonzaga") brought back some great memories. As a high-schooler (1942-43), I played basketball in the cave for G-Prep, and it also served as our assembly spot/theater during my days at G-Prep. My grandfather, Joe Ulowetz, was featured in The Spokesman-Review as Mr. Basketball as he never missed his front-row seat at Zag games in the cave. Last, but not least, Dorothy and I met in the cave at a Harvest Ball in 1948. We married a year later and then spent over 70 beautiful married years together. The cave was a special place for me.
Bob Redinger ('50)
Kalispell, Mont.
The article about the basketball venues was well-written, and a great story. I had the honor of being recruited to play basketball at Gonzaga by Fr. Leary himself (the University president) and then by Coach Hank Anderson. I joined the freshman team in 1965 and played the very first game on the floor of the brand-new Kennedy Pavilion. Freshman games always preceded the varsity games, so we freshmen were the first ones to take the court and break in the new floor.
Robert Becker ('69)
Elllisville, Mo.
HONORING THE DEPARTED
I was disheartened by the brevity of the In Memoriam section being reduced to a list. I always found the biographies honorable and even inspiring to learn how far fellow Zags go and what they did. Please reconsider honoring them by returning to having biographical information; often it makes us pause and reflect even if we never knew them.
Michael Whitney ('06)
Monroe, Wash.
We agree it's important to honor those who have passed. Alumni Relations plans to celebrate and recognize our grads; watch for details. - Editor
FINDING GOD IN ALL THINGS
These readers responded to our Ignatian challenge to share an unexpected way they experienced God at work in their lives. Rumi's poem, "The Guest House," showed up when I needed it; wonderful encouragement to find God in all things. An excerpt:
"This being human is a guest house. Every morning a new arrival. Welcome them all! Even if they are a crowd of sorrows, who violently sweep your house empty of your furniture, still, treat each guest honorably. He may be clearing you out for some new delight."
Lesley Beatson ('07 Ph.D.)
Rossland, B.C.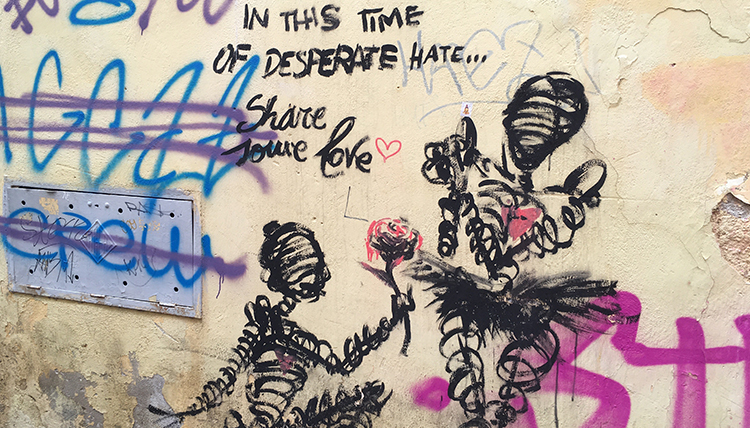 This photograph was taken in a run-down alley near the Colosseum in Rome. I was expecting to see the grandeur of Ancient Rome and instead was confronted with the Eternal City in decay. This graffiti art, which I entitled "Share some love," expressed to me the profound love of God so often found in the midst of depravity. These two skeletal lovers are painted in black over a background of hate and profanity. In one timeless gesture, their act of giving overcomes that which has been taken away. Like St. Ignatius, I was reminded there are many opportunities in life to seek God, even in the alley.
Stan Eisele, M.D.
Eagle, Idaho
Letters to the Editor are edited for space and clarity in Gonzaga Magazine. Find stories from the current issue here: