Jewish Community Celebrates Torah Gift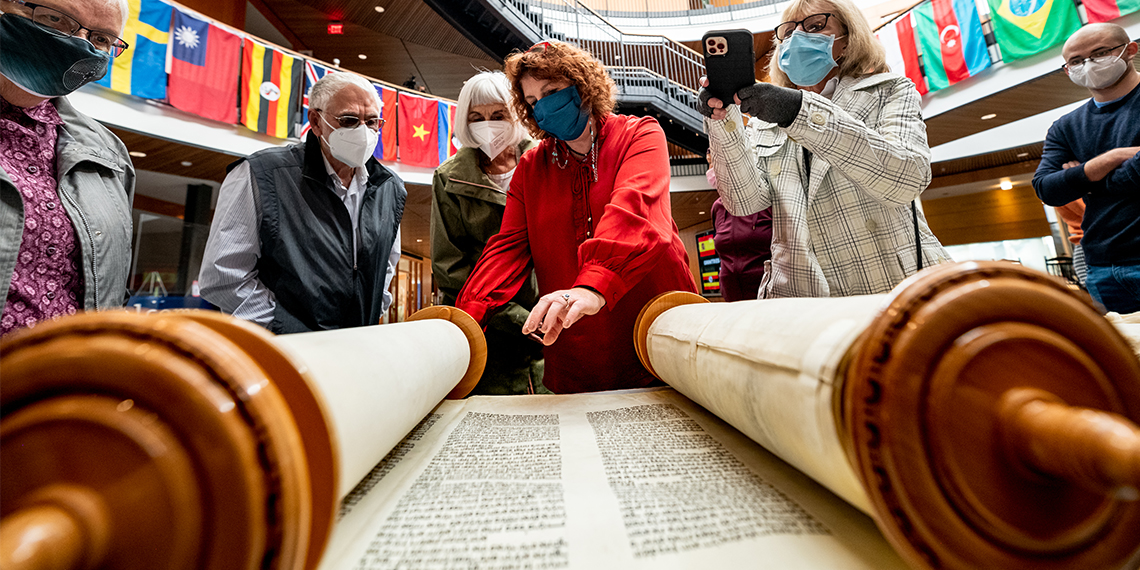 SPOKANE, Wash. - A copy of the Torah – the sacred text of the Jewish faith – recently arrived at Gonzaga University. At an Oct. 1 ceremony, members of Gonzaga's and Spokane's Jewish community celebrated the gift and those who made it possible.
The Torah is a handwritten copy of the first five books of the Hebrew Bible (the same five books which appear in the Old Testament of the Christian Bible). It is used during weekday, Sabbath and festival worship services and kept in a special ark as a sign of respect.
"It's a specific lectionary of reading, divided into one portion for each week of the year, and Jews from all over the world read the same portions each week, always in a cycle," explained guest speaker Rabbi Tamar Malino of Temple Beth Shalom in Spokane. "The text itself is written in its most original form without cancellation marks, without vowels and without any punctuation. It's a very specialized skill to learn how to read from it."
Inspired by the increasingly lively Jewish community on campus, Rabbi Elizabeth Goldstein spearheaded the movement to secure a Torah for Gonzaga. Ultimately, generous members of the Gonzaga and local Jewish community contributed $15,000 to acquire the sacred scroll.
"The physical Torah gives us something that we can't get from sitting in a library or a classroom, or even listening to a Rabbi or a gifted preacher," said Rabbi Goldstein. "It gives us inspiration to grow in a remarkably unique way. The Torah calls us to gather around it, to love and be loved by one another, and by God."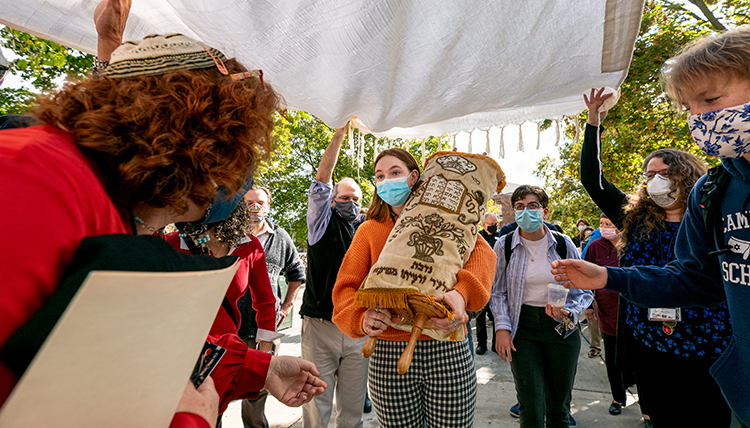 Jewish students carried the Torah under a tallit carried by faculty members.
'The Jewish community here is fully established'
"Our mission as a university is enlivened and deepened by the contributions of our Jewish community on campus," President Thayne McCulloh said. "If we are to be truly committed to a mission that is about educating the whole person, then it is important to acknowledge the faith traditions of all of our students, specifically today of the Jewish community."
The words of support from McCulloh serve as encouragement for the Jewish community to further grow and develop religious beliefs. Branching from the mission statement, the Torah will allow for deeper religious exploration and an easier way to provide holiday and Shabbat services for Jewish students on campus.
"It is our hope that with the presence of the Torah now in our community we can see a full engagement in the Sabbath holiday and festival liturgy. In a special way, it is hoped that the Torah signifies the Jewish community here at Gonzaga is fully established," said McCulloh.
An 'encounter with Revelation'
"The Torah scroll itself symbolizes the holiness of the relationship between God and the people of Israel. It's symbolic of our encounter with Revelation and with our connection with the Divine," Rabbi Tamar Malino said. "It's an incredible step in being welcoming to Jewish students and it strengthens both the Jewish people and our larger community relationship with Gonzaga. We're incredibly grateful."
Carla Peperzak, Holocaust survivor, Spokane resident and longtime fighter of anti-Semitism and hatred, spoke of the importance of the Torah in her lifetime.
"In my long life I have never had the privilege to be a part of such an important event. The fact that a Catholic university will be home to a Torah is indeed a great happening – my heart is joyous. It also reminds me of the time so many years ago when Jews in the concentration camps literally risked their lives reading and studying in the deepest secrecy," recounted Peperzak. "Why? It bonded them to their parents, spouses, children and relatives. And it also gave them hope, and hope was all they had."
After a gathering in the Hemmingson Center, the Torah was carried beneath a tallit (similar to a prayer shawl but for special occasions) by undergraduate Jewish students to its new home in College Hall. The scroll was placed into a special ark inside the Jewish Sacred Space, a room renovated for the Jewish community to hold services.
"What is this Torah? The Torah is inspired – many would say divinely inspired – Jewish wisdom and love," said Rabbi Goldstein. "This Torah encourages and inspires our Jewish community, if not all of us at Gonzaga, to grow in our faith."
Learn about ecumenical and interfaith support from the Office of Mission & Ministry.
Diversity & Inclusion
Faith & Mission
Office of Mission & Ministry