A Rabbi's Work on This Jesuit Campus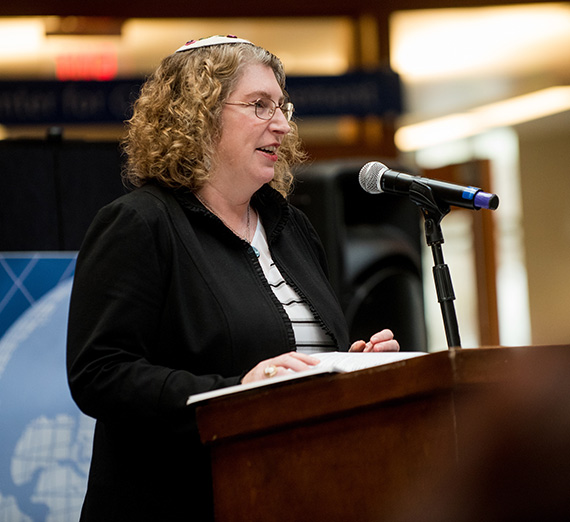 ---
Rabbi Elizabeth Goldstein, who has been with Gonzaga for what she might call a "lucky 13" years, was thinking that a Chanukah celebration this year with Gonzaga's Jewish students might be a little misplaced considering the days of Jewish celebration don't come until Dec. 18-26, after students leave for winter break.
"Then someone reminded me that we have a lot of Christmas parties here before Christmas and that's no problem for our Christian friends. So, I guess we're celebrating Chanukah early this year!" she says with obvious delight.
The charming and free-speaking advocate for our Jewish community, a religious studies professor and Jewish chaplain in Mission and Ministry, recently reflected on what it has meant to her to be a rabbi on this Catholic, Jesuit campus.
"Gonzaga, particularly the Jesuits, see social justice as a part of us all. We share a lot of the same values, making the world a better place," Goldstein explains. "The spiritual backbone of this place makes this a special place for me to work.
"Some universities look down on other religions. Gonzaga is not afraid of other religions. Here we pursue truth. I feel that Christians and Jews can absolutely thrive together in community but there is still more that we need to do to better understand one another. I am committed to that work," Goldstein says.
Talking about her Jewish community here, she explains that Judaism is not just about faith. "Jews who do not consider themselves religious or having a faith tradition would still see themselves as part of the Jewish people. Holidays are one such means to those ends of being together as community. The religious aspect and spiritual significance of the holidays are meaningful for some Jews, as they are for some Christians. But many just come for the community, and that's OK, too."
Part of the rabbi's reward with serving this community is derived from efforts by Gonzaga to give the Jewish students, faculty and staff a place to call their own. With a little more than 50 Jewish students at GU, the community now has a sacred space on the third floor in College Hall, down the interfaith hallway where Muslim students also have their own spiritual quarters.
"Our sacred space is for monthly Shabbat services for our students on Friday nights, usually followed by community Shabbat dinner in the Hearth Room next door," Goldstein says. "We hold Saturday morning services once or twice a semester. In these services we take out the Torah and chant from it."
The Torah is the holy book, featuring the first five chapters of the Jewish Bible. The sacred scroll was delivered to Gonzaga's campus in 2021.
When Goldstein came to Gonzaga in 2010 to teach religious studies, there were few Jewish students enrolled and no formal Jewish community here.
"Since I was a rabbi and an extrovert, students wanted me to help formalize our community, have more events, more formal groups, some sacred services," Goldstein says. "We used the reflection room on Hemmingson third floor, and we formed the Jewish Bulldogs club through GSBA."
This fall the rabbi organized the High Holy Day services on campus for the first time, opening with Rosh Shanah (Jewish new year) services Sept. 25 and culminating with Yom Kippur (day of atonement) services Oct. 5. The holy days theme was being repentant, being the best part of oneself, and forgiving sins.
She never loses her passion to preach, and this year's holy days gave her that opportunity. She loves teaching, too. Subjects often include her views on life, the Torah and biblical studies where she teaches how to live out the lessons of the Bible.
"I have grown, and I have added to the conversation in this community," Goldstein says. "Being a rabbi at Gonzaga is what it means to be in one community, together."
Gonzaga's Jewish community gathers for Torah study, holiday events, the annual Shabbat Retreat and more.