Finding Faith & Identity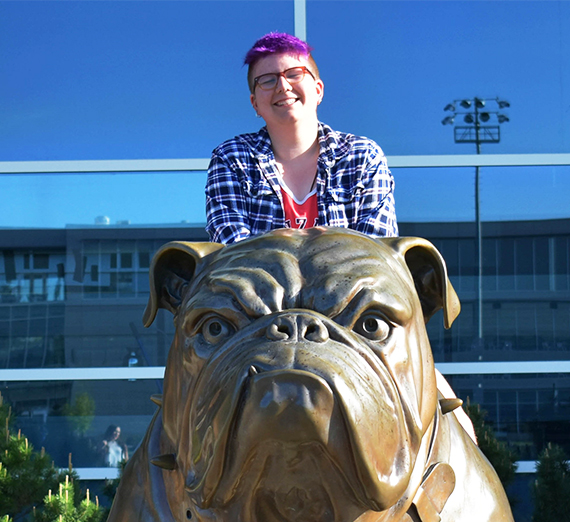 ---
When Zoe Jaspers ('20) came to Gonzaga University, they were questioning their gender identity, and they were nervous about what that meant entering a Catholic institution, even though the faith-based ideology appealed to them.
"I didn't identify as trans when I entered; I used the broad term 'queer,'" Jaspers says.
Fortunately, Gonzaga members embraced Jaspers in that period of questioning.
Jaspers participated in events with the University's Lincoln LGBTQ Resource Center, including a national conference in Washington, D.C., where they first saw the opportunity to include pronouns on nametags. Jaspers recalls, "I'd been thinking about my gender pronoun for a while. I decided, 'I'm going by they/them as a trial run during this week' and I came back home knowing 'This is it, this feels right'."
Confirming what pronouns felt right was a relief for Jaspers, who then shared their decision with supportive peers who were eager to practice changing their language.
That was Jaspers' sophomore year and the change took practice from others, too, like faculty members. "I had professors who didn't always get the pronouns right, but they tried – they cared," says Jaspers. "I'm grateful for it."
In their senior year, Jaspers found even greater support during a Mission & Ministry retreat where they connected with the Rev. Janeen Steer. "Janeen was aggressively supportive of me and my journey," they say. "I went from not being involved with Mission & Ministry to practically living in its office. Father Brian Pham joked that he wondered if I actually went to class. It was my home."
Jaspers says the ministry staff is where they felt most affirmed, even more than in the Queer Student Union. That's because, they say, "I can't have my faith without my queerness and transness, and I cannot fully understand my transness and queerness without my faith."
After graduating with degrees in history and religious studies, Jaspers served as a Jesuit Service Corps volunteer at Gonzaga Preparatory School to help the school and club leaders grow their support for members of the LBGTQ community.
"I loved the students," they say. "It made my heart so happy to support queer and trans students."
They found that sometimes the best efforts were helping students navigate tactical things like changing their email address to represent their chosen name, even though their legal name is required in school records.
Jaspers is passionate about inclusion and value for all students, they say, "in all education, but especially in Catholic schools, which face the challenges of unclear church doctrine and unclear Catholic teaching."
Jaspers is eager to be helpful to those who wish to be allies – people who may be straight or heteronormative but who want to learn. They love entering the conversation and leaving people with resources to explore further. But, they say, "You can't always place that demand on others." Not every trans person is comfortable providing that space; it takes relationships.
Jaspers is equally eager to provide systemic and organizational understanding as well, like helping to ensure that applications and questionnaires have appropriate options for questions about gender, beyond just male, female and "other." It's tricky, they admit, because on one hand, having specific options allows for greater accuracy in statistics, but on the other, many people are trying to find their own language to express their identity.
Jaspers hopes to continue in roles that allow them to minister to others. They are currently a part of the Rite of Christian Initiation of Adults (RCIA) team at St. Aloysius Church, assisting individuals who are joining the church.
"I just want to do whatever God opens for me," they say.
Suggestions for Conversation & Learning
Jaspers offers these tips for engaging with individuals who identify as trans.
Remember that each person's story is going to be unique.

Be conscious of tokenization. No one speaks for the whole trans experience.

Be ready for a full range of lingo. "The language can be very alienating."

Consider these faith-based resources for learning more:
Find out about support for members of the LGBTQ+ community at GU