Gonzaga Senior spends the semester as Gonzaga Family Haven Intern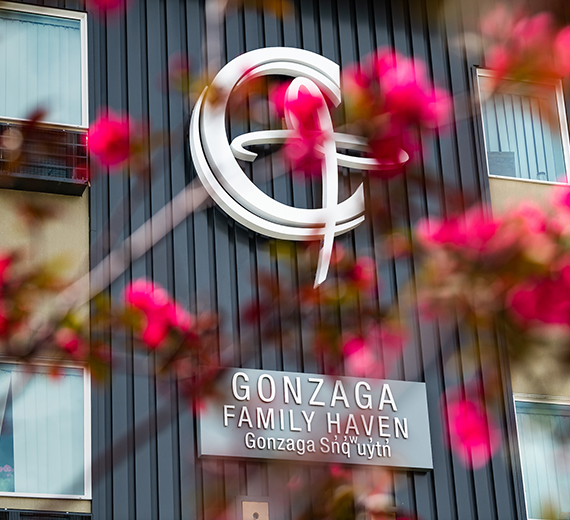 ---
Helping to connect the Gonzaga University community and the residents at Gonzaga Family Haven, Gonzaga student Rachel Bauman ('22)served at the Haven this spring semester.
When she first learned about the Haven from a fellow Gonzaga student, she knew it would be a perfect fit for her Solidarity and Social Justice minor internship.
"I was really drawn to wanting to work there because it's a place where Cura Personalis clearly matters," Rachel said. "It's a very holistic way of looking at housing."
While at the Haven, everyday looked different for Rachel. She did everything from helping to carry furniture to helping organize community events.
"It's been fun because when I started there was only one block that had families in it. Now, there's three full blocks with full families," Rachel said.
Following the grand opening of the Haven, Rachel explained how the site is set up to help support and build the community between families living there.
"Something I've learned in working at the Family Haven is how to better partner and walk with people who are just trying to figure out that they have a stable home for what might be the first time," Rachel said.
Much of this support is seen through intentional spaces designed to help residents build relationships and find community. From a dog park, to community space with movable furniture, and even a splash pad, Rachel is excited to see how these areas can help shape the impact of the Haven.
"The hope is that people won't just be living on site, but rather that they'll become neighbors and friends who spend time together and really develop an identity as a community," Rachel said.
The Haven plans to create a community council where residents can help develop and establish their own guidelines and plan their own community events.
"Opportunities like that will help make a network of neighbors and give residents a sense of agency, creativity, and purpose that they may not have had in their previous living situation," Rachel said. "We really want the residents to be involved in shaping the place they live in."
Rachel wants other students and community members to know that there are many chances to get involved with the Haven.
"There's plenty of opportunity to be in community with the Haven," Rachel said. "We don't want it to just be a housing site where people live, we want it to be integrated with the local community as well."