Doukhobors, Glee-club, and Rare Books in University Archives and Special Collections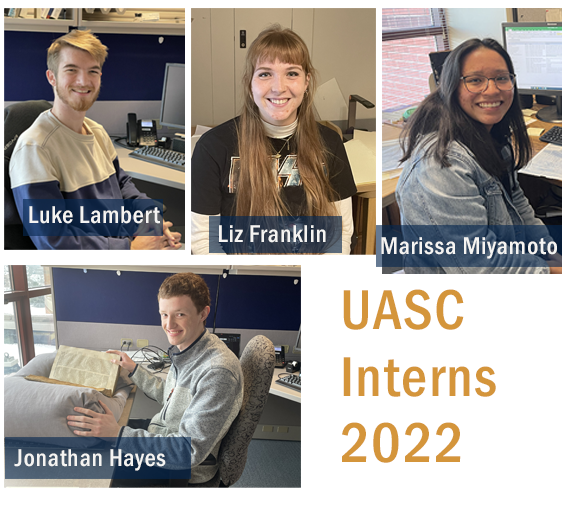 ---
GU Interns in University Archives and Special Collections (UASC)

Since 2013, University Archives and Special Collections (UASC) has hosted each semester a GU undergraduate in history, music, or English. UASC personnel, David Kingma and Stephanie Plowman, have provided the leadership in overseeing these academic credit internships. During this past academic year, UASC hosted 3 internships.

During the fall semester 2021, history intern Luke Lambert, a junior processed the Doukhobors Collection. The Doukhobors began as a fringe anti-militaristic sect in Tsarist Russia around the turn of the 18th century. Falling out with the Greek Orthodox church, these people were persecuted by the Imperialist government for their sectarian beliefs, which included pacifism and anti-materialism, causing them to live in communes. Many settled in British Columbia. In the 1960s historian and GU archivist Wilfred Schoenberg, S.J. and GU student Albert Pasqualotto class of 1962 from Trail, BC collected materials on the Doukhobors. After graduation, Pasqualotto continued to forward additional materials to Fr. Schoenberg. The bulk of the collection contains clippings from Canadian and American newspapers and The Inquirer, a monthly Doukhobor publication from 1954 to 1958. During his internship, Luke processed the collection and created an inventory to aid researchers. Luke contacted Pasqualotto, who still lives in Canada, to receive useful information to help with completing his internship.

Starting last fall, Liz Franklin, a senior psychology and music major, worked on her music internship which involved the history of the Gonzaga Glee Club. Lyle Moore, a former director of the Glee Club, worked at Gonzaga for over 40 years and contributed to the music department. Liz's work involved organizing and creating finding aids for the Lyle Moore Papers and the Jeanne Wardian Collection (donations from a former glee club member heavily involved in organizing Glee Club memorabilia and reunions). Since Liz was so effective in her processing of these collections, she had time to create a digital exhibit on the history of the Glee Club from 1919-1998. While creating the exhibit, Liz contacted former Glee Club members, who provided useful background information.
Online Glee Club Exhibit

Jonathan Hayes, a senior history major with minors in philosophy, English, and classical civilizations worked on his English internship with Gonzaga's Rare Book Collection. His internship resulted in a physical and online exhibit, which presented German Bible printing during the Reformation. Due to security concerns with these rare books, the physical exhibit titled: "Commercializing the Bible in Reformation Era Germany" was on display for one day on April 22, 2022, in the rare reading room in the Foley Library. The digital exhibit with the same title is available online. At first, Jonathan spent several weeks looking at 100 rare books that were published in Germany prior to 1700. Most titles were in Latin. Afterwards, he researched them to limit his scope on what to exhibit, which was limited to 15 books. As he wrote in his introduction to the exhibit: Taking this single genre of print allows us to explore the material changes which developed over the centuries as printers devolved their texts further from sacred artistry towards cheap and functional products."
Online Commercializing the Bile in Reformation Era Germany Exhibit
GU Senior Marissa Miyamoto worked with Stephanie Plowman, to digitize the James O'Sullivan Collection on the Grand Coulee Dam. More to come in a future article on the details of the grant that made that project possible.