Foley Spring 2023 Update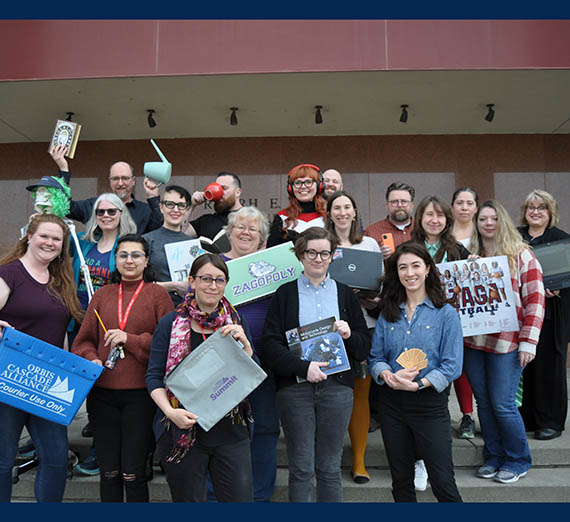 ---
Spring is finally here! With the slowly warming weather, here are recent updates from the Foley Library.


Foley has some new faces!
Sonia Dhaliwal joins the Foley Faculty as an Archivist and Humanities Liaison and is part of our unique Underrepresented Minority Fellowship Program. She works in the University Archives and Special Collections area handling the research collections and manuscripts.
Daniel Dolan-Derks joins us as an Interlibrary Loan Specialist and works daily to share requested resources back and forth with other libraries. Learn more on the ILL Department Page.
MT Regan joins us as an Adjunct Faculty Librarian in User Services and provides circulation and reference assistance during the weekends.
Naomi Teeter joins us in the new position of Electronic Resources Processing Specialist in the Scholarly Resources department. Naomi expands and maintains consistency and access to electronic resources.
Hannah Engel became a User Services Specialist and works closely with our 35 student employees who help to staff the circulation and information desks.
Elizabeth Wawrzyniak joins us as our Digital Collections Librarian and leads all our library generated digital collections at
- Gonzaga University Repository
- Gonzaga Library Publishing
- University Digital Archives
New Foley Exhibits Committee
Foley Library has a new Exhibits Committee as of Fall 2022 consisting of staff and faculty across the library. The core purpose is to bring more student, community and cultural experiences, and expression into Foley Library in the form of exhibits and displays. There is a new dedicated area on the first floor that will host larger scheduled displays. February was Black History Month, March featured Women's History Month and April showcased National Poetry Month as well as National Library Week.

The committee is hoping to get more display shelving and space for future student exhibitions and a dedicated spot for student projects. This committee works with other departments, clubs, organizations, and alumni across campus like BSU.

In February, the committee also featured the much-loved Blind Date with a Book display to celebrate Valentine's Day and it was a great success. The display was bigger than previous years and almost 100 books were brought in specifically for this.

Look for updates in Morning Mail and on Foley Library social media to see what the Exhibits Committee is up to.
Foley's First Year in the Summit Borrowing Program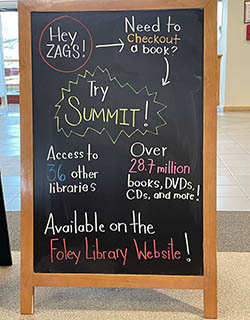 During the summer of 2022, Gonzaga joined the Orbis Cascade Alliance, member libraries participate in resource sharing program called Summit. Through the Summit program, Foley Library sends out physical books to partner libraries, and in return Gonzaga patrons can request physical titles from those partner libraries to be shipped to Foley Library for pickup or personal delivery, at no cost to patrons.
The Summit program has greatly expanded the number of physical titles available to patrons: there are 38 partner universities in the alliance, including institutions with large academic libraries, such as University of Washington and Washington State University.
To date, Foley Library has shipped over 900 items via Summit, and Gonzaga patrons have received over 1,600 items. On average, Foley patrons have their Summit requests filled in less than a week, aiding the research process for students, faculty, and staff who face tight deadlines. Undergrad Arden Hubbard tells us, "I am so grateful for the Summit system, and am excited for students in the future to also take advantage and alleviate some of the stress of being a college student."
Our patrons have expressed great appreciation of the Summit service. Borre Ulrichsen, Chief Information Officer of Information Technology Services, comments, "For many years, I have wanted to read a book called Halvbroren in my native Norwegian, but could not find it anywhere. Then I went on Summit and found that they have a copy at the University of Oregon. Three days later, the book was waiting for me at the Foley front desk. Tusen takk (a thousand thanks) for a great service and for letting me reconnect with my native tongue."
Adding Summit to the services we offer to patrons has been an excellent opportunity to increase access and enhance research for the Gonzaga community. We encourage all students, faculty, and staff to utilize this great service.