Recent Graduate Innovating to Help ADHD/Autistic Adults
---
SPOKANE, Wash. – A freshly minted Gonzaga University graduate is focused on improving life for ADHD and autistic adults and has earned the financial backing to pursue his vision.

Kody Lukens is preparing to launch Stimagz, which would manufacture sets of small magnetic cylinders designed to suit the stimulatory needs of his target group. The cylinders can be connected and manipulated in routines of a person's choice.

Lukens' interest is personal.

"I was disappointed with the stim toys available online," he said, "and believed something better could be made that would more adequately suit my needs and the needs of others."

So Stimagz – from "stim" and "magnets" – was born and he's worked tirelessly the past year to refine the design and prepare them for manufacturing.
"They're always the first thing I pick up in the morning and the last thing I set down at night," the Sammamish, Washington, native explained. "They truly just feel like an extension of myself."
A huge boost for his dream came when he won $10,000 in the 2022 Northwest Entrepreneur Competition in April.

With the Spokane University District and North Idaho College as hosts, college and high school teams advanced through two rounds of judging by submitting a 90-second pitch video and then presenting to a panel of regional business leaders and experts. They competed for $44,000 in prizes in three categories: technology business, traditional business and open business.

"I don't think my heart has ever beat faster than when they were announcing the competition rankings," said Lukens, who graduated in three years thanks to a Running Start program that enabled him to earn an associate's degree in high school. "I saw Stimagz pop up as No. 1 and was just in shock. I couldn't believe that all the hours I'd spent preparing and practicing had actually carried me through to the finish line.

"I'm incredibly grateful for this opportunity and will be using the provided funding to launch Stimagz into the next stage of development."


---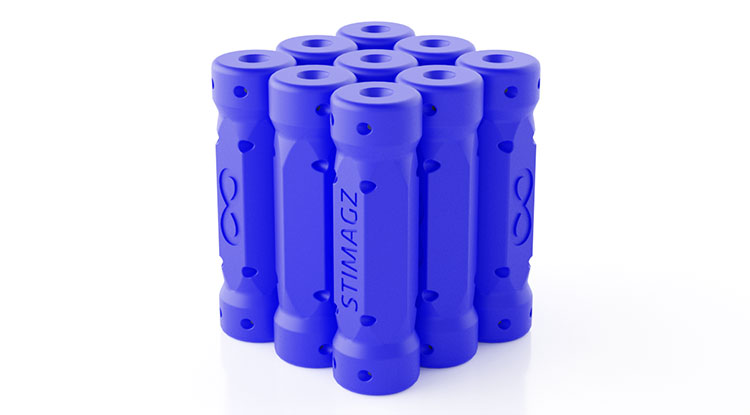 Lukens' Stimagz won in the traditional category, and his other entry, Print4Us, received $3,000 for placing second in the technology category. He described his runner-up effort as "a decentralized affordable 3D printing service powered by 3D hobbyists around the world."
Another GU student, Katrina Wagner, placed third in the technology category and won $1,000 for her venture, TravALL. Wagner, who is physically disabled and has struggled with traveling,
pitched a travel agency idea
that pairs tourists with trips that include fully accessible itineraries for individuals who use any type of physical aid or need additional services.
Wagner, whose parents moved to Coeur d'Alene, Idaho, from Enumclaw, Washington, her freshman year at GU, is a senior accounting major with minors in entrepreneurial leadership and Spanish.
Now Lukens will put his business administration degree, with concentrations in both entrepreneurship and innovation and management information systems, to work. Lukens hopes to launch Stimagz on Kickstarter by the end of the year.
He's got help.
"Even though all of the day-to-day work is done by me, I'm not the only one working on this project," he said. "The network of people I'm collaborating with on Stimagz includes CPAs, patent attorneys, designers, manufacturers, advisers and more.
"We have done trial runs with our target audience, including myself. When we launch we will be working with organizations dedicated to supporting ADHD/autistic causes, but we haven't selected any yet."
As for the product itself, it's difficult to articulate and describe the type of distress experienced when an ADHD or autistic person can't meet their self-stimulatory needs, Lukens says, since "it's something that people not affected by executive dysfunction disorders don't necessarily have any context for."
But he offered an analogy.
"Imagine you have an itchy spot on your back that you just can't quite reach and due to the nature of something that is itchy, it's physically distressing," he said. "It is also emotionally distressing as you struggle to scratch it but nothing quite works and your frustration and discomfort build.
"But then you find the perfectly sized back scratcher that lets you scratch that itch and find relief. That's what Stimagz are to me. They're the perfect tool to help me scratch that self-stimulatory itch that ADHD gives me."
He's excited about what's ahead but paused to look back.
"I absolutely would not be where I am today without the support of Dr. Todd Finkle and the rest of the wonderful GU entrepreneurship and innovation program," he said. "Having access to our board of advisers, which is filled to the brim with successful GU alums, is truly an incredible resource whose value cannot be understated.
"I'd also love to give a shoutout to Scott de Rozic and Nate Chatellier, who joined the Stimagz board of advisers and have provided invaluable advice for the project."
Finkle, Pigott Professor of Entrepreneurship at Gonzaga, sees something special in Lukens.
"Kody is a hardcore entrepreneur," Finkle said. "He started his first business at 15 and has that rare 'hunger and drive' that entrepreneurs innately have that can't be taught.
"The program has a 63-member national advisory/mentor board that is a 'gold mine' for our students. The volunteer board provides critical information and direction for our students. It also assists the program with innovations in the curriculum, field trips, internships and job placements. Kody took advantage of this by proactively making lifelong relationships with members of our board."
GU's undergraduate entrepreneurship program is ranked No. 21 by U.S. News and World Report.
Lukens has a lot left to do, but he's got a plan and now the funding to enact it. And he can't wait to see the results.
"I'm incredibly excited to bring this same feeling of peace and focus to other ADHD/autistic people around the world," he said, "so they too can experience what I do and stim with pride."
After that? Well, he's working to earn an Artificial Intelligence Engineer certification.
For more on Lukens' project, check out his website Stimagz.com.
Learn more about Gonzaga's Entrepreneurship & Innovation Concentration.