Student Team Takes First at Entrepreneurship Event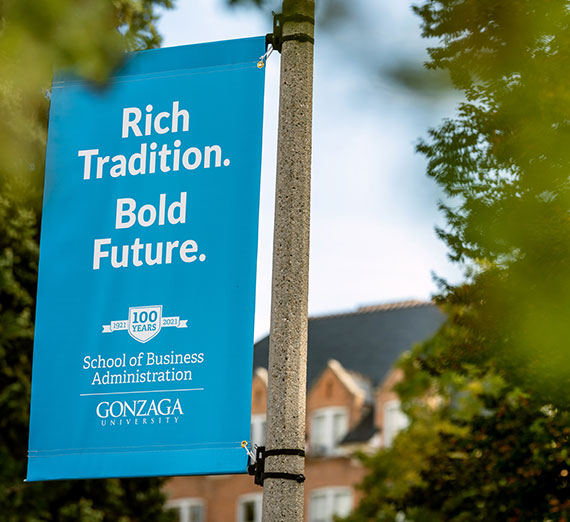 ---
SPOKANE, Wash. – Three Gonzaga University sophomores won first place among 38 competitors at the Sparks Weekend entrepreneurship competition, making them eligible for $50,000 in seed money for their business, Zaps.

Another Gonzaga student, Anna Deschane, joined a team that won second place for its venture, Gameleon Boards.

All four GU students are pursuing minors in the Hogan Entrepreneurial Leadership Program in the School of Business Administration.

Sparks, a three-day event held April 29-May 1 that centered on pitching new businesses, is intended to inspire and develop a new cohort of startups in the region. Organizing sponsors are Ignite Northwest and Limelyte Technology Group.

Leaders of Zaps, the winning team, are Siena Merrin, Hayley Mosby and Kate Sprague. Their $50,000 investment is subject to final due diligence and agreement on investment terms, expected to be finalized this summer.
"Zaps represents the best of Gonzaga and one of our flagship programs, the Hogan Entrepreneurial Leadership Program," said Dan Stewart, professor of entrepreneurship and director of the Hogan program. "Sparks was the catalyst which brought out the potential in a business model the team had worked on diligently in our classroom throughout the semester.
Mosby, a business major from Bonney Lake, Washington, said the weekend was a whirlwind.
"Getting to participate in Sparks Weekend was such an incredible and surreal experience," she said. "Our team put in hours of work over the entire weekend, and there are no words to express my gratitude to our mentors and our Hogan professor, Dan Stewart, who believed in our team and pushed us to reach past our potential.
"Our business, Zaps, is a way for students to mitigate their college expenses by utilizing their dining dollars when they pay each other back."

For example, Mosby explained, a student might buy a friend a coffee using dining dollars, but the friend has no way to pay them back with the same currency. The only options for a refund are cash or Venmo – or no refund at all.

Sprague, a political science major from Longview, Washington, recalled the winning moment.
"When I heard we won, I was stunned," she said. "I felt so confident in our team, that we could win, but hearing our names being called was crazy. Knowing that the project we worked on for months was going to be coming to life was surreal.
"I am so thankful for the people we met at Sparks and the experience, and I can't wait to see what's in store for Zaps."
Merrin, their partner, is a business major from Sammamish, Washington, and Deschane, on the second-place team, is an accounting major from Billings, Montana.
Sparks kicked off on April 29 with a reception and rapid-fire session of one-minute elevator pitches. The business concepts were voted on by all participants and the top 10 ideas moved on.
During a brief networking event, the innovators whose ideas are selected may find participants with complementary skill sets to join their team. The "sparks" then fly as teams try to prove their concept, develop a "minimum viable product" (MVP) and finally present a refined business plan to a panel of judges on Sunday. Three winners were selected.
Gonzaga's School of Business Administration is celebrating its centennial this year. U.S. News and World Report's latest rankings list Gonzaga as No. 21 for Best Undergraduate Entrepreneurship Program.
Learn more about the School of Business Administration.