Entrepreneurial Student Has Eye on Easing Travel for Those with Disabilities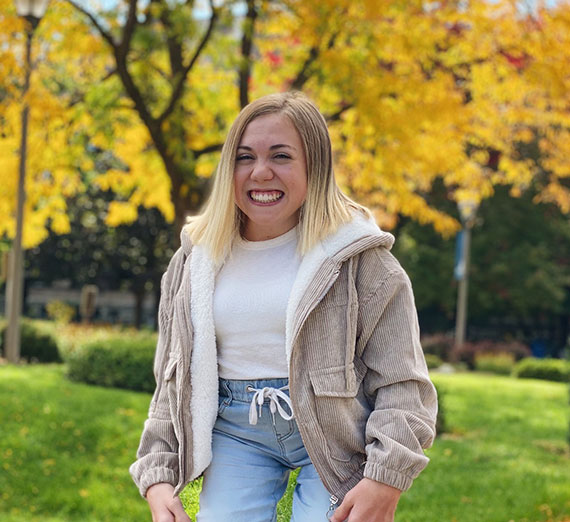 ---
SPOKANE, Wash. – She describes it as "merely an inkling of a concept that I have always had in the back of my head." But, encouraged to submit a video to a competition for budding entrepreneurs, she refined her idea, submitted it and won a third-place prize of $1,000.

Gonzaga University senior Katrina Wagner, who has a physical disability and has struggled with traveling, pitched TravALL: a travel agency that pairs tourists with trips that include fully accessible itineraries for individuals who use any type of physical aid or need additional services.
---

Wagner, an accounting major with minors in entrepreneurial leadership and Spanish, said she submitted her video not expecting to advance very far. She called her reaction to being a winner "a mix of appreciation and excitement for the future."
"My experience in the Northwest Entrepreneur Competition was a spontaneous leap of faith," she said of the April event. "I was a sole presenter, which provided both learning curves and opportunities for growth."

With the Spokane University District and North Idaho College as hosts, college and high school teams advanced through two rounds of judging by submitting a 90-second pitch video and then presenting to a panel of regional business leaders and experts. They competed for $44,000 in prizes in three categories: technology business, traditional business and open business. Wagner's prize came in the technology group.
TravALL's website contains both an inventory of trips to major cities with flights, excursions and hotel accommodations that a customer can shop, and a service that organizes accessible, customizable plans.
The tourist, Wagner explained, creates an online profile that captures their capabilities and necessary accommodations, where they are planning to go, and their desired activities.

"With the funds, I am looking to continue to develop my business idea through research and networking while seeking other opportunities to compete more," she said. "Winning third place ignited a sense of possibility, a desire for improvement, and an 'I can do this' attitude that I want to channel when stepping into entrepreneurship."

Originally from the farming community of Enumclaw, Washington, near Seattle, Wagner's parents moved to Coeur d'Alene, Idaho, at the start of her freshman year at Gonzaga. She credits the support of her family, GU's Hogan Entrepreneurial Leadership Program "community" and Ryan Arnold, the professor in her ENTR 302 Strategic Thinking class who encouraged her to submit a video: "I couldn't have won without them!"
Learn more about the Hogan Entrepreneurial Leadership Program.