Alumni & Former Staff Honored at Gala Celebrating School of Business Centennial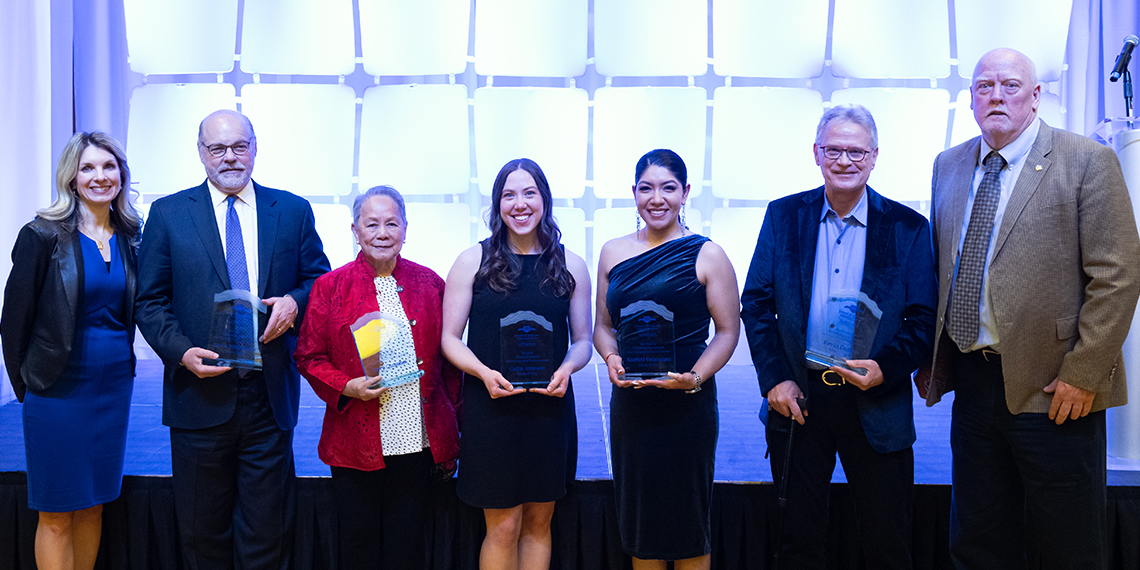 SPOKANE, Wash. – In collaboration with the Office of Alumni Relations, four alumni and a retired staff member received awards during Thursday evening's Ignatian Gala celebrating the centennial of the School of Business Administration. Honored were:
Callie Johnson, Recent Alumni Award
Xochitl Velazquez, Service to the Community Award
Kevin McQuilkin, Service to Gonzaga Award
Kevin Daniels, Professional Achievement Award
Terry Coombes, Faculty-Staff Award
Johnson, class of 2015, is owner of Made With Love Bakery in Spokane.
"On top of her full class schedule, multiple part-time jobs, studying at Gonzaga in Florence, and staying involved in the campus community, Callie was using the tools we were learning in our business classes to map out plans for her bakery's future," her nominator wrote. "Since then, Callie has continued to serve her community and grow and support her team.
"Callie truly embodies Gonzaga's traditions of 'service, leadership and the celebration of all people in pursuit of the common good,' and Made With Love Bakery is a true reflection of her spirit."
Velazquez, who graduated in 2012 and completed her MBA at Gonzaga a year later, lives in Wenatchee, Washington.
"Upon her graduation and after working successfully for a number of commercial organizations, Xochitl chose to serve her community as an assistant director of the Washington Apple Educational Foundation – the same foundation that supported her through her time at Gonzaga," her nominator wrote.
"She exemplifies the leaders in service who are central to Gonzaga's mission. In 2021, she was named among the 30 under 35 outstanding young business leaders of the Wenatchee Valley community."
McQuilkin, who graduated in 1983 and has returned to Spokane and GU's campus as the first Executive in Residence in the business school, was managing director of Mergers and Acquisitions for Wells Fargo Securities after serving in similar positions at both Deutsche Bank Securities and JP Morgan Securities.
"A graduate who made it big back east, Kevin has served as a trustee for over a decade, was instrumental in making the New York Trek a success, and is now the executive in residence," his nominator wrote
"The man lives, eats and breathes Gonzaga. Everything he does, he has the University's best interest in mind."
Daniels, class of 1979, led Daniels Real Estate, which won three National Preservation Awards as well as many local and state awards.
"Kevin Daniels is known for his amazing tenacity and vision in construction of Seattle's buildings and skyline," wrote his nominator.
"With a passion for looking forward while preserving the past, he is nationally respected for focus on adaptive reuse projects that have saved some of Seattle's most iconic and historic buildings such as The Sanctuary, Seattle Plumbing Building (Gridiron Condominiums), Sears Roebuck (Starbucks Center), Union Station, Frye Art Museum, Merrill Place, and St. Edward Seminary in Kenmore (The Lodge at St. Edward Park)"
Coombes retired from the business school as assistant to the dean in 2004 but was asked to return in 2008. She stayed for another six years and an endowed scholarship was established in her name. She received multiple nominations.
"Terry embodies and exemplifies what Gonzaga stands for – serving for and with others," one said. "Terry has been an inspiration to so many of us both on a personal and professional level. She served with passion whether she was working in the Dean's office or as an adviser. I am grateful to Terry. The world is a better place because of her."
Listen to their stories
Learn more about the awardees at the SBA Distinguished Alumni Awards web page.
Learn more about the awardees at the SBA Distinguished Alumni Awards web page.
Alumni
Careers & Outcomes
Service & Community Impact
School of Business Administration
Alumni
University Advancement