Gonzaga Men Begin NCAA Tourney in Portland, Where Jesuit Ties Are Strong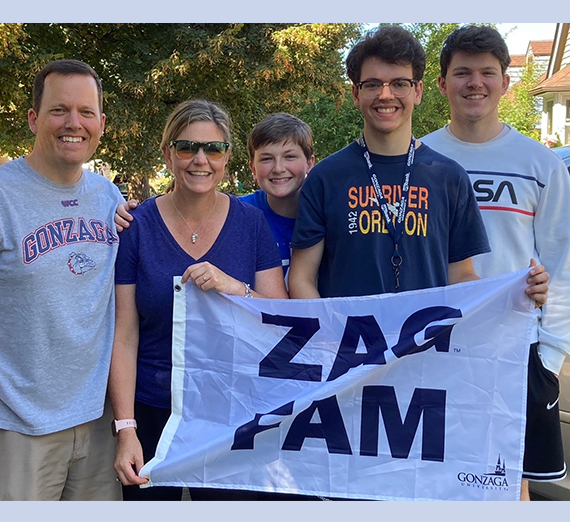 ---
Zags have long history with Jesuit High School
While many Gonzaga University basketball fans over time begin to recognize each year's walk-on players, some etch a high profile while at GU. Among the well-known are three who hail from Portland's Jesuit High School: Brian Michaelson, assistant to head coach Mark Few; Mike Hart, who as a senior in 2012-13 became the West Coast Conference's Defender of the Year; and current Zag and fan favorite Matthew Lang. They represent a decades-long tie between Jesuit High and Gonzaga, well-documented by Jesuit's admissions director, Erin Willis DeKlotz ('92).
Ask DeKlotz about Michaelson and Lang and she'll tell you she coached 'em up: Michaelson in Spanish class and Lang as a JHS ambassador for the Admissions Office.
Now in her 29th year at Jesuit where she has been teacher, campus minister and director of admissions, DeKlotz also oversaw former Zag Kyle Wiltjer when he was an admissions ambassador.
Since fall 2012, 245 Jesuit High students have enrolled at GU; 152 since 2017. Four of the last five years, Jesuit has been one of the top two "feeder" schools, and it ranks No. 2 since that data has been collected.
"The connection between Jesuit and Gonzaga seems always to have been strong," DeKlotz said. "Gonzaga is consistently among the top three or four choices for JHS graduates, usually only after Oregon and Oregon State. I think Jesuit students choose Gonzaga for its Jesuit/Ignatian charism, but also for its location in the Pacific Northwest – not TOO close to home – and that it has such a strong sense of community, which is something our grads appreciate about Jesuit too."

It doesn't hurt that DeKlotz can rattle off seven other Zag "influencers" at Jesuit over the years, not counting Jesuits with ties at both institutions:
Dick Gedrose, who died in 2021, former principal and president
Don Clarke, director of campus ministry
Kirsten Horrobin Ruchaber, PE teacher and women's tennis coach (she played tennis at GU)
Lauren Blumhardt, who works in Learning Support and is women's lacrosse head coach
Rich Ulring taught religion and psychology at JHS and still serves as "voice of the Crusaders" at athletic events
Kathy Fritts, former JHS librarian
Teri Stroschein, who died several years ago, a math teacher.
Also, many Zags knew longtime communications professor Bud Hazel. His brother, Dick, taught English at Jesuit for years and is now retired. Bud's son Michael is associate professor of communication and leadership studies at GU.
"There were lots of respected educators at Jesuit who would tout the benefits of a Gonzaga education to students over the years," DeKlotz said.
"I personally first realized the connection between Jesuit and Gonzaga when I met my (now) husband, Steve, our freshman year in 1988," she said. "He seemed to know a lot of our classmates early on, which made me curious. I realized that there were about 17 of his Jesuit classmates in our class at GU!"
One of the advantages: carpools. "It was always easy to find a ride to Portland," she recalled.
Dig a little deeper and you'll discover that DeKlotz's family ties amount to a recruiting team that spans generations. DeKlotz's parents, James and Claudia Foltz Willis, both have Gonzaga degrees. Her grandfather, Leo Foltz, taught English at GU in the 1950s. Erin and Steve have two sons who are Zags: Josh ('21) and Will, a sophomore. The third, Noah, a Jesuit High junior, plans to visit GU over spring break.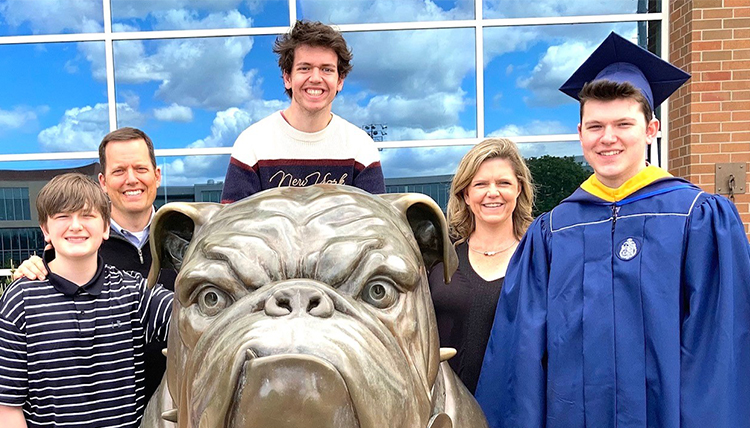 (Left to right: Noah, Steve, Will, Erin and Josh DeKlotz)

Steve and Erin both were GSBA vice presidents during their senior year, and she was a Spur/Seton as a sophomore. When she was an RA in Catherine-Monica, her boss was Thayne McCulloh, now President McCulloh.
And the Setons?

"I started the faith support groups for women back when JHS went coed in 1994," Erin DeKlotz said. "The existing men's faith support groups were called the Knights, and when I mentioned the name 'Setons' as an example to the first group of girls, they voted to name themselves 'Setons' from that day on. I am still running the popular faith groups today and many members have gone on to attend GU."

Michelle Wheatley, GU vice president for mission integration, was one of those JHS Setons. "I'm so grateful my JHS community helped me discover my GU community," Wheatley said. "It was a fantastic pathway to continue growing and deepening my commitment to Jesuit values."

Two other spiritual programs at Jesuit also have ties to Gonzaga. The 12-mile Senior Pilgrimage was modeled after the Gonzaga Pilgrimage and is a popular campus ministry tradition, DeKlotz said. The Junior Encounter retreat borrowed several elements from GU's Search program after Jesuit added women's and coed Encounters.
The schools' ties go both ways.
Bill Suter ('66), a Zag guard and third baseman in the 1960s who was inducted into the Gonzaga Athletic Hall of Fame in 1989, became a math teacher and coach at Jesuit. Dave Dowdy, a catcher for the Zags in 1971-72, also taught math while coaching baseball at Jesuit. And GU grad Jim Galluzzo served as principal from 1975-79 before studying for the priesthood and being ordained in 1990.
Ulring, "the voice of the Crusaders," is known to say: "If you like Jesuit, then you'll like Gonzaga." He and DeKlotz joke about how many application fee waivers they've used as GU alumni to help Jesuit students.
Reminded that she had said in an interview as a GU senior that she thought Disneyland was the best place on Earth until she went to Gonzaga, DeKlotz said she's been made aware of that many times since it also became a video clip.
Today? Without missing a beat: "I'd say Jesuit High is Disneyland and Gonzaga is Disney World."
How many Zags make up the Portland Alumni Chapter?
7,155 community members reside in Northwest Oregon
2,972 Alumni*
694 Current Parents
2,336 Former Parents
1,153 Friends
Learn more about the Portland Alumni Chapter.