Gov. Inslee, Gonzaga students talk climate change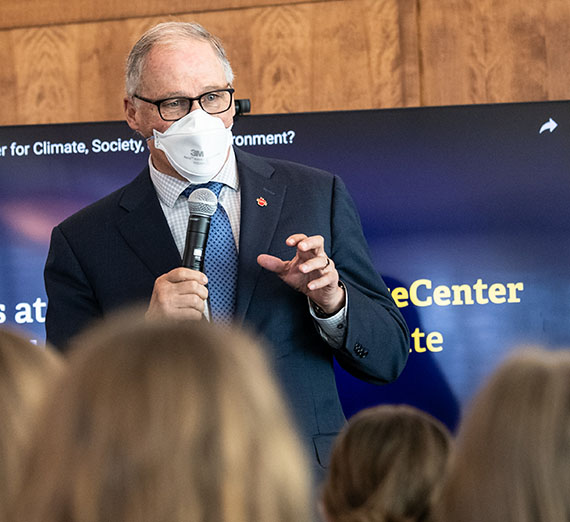 ---
SPOKANE, Wash. – Washington Gov. Jay Inslee engaged in a serious conversation about climate change with about 50 Gonzaga University students Friday, but while he emphasized that the needed shift to clean fuel would be "the largest industrial transition in the history of the world," the back-and-forth wasn't all heavy.
Students' initial and final questions introduced some levity.
Kelly Patterson, a junior environmental studies major from Carnation, Washington, was the first student to ask a question and she brought greetings from her grandmother, Lorraine Hine. The governor lit up as he recognized the name of the longtime, influential state legislator and acknowledged her influence on him, tantamount to a mentor.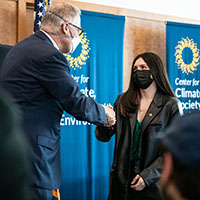 The last question came from a student who will participate in a videoconference with Pope Francis on Feb. 24. Anasofia Gutierrez, of Renton, Washington, wanted to know what the governor would like her to convey to the pope. He laughed, joking that while he had "name-dropped" Al Gore earlier, she clearly topped him by "name-dropping" the pope. And before leaving, the governor removed a Washington apple pin from his lapel and fastened it on Gutierrez's coat, declaring her "Washingtonian of the Day" for inspiring him.
"I'm glad we have people at GU who care about this topic," Inslee told the students and assembled media. "This state has never faced a challenge to its very existence like this. Time is up."
"What is needed is young leaders who can get us out of this pickle," he said, adding that a "generation of leaders, some in this room," is needed.
Inslee highlighted initiatives before the Legislature on "clean" building requirements and electric cars, asking the students to weigh in with their elected officials.
"You give me hope, you and your generation are committed to this," the governor said when Bridget Wilson, a sophomore history major from Sammamish, Washington, asked what gives him hope about meeting the challenge of climate change when the pace of change appears to be so slow.
"Baby boomers should not be able to leave you a desiccated planet," he said. "The antidote to despair is to take action."
Madden Tavernise, a first-year environmental science major from the South Bay Area in California, described growing up "with fire and flood" and asked about solutions for "unhoused people" and wildfire refugees.
Inslee cited $800 million in his budget to tackle the housing crisis.
"We have months, not years, to act," he said. "We have to build more housing, both for low- and middle-income people. We have to be both rapid and supportive" with projects. He cited "not in my backyard" and "antiquated" zoning laws as the enemy..
He added that new housing must include air filtration systems, citing last summer's smoke-filled air in the Methow Valley as an example of why.
The governor touted the state as having "the best environmental justice" in the country when Jordan Cruz, a senior environmental studies and Spanish major from Pueblo, Colorado, asked how to increase attention to non-White communities in the face of environmental degradation.
Forty percent of clean-air projects funded by "cap" taxes on industrial polluters must be in Black, Indigenous and people of color" (BIPOC) communities, offering good jobs, Inslee said. He also has proposed a $7,500 rebate for consumers to switch to electric vehicles, with an additional $5,000 incentive for low-income buyers.
The governor stressed the importance of House Bill 1770, which would require by 2033 that buildings be more efficient to reduce the need for fossil fuels, saving BIPOC households in heating and cooling costs.
Responding to Gutierrez, the student who will "meet" the pope, Inslee joked that "Wouldn't it be cool if the pope called legislators? I'll give him the phone numbers."
More seriously, Inslee said Pope Francis "has been fantastic" on climate change. He suggested that Gutierrez say "Thank you for lifting up so many people's hearts on this subject," and that the pope "should feel free to talk to everyone," not just Catholics.
The biggest threat to action on climate change – to building a clean-air economy – is fear "that we can't do this, that it's too hard," he told Patterson, the initial questioner.
The event delighted her.
"I was so impressed. Governor Inslee is great," Patterson said, citing the governor's direct and "nonpolitical" answers.
Cruz, who has spoken with politicians as a community activist in her hometown in Colorado, said speaking to Inslee was particularly powerful for her because of his reputation as what she called a world-renowned leader on climate change.
"When we heard he was coming, it was a really big deal," Cruz said.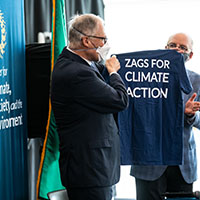 The event was sponsored by Gonzaga's Center for Climate, Society and the Environment. Its director, Brian Henning, professor of philosophy and environmental studies, organized and was emcee for the event.

The governor's next stop: checking out an electric bus, part of the Spokane Transit Authority fleet.
Gonzaga's Center for Climate, Society, and the Environment addresses the challenges facing humanity and the wider natural environment in the 21st Century.