First-ever Family Health Fair at Gonzaga Family Haven draws residents, friends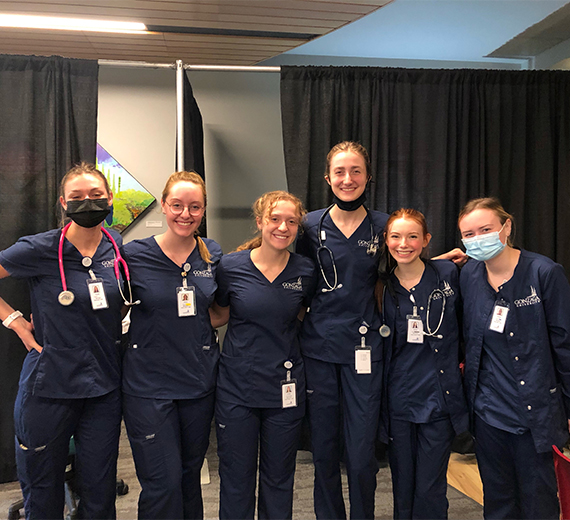 ---
When Jennifer Towers, assistant dean in GU's School of Nursing and Human Physiology, heard that some of the children at Gonzaga Family Haven might have to forgo participating in sports because they couldn't get health clearance by a primary care provider, she considered all the benefits they'd be missing. Exercise and physical fitness were top of the list, of course.

Towers also recognized the important social benefits of team sports. Many families living at the Haven are just starting out in a new school. Participation in sporting activities can provide a sense of belonging that students in these new situations need.
She brought the idea of a health fair to faculty, staff and students at GU's School of Nursing and Human Physiology, and a solid group of volunteers quickly jumped to make it happen.
About 15 Nursing department faculty and staff raised their hands, with a dozen student nurses stepping forward to help after a long day in clinical training. Staff lined up COVID-19 boosters and flu shots in collaboration with the Spokane Regional Health District, and a handful of professional nurse practitioners from the community volunteered to help as well. Staff and students with the Center for Community Engagement conducted a drive for personal hygiene items during Parents' Weekend, and helped spread the word about the event.
On October 20, more than 23 residents from the Haven and several families from the neighborhood attended the first-ever Gonzaga Family Haven Health Resource Fair. Ten young athletes received their physicals. Sixteen flu shots were administered. The joy of serving together was celebrated by all.
"Having the opportunity to serve alongside faculty, staff and students to help meet needs of families in our community was an amazing experience," said Dana Jacobson, MSN program director at GU. "I learned that community health efforts need to be timely and ideally held in-place, where the need exists. I also learned that we need to be creative, cooperative and adaptable. I was delighted by the warm welcome we received and that such an incredible event could be put together so quickly."
"Our families at Gonzaga Family Haven are so blessed by our partnership with Gonzaga University and the services being brought to us on site," said Peggy Haun-McEwen, Director of Community at the Haven. "As we work with our families to help them transition to permanent, supportive housing, attending to their physical health is critical in the process. It was great to see some neighbors take advantage of the health fair as Gonzaga Family Haven works to be an asset to the Logan neighborhood. "
"We'd love to do this every year, if the Haven and surrounding community needs us," Towers added.