Gonzaga Imagines New Approaches to Enrollment Management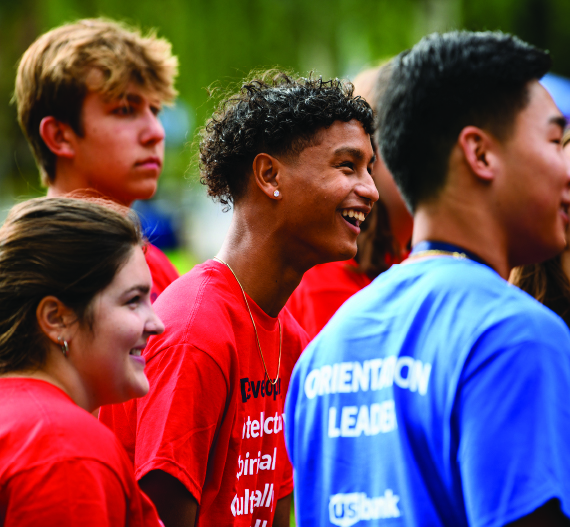 ---
Considering the world was just coming out of COVID this past year and given the state of the economy and increased competition for fewer college-aged students, Associate Provost Julie McCulloh feels very good about the 1,217 first-year students who are part of Gonzaga's overall fall enrollment of 7,253.
This is the most diverse class the University has enrolled at 32% students of color and 4% international students. They have an average high school GPA of 3.73, an SAT average of 1,330 and hail from 37 states and 22 countries. Gonzaga enrolled more students from Washington in this class, but fewer from California as many from California stayed at in-state universities, McCulloh says.
Another highlight of the fall enrollment report shows 93% of last year's 1,311 first-time full- time students returned this fall while Gonzaga graduation rates remain among the best in the country at 74% in four years and 88% in six, "a testament to this entire community in the way it welcomes and serves our students."
But, McCulloh says, we must continue to find new opportunities to attract students here, echoing sentiments expressed by President Thayne McCulloh in his address to faculty and staff in September.
"We need to be open to developing new academic programs and refining existing ones to ensure they are contemporary and relevant as we seek to recruit new students who want to address real-world needs," the president said.
The associate provost says the University is looking to increase transfer initiatives, including a potential partnership with the Community Colleges of Spokane; pursue possibilities with colleagues in Student Affairs on Opportunity Northeast projects; and explore partnerships which could include Spokane Public Schools, corporate partnerships and other organizations.
Gonzaga Imagines New Approaches to Enrollment Management Gonzaga has hired a new financial aid strategy firm, HAI Analytics, to assist the University in aid strategies including being more assessible to diverse populations. Opportunities for new undergraduate and graduate programs in applied technology and health care are being explored as well, Julie McCulloh says.
The new Center for Lifelong Learning was officially launched this fall to assess community, business and industry needs and then work with university departments to create training and certification programs to meet community exigencies.
Many departments on campus continue to develop new programs and seek job opportunities and internships for our students, networking with partners in the community, Associate Provost McCulloh says.
Graduate and doctoral student enrollment has declined across the board over the past three years, while law school enrollment has increased from 414 in 2020 to 498 this semester.
What's the secret in the Law School?
"I think it has been the confluence of three things," says Luke Cairney, director of law admissions. "Application numbers have been very high for the last three years, driven primarily by the market. When the market is down, people go back to school. Second, we eliminated conditional scholarships and have gone to guaranteed scholarships in the Law School. Third, we have assumed an attitude that accurately represents who we are, eliminating obstacles for our students while building a healthy environment for all. Law school doesn't have to be cut-throat. We represent a place where a student can enjoy a balanced lifestyle while still receiving a rigorous legal education."
New efforts bring high-schoolers to campus for summer experiences