Virtual Recruiting Exercise will Offer Benefits in Coming Year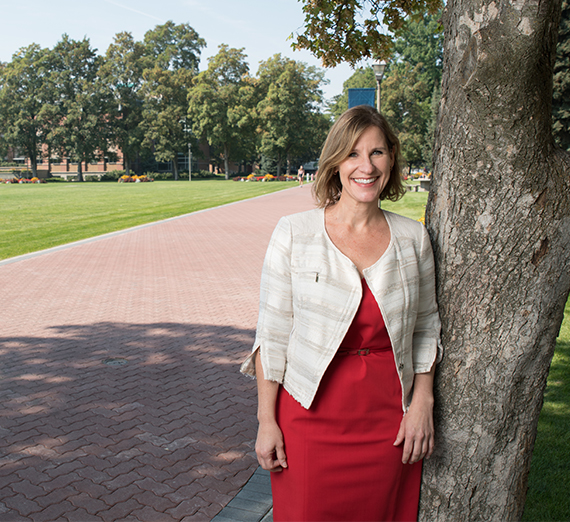 ---
Spirit had a virtual conversation with Director of Undergraduate Admission Erin Hays to decipher the incoming freshman class and transfers, reflect on the impact of virtual recruiting, and look ahead.
How do our new-student confirmation figures look for fall 2020?
We have 1,104 first-year students confirmed. 1,225 was the budget goal. Currently, transfer confirmed numbers are at 79, which puts that number on track to surpass our goal of 125 (their enrollment deadline is July 1).
When pandemic struck, we knew the goal was unlikely to be met, and for no lack of effort on your crew's part. How does this number compare to what you were thinking we might be able to enroll?
This academic year, Undergraduate Admission had exciting new initiatives that affected recruitment in positive ways.
First, the implementation of Slate – a Constituent Relationship Management tool designed for admission work – gave the team opportunities to communicate with students in new and better ways, and provided improved data. We moved the application deadline and were pleased that the number of applications equaled what we received in 2018. We capitalized on the great success of our Athletics programs by utilizing the attention to launch social media campaigns. Many great initiatives were deployed this year, and we believed we could enroll a class of nearly 1,300 prior to the pandemic and subsequent economic crisis. After that, there was no way to predict the outcome, due to people feeling unsettled from COVID-19, all campus visits and events being canceled in the spring, and extending the confirmation deadline to June 1.
What do we know about this class?
We are very happy about the diversity and academic strength of the incoming class! This class marks the most diverse class of first-year students to date, with 28% self-identifying as students of color. The average reported high school GPA is 3.82 and comparable to last year's record of 3.83. There are students from 34 states, as well as 20 international students. The Honors Program has record enrollment this year due to an intentional expansion plan.
What's next for Undergraduate Admission?
In the coming months, we will assist with retaining the students who enrolled, as well as begin extensive planning for 2021 recruitment and admission. It is important to take this summer to carefully plan virtual events for next year, and continue to make improvements on what was created this spring.
With so much uncertainty in our country and the world, have you had to rethink how you go about recruiting the 2021 class?
While there is still much to be determined, it's unlikely there will be traditional recruiting in the fall (college fairs, high school visits, college nights, preview days). This is in addition to spring recruitment of juniors being canceled. We are working on identifying new sources/vendors to connect us with interested students, and we'll be strategizing over the summer how to reach students without extensive travel.
Anything else to add perspective to what we're seeing?
To set some context, 83% of Gonzaga undergraduates are from over 200 miles away. We are not located in a major metropolitan center with a large population of prospective students. Campus visits are essential because they connect students with the Gonzaga community and holistic educational experience. In fact, our annual research consistently shows that visiting campus shifts peoples' expectations; it is Gonzaga's secret advantage. Without the access to campus visits – or as many visits as usual – we will need to be intentional about new recruitment initiatives. This spring, many deans, professors, student affairs professionals, and current students participated in virtual events. I extend to them deep gratitude, and an excitement to partner next year on more virtual programming.