Catalyst completes its second summer of programming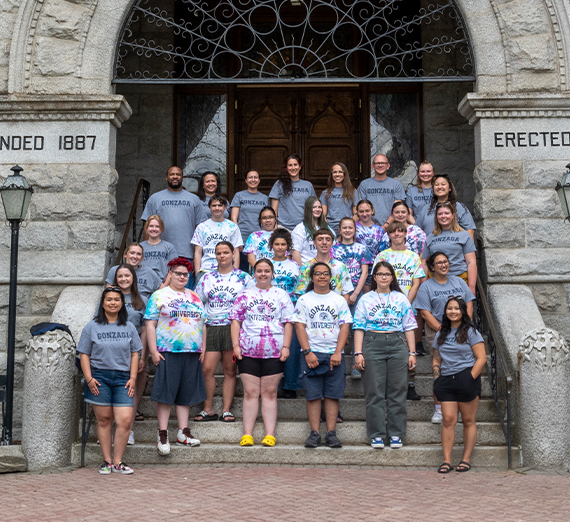 ---
Fourteen rising 9th, 10th, and 11th graders from John R. Rogers High School participated in the five-day Catalyst College Immersion Program this July.
The Catalyst Program was launched during the summer of 2021 to introduce neighborhood high school students to the college experience by staying on campus, participating in dynamic classes taught by Gonzaga faculty, and building community with John R. Rogers peers through fun and educational activities. This year was the first time Catalyst offered a five-day overnight program, allowing students to further immerse themselves in what college life entails and personally connect with Gonzaga students who served as Catalyst Summer Fellows.
"I really liked getting to know youth throughout the week, such as during study time and mealtimes," said Avery Kain, a GU Summer Fellow, "Getting to know them on a deeper level and getting to hear about what made them who they are was a special."
Throughout the week, students engaged in courses and workshops focused on personal narrative, movement, science, and place-based discovery where they learned about the Spokane Tribe and the history of our community. Youth also participated in enrichment activities, such as rafting, painting, and study time.
The course-based and enrichment activities provided a supportive environment. Many participants described Catalyst as a community, and expressed feeling comfortable sharing parts of their identity that they may not be as open about in other spaces. Their engagement and feelings of inclusion were also highlighted in their narratives for their 'becoming project.'
Similar to last year, Gonzaga professors Juliane Mora and Jeff Dodd engaged students in developing their personal narratives. Through this process, students explored themes of identity, becoming, and overcoming. Each student drafted a poster and written narrative about their becoming story. Students shared that Catalyst created "a sense of belonging" among their peers and helped them gain confidence in themselves and in college.
During the last day of Catalyst, families were invited to campus where student posters were showcased, and three Catalyst students shared their stories of becoming. With proud smiles and tears in their eyes, families were encouraged by the stories their students shared.
"It was impactful getting to see how brave and confident members were in sharing their stories in front of their peers and parents," said Kain.
Through the Catalyst program youth gain insight into the college experience and grow in confidence and perseverance toward their post-secondary educational goals.