Eyes on Health, Safety for In-Person Learning This Fall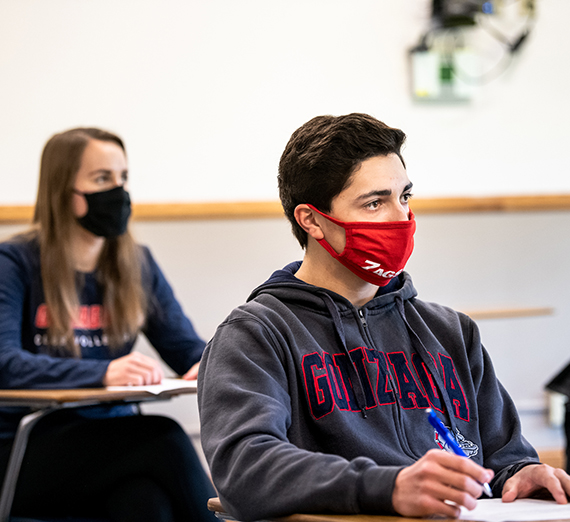 ---
SPOKANE, Wash. — Committed to health and safety while resuming in-person learning, Gonzaga University has outlined plans to resume fall semester classes amid the challenges of a dynamic COVID-19 pandemic. In addition to requiring vaccination for students and employees, Gonzaga requires masks to be worn in indoor congregate settings by everyone on campus effective Aug. 16.
With the delta variant spreading at a rapid pace, University leadership has worked closely with national, state and local public health officials to develop academic and operational plans that rely upon campus community members to be active participants in mitigating risk and helping protect one another. On-campus, in-person instruction is resuming, and most classes that were delivered in-person prior to the pandemic will return to in-person modality for the fall 2021 semester.
In a recent message to the University community, Gonzaga President Thayne McCulloh, D. Phil., reiterated the requirement that all students and employees submit COVID-19 vaccination documentation or medical or religious exemption before fall semester classes begin Aug. 30. In addition, he announced that masks will be required in indoor group settings, at least for the start of the year.
First announced June 10, the vaccination requirement means that all Gonzaga students and employees who will be on campus at some point during the academic year must submit full vaccination status in order to return to campus. This means they are either fully vaccinated or have an approved and verified medical or religious exemption.
In addition, Gonzaga will start fall semester with masks being required indoors in settings such as classrooms, hallways, and meeting spaces so the University can assess the prevalence of infection on campus and assure a successful start to the year. The mask requirement may be lifted for vaccinated campus members after the first few weeks, if possible, and will be assessed throughout the year. However, individuals who are not fully vaccinated, for any reason, must wear masks and physically distance, except when they are alone.
"While we all wish COVID-19 were a thing of the past, unfortunately, we know this is not reality, and probably will not be for some time to come," President McCulloh noted in a letter to students and parents. "However, we also believe that by working together, we will be able to provide the in-person educational experience students deserve with your health and safety as our top priority."
"More than ever, we believe that vaccination is the best way to keep ourselves and the surrounding community healthy and safe in order to achieve our goals for this academic year. This is why we have required all students and employees to be vaccinated prior to the fall semester," President McCulloh noted.
Student Arrival and Return to Gonzaga Guides have been provided to Undergraduate as well as Graduate and Law students that provide key information and supporting resources to help students and families prepare for on-campus classes and activities this fall. These resources as well as many others can be found on the University's updated COVID-19 response website at www.gonzaga.edu/ZagOn.
Related Updates:
Gonzaga asks that students and employees monitor for symptoms daily. If a student or employee is experiencing any COVID-19 symptoms, they are asked to stay at their residence and report symptoms to Health and Counseling Services (or Human Resources for employees).
Gonzaga will offer Signs, Symptoms and Exposure (SSE) testing, targeted testing of close contacts of confirmed COVID-19 cases on campus, and limited surveillance testing.
Gonzaga welcomes fully vaccinated guests back to campus. Information about vaccine requirements and how to visit campus safely is available here.
In-person events will be held in accordance with public health guidelines, with more information to come as the semester is underway.
New FAQs and a list of resources is available at gonzaga.edu/zagon.
'Keep Calm, and Zag On!'
This past year has clearly demonstrated to the Gonzaga community more than ever the importance of commitment, encouragement, and tenacity, President McCulloh noted, adding that the University is setting the stage for another outstanding educational experience with eyes wide open to the challenges of protecting one another.
"Caring for one another, and working together, are key hallmarks of this community of Zags," President McCulloh noted. "Together, we will once again Keep Calm, and Zag On!"