Abby Riley Brings Passion to Rural Communities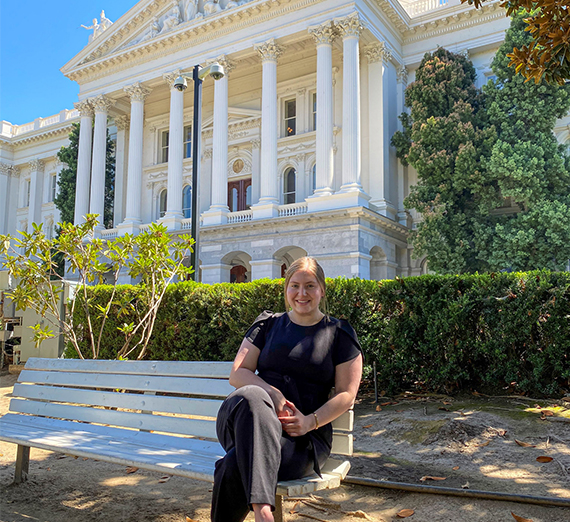 ---
Rural communities in the US often face a severe shortage of lawyers, and members of these communities must travel long distances to find legal assistance. This summer, rising 3L Abby Riley decided to dedicate her time and talents to help address the access-to-justice crisis for people living in rural areas.
Riley joined the
Rural Summer Legal Corps
(RSLC), a partnership between the
Legal Services Corporation
(LSC) and
Equal Justice Works
that supports 35 dedicated law students who want to spend their summer addressing pressing legal issues facing rural communities. Participants have the unique opportunity to spend eight to ten weeks exploring their passion for public interest while gaining valuable legal skills and experience. Following the completion of 300 hours of service, students earn a $5,000 stipend.
Hosted at
California Rural Legal Assistance Inc.
, Riley supports the organization's Rural Education Equity Program, assisting with the mission to ensure equal educational opportunities for K-12 students in rural schools. Riley's work focuses on educational issues that impact students, such as exclusionary student discipline, bilingual education and language equity, bullying, discrimination, and special education.
Riley grew up in Yuba City, California, and has a long-held passion for working with rural communities. "The work is especially meaningful for me because I grew up in a rural community. I witnessed a systemic lack of access to food, housing, education, and healthcare," Riley said. "This lack of access was all the direr because of the limitations inherent in rural settings such as underdeveloped or nonexistent social programs. I firmly believe that no one should be denied access to basic human necessities, and I'm thankful for the opportunity to work alongside folks who hold that same belief."
Riley's summer experience is an excellent example of bringing legal education out of the classroom in a purposeful way. Student Fellows in the RSLC program tackle results-driven community projects, leaving tangible impacts in their rural communities.
"As we begin to emerge from this public health crisis, students are still struggling to access the tools, resources, and support they need to learn," said Aoife Delargy Lowe, vice president of law school engagement and advocacy at Equal Justice Works. "We are proud to support the work that Abigail will be doing this summer to advance educational equity for students in rural communities."
Interested in learning more? Check out the
Rural Summer Legal Corps website
.