Kyle Thiede Shares How the Kennel Cares Club Has Helped Spokane Amidst the Pandemic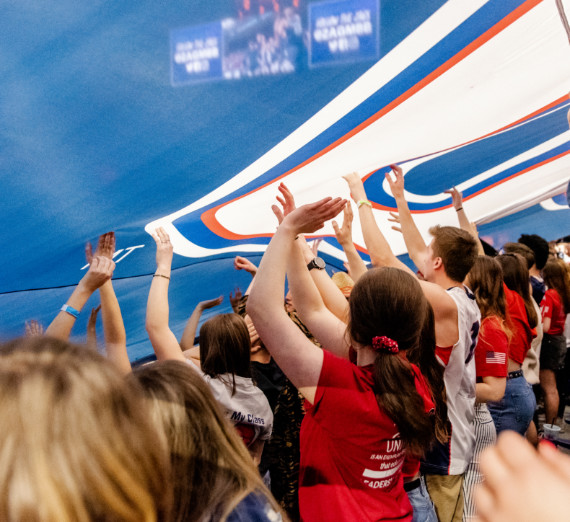 ---
Kennel Club, the largest club on campus, does more than cheer on the Zags at basketball games, they give back to the greater Spokane community.
Founded in 1984 on the principle of supporting the basketball team, Kennel Club has become the largest student organization with over 1,500 members. Members are the reason that the Kennel is packed with Bulldog Spirit for each game.
A subdivision of Kennel Club, Kennel Cares, is all about engaging with the Spokane community by partaking in events that both students and the community can get involved in.
Kyle Thiede, the head of Kennel Cares, takes care of planning of these events and seeks new ways to give back to his hometown, Spokane, WA. Basing their service projects on the Jesuit mission of serving others, Thiede hopes to plan events that not only give back but also involve the greater Spokane community.
"As a Spokane native myself, I know the power of this community and how much they care about Gonzaga," said Thiede.
Thiede says that some of the greatest people he's ever met were involved with the Kennel Club. He says that these are the kinds of people who are willing to show up and help whenever needed.
Despite the inability to pack the Kennel and support the teams this year due to COVID-19, Kennel Club members are still finding ways to show up for each other and Spokane.
Kennel Cares' most recent service event was a partnership with Giving Backpacks Spokane in gathering donations and giving out backpacks filled with essentials to those in need on the streets of Spokane.
"We needed volunteers and amid a pandemic, we got a huge turnout and gave out hundreds of bus passes and over 50 backpacks. Even in tough times the Kennel Club is ready to help the community," said Thiede.
Thiede uses the phrase "lead by example" to describe how members of Kennel Club show up for their community. No matter what the circumstance, they are leaders willing to dedicate their time to give back.
Thiede takes pride in his role of coordinating events because he thinks Gonzaga students have the ability to do great things in this world.
"Without Gonzaga helping programs like Kennel Club and Kennel Cares, we couldn't have given back to the community in the capacity that we do. When you donate to Gonzaga, you are investing in something that transcends just another education, you are investing in a community," said Thiede.
Zags show up for each other, the community, and the world.