Kennel Club: Yesterday and Today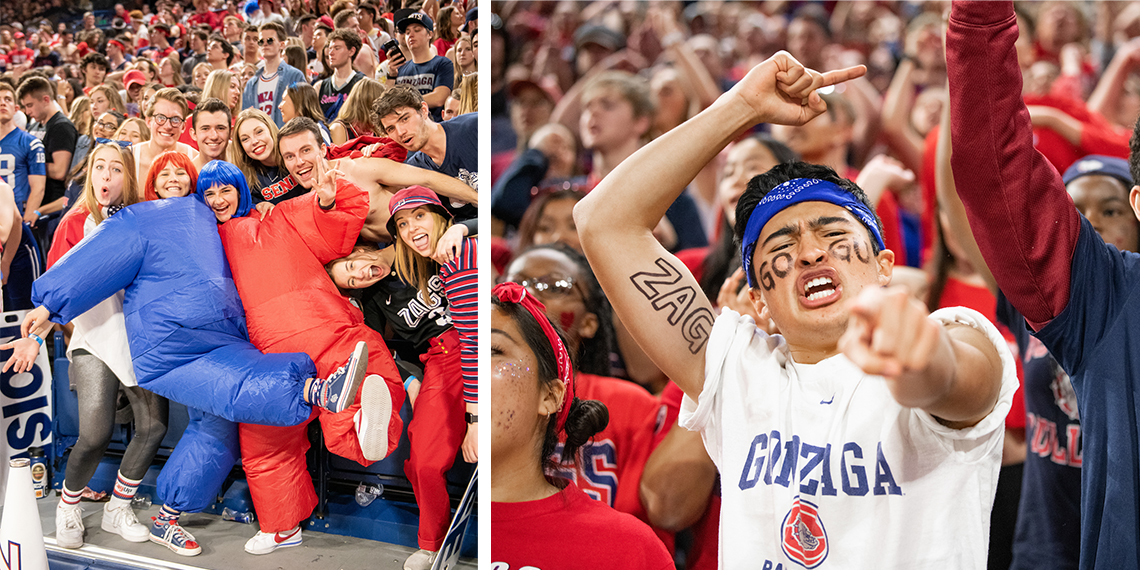 "There are the student sections you know: The Cameron Crazies at Duke; The Oakland Zoo at Pittsburgh; The Izzone at Michigan State. The Kennel Club, however, is a whole different animal." — Sports Capital Journalism Center/IUPUI.edu (2017)
Face paint, fatheads, costumes and head-to-toe Gonzaga gear, comical signs and – most of all – the notorious foot-stomping that shakes the area. These are part of the legendary experience of the student section at Gonzaga's McCarthey Athletic Center during men's basketball.
The Kenel Club has played a key role in student spirit since its founding almost 40 years ago. Though the club came to life in 1984, the Kennel Board didn't begin until 2011, when it became clear that the University's largest student club needed a formal leadership team. Now, those 15 students are responsible for meeting the needs of the 1,620 members.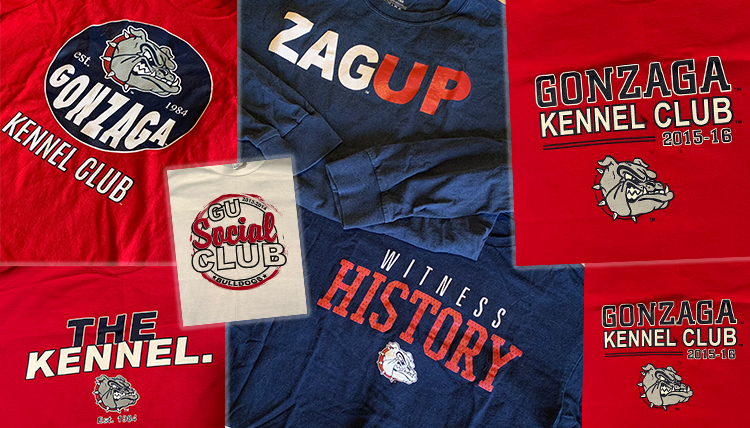 Like with the rest of the world, the pandemic stunted Kennel Club's abilities to provide students with the same energetic Kennel environment they expected.
Still, senior representative and social media coordinator Adam Mazurek ('23, biology) says they found a way to keep school spirit high while keeping COVID-19 breakouts low.
"Coming out of COVID, we're really taking the opportunity of that break in time to come out of it as different than we went into it," Mazurek says.
Mazurek says making changes is necessary if the club wants to move forward. One of those was the renaming of one of its most beloved traditions from Tent City to Kennel Campout, recognizing that real tent cities in Spokane and many other metro areas reflect the growing challenge of homelessness.
"It was time to start a conversation about changing the name to something that wasn't necessarily offensive," Kennel Club treasurer Kyle Meyer ('23, business) says.
In another effort to help students maintain perspective on camping for fun versus tenting as the only means of shelter, the Kennel Board now requires participants to donate canned food for Spokane community organizations.
The longstanding tradition of camping out originally began as students tented overnight (sometimes in freezing temperatures) to get the best spots in the Kennel for men's basketball games. Thanks to Kennel Club leaders, it has become an event in itself, with structure, security, food and fun — like last campout's silent disco.
"I don't think we need to stop [at the name change], we need to keep moving forward," Mazurek says.
Kennel Board members are busy implementing new techniques to help the Club better connect with the Gonzaga community and beyond.
The board added a content creator position, held by Kyle Thiede ('23, business), to increase engagement across social media platforms. Thiede creates videos of the Kennel Club experience to give viewers an inside look.
"We want our social media to be a place where if someone's curious about what the Kennel Club is, they're not just going to see what we do, but they're going to see what it feels like to be in the Kennel," Meyer says.
The club has also placed an emphasis on community engagement and outreach in recent years, introducing the Kennel Cares chair to ensure its volunteer goals are met.
KC is also broadening its athletic reach, focusing more attention on the Division I teams that often are overshadowed by the success of GU men's basketball.
"It's fun to promote all the different sports and really give all the athletes the recognition they deserve. A lot of sports — especially cross country, track and field and rowing — don't really get the shine that they deserve," Mazurek says.
Kennel Club advisor Dave Gilbert ('04, '13) has seen that expansion firsthand. Kennel Club was born out of men's basketball specifically, independent of the University, and the attention to other D-I sports gained traction over time. Once Kennel Club came under the wing of the University, the club became more structured and has continued to expand its reach to engage more students across campus.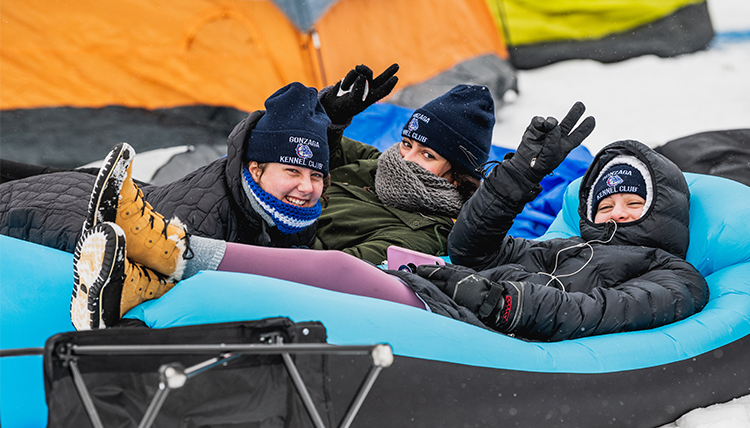 But what's remained consistent about Kennel Club over the years is its unshakable love for all things Gonzaga.
"All you have to do is go to a basketball game during Christmas break and you realize the reality of the Kennel not being there," Gilbert says. "It's tough to sit there and feel the same way about the game without that student section rockin' out."
Membership: 1,620
Year Founded: 1984
Fun Fact: The first sponsor of the Kennel Club was a dog food brand!
Service & Community Impact
Student Life
Alumni