Gonzaga Wins "Best Brief" at the Saul Lefkowitz National Trademark Moot Court Competition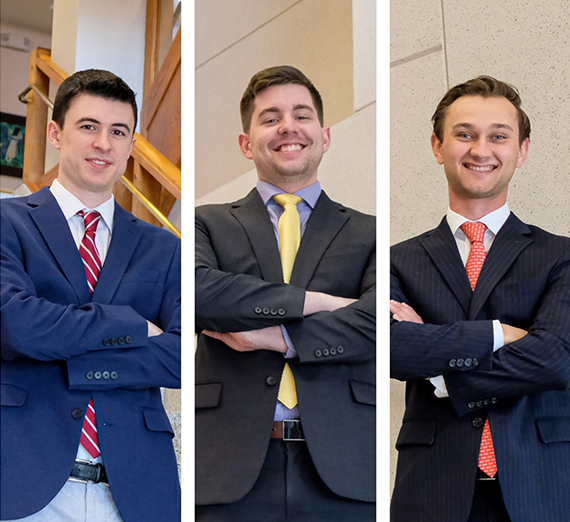 ---
The virtual dust settled last weekend to reveal Gonzaga Law as earning one of the top awards at the International Trademark Association's (INTA) annual Saul Lefkowitz National Trademark Moot Court Competition.
The law school's "Team Practical" was awarded the INTA's Dolores K. Hanna Award for the Best Brief in the nation on March 13 after competing against over 70 teams. Team Practical is captained by student Joe Huston (3L) and includes teammates Josiah Alter (3L) and Blake DeVerney (3L). This is the second time Gonzaga has earned INTA's Best Brief Award, last receiving the honor in 2009. "Team Punctual" captained by Emma Young (3L), Brendan Quilici (3L), Yanni Tsangeos (3L), and Danny Ledonne (2L) also advanced to this year's national rounds.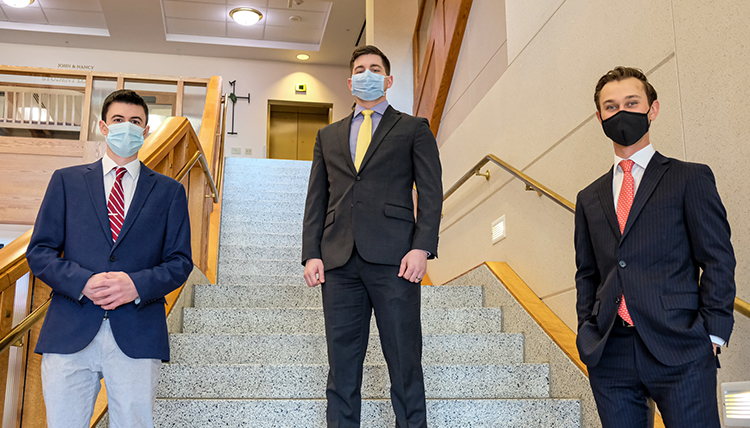 Team Practical, from L to R: Blake DeVerney, Joe Huston, Josiah Alter
Gonzaga argued against Brooklyn Law School, University of San Diego, University of Alabama, and Notre Dame during the virtual rounds. Students were noted for being poised, professional, and prepared with thrilling argument session performances. According to one judge, "Few practitioners we see bring us this level of preparedness and professionalism. I will welcome you to our court anytime."
Participating in moot court is no small feat, and students devote many months and countless hours to the essential training sessions. This season was Gonzaga's 25th consecutive year in the Saul Lefkowitz National Trademark Moot Court Competition and is a testament to Gonzaga's superb legal research and writing program.
"I think I speak for everyone on the team when I say that Saul is both the best and the hardest thing that any of us could have done in law school," team captain Joe Huston said. "It is absolutely a refining fire. But it is a fire that develops a special set of skills – skills unique to becoming a Saul. We write and argue persuasively. We collaborate with and rely on our teammates. We are mentored by one of the best attorneys in the business. It's been ten months of challenging work, and what we have become is well worth the sacrifice."
"There comes a time each year in Saul, and it differs for each player, where the student surpasses the professor in the knowledge of their subject matter," self-identified "demanding pen pal" team coach Chris Lynch said. "That day happened with all seven of these students. It is a thrill for me when I become the student again."
The Saul Lefkowitz National Trademark Moot Court Competition began in 1991 and is an annual competition that introduces law students to prominent issues in modern U.S. trademark law. The competition focuses on a different problem each year. Teams of students write a brief reflecting the issues in the problem and argue the case in six regional competitions before a panel of volunteer attorneys and volunteer judges from various districts and other courts. Then, the two winning teams from each regional competition argue the case in a national competition before TTAB judges.