Undergraduate Research at GU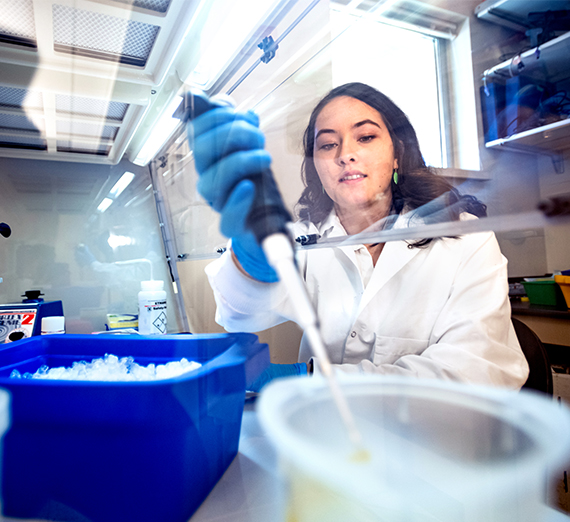 ---
If you're a student looking to do research while in college, Gonzaga will be the right place for you! There are many options for research in the life sciences, applied sciences, and social sciences, and because GU does not have graduate science programs, all the research opportunities go to undergraduate students. In fact, many students stay on campus for a summer and conduct research on a stipend, meaning they get paid to do in-depth work in a topic they are interested in.
Biology is one of the most popular degree options at Gonzaga, and many students interested in biology will conduct research as part of their major. The Biology Department actually offers a research concentration, which allows students hands-on experience before going onto graduate school, medical school, or some other research-based career. Students in the concentration must take the equivalent of four credits worth of research, which can be done over the summer or during the academic year. They must also present research at a conference, take a couple of research-specific courses, and participate in science outreach at local schools for one semester.
We offer plenty of options in other academic disciplines as well! Students studying chemistry, biochemistry, and physics have many of the same opportunities as biology to dive deep into their passions. The Gonzaga Science Research Program (GSRP) provides funding and resources for faculty in their areas of expertise while expanding opportunities for undergraduate students.
Engineering students have a year-long research and design project built into their curriculum via the Center for Engineering Design & Entrepreneurship (CEDE), which assists students through their senior design projects. All seniors in the School of Engineering and Applied Sciences will work on a project in a small group of 3-5 students for the duration of their senior year, aided by a faculty advisor and an industry liaison. These projects are hands-on and celebrate a culmination of all the skills engineering students have learned over the previous three years. You can read more about past design projects here.
Our faculty support and mentor students throughout their time doing research - a resource that is not often extended to undergrad students, including graduate school advising, research conference preparation, and career discernment. This prepares Gonzaga alumni in an exciting and tangible way to be successful in whatever career, service opportunity, or graduate school program they choose after graduation.