Research, Therapy, and the Powerful Support of Women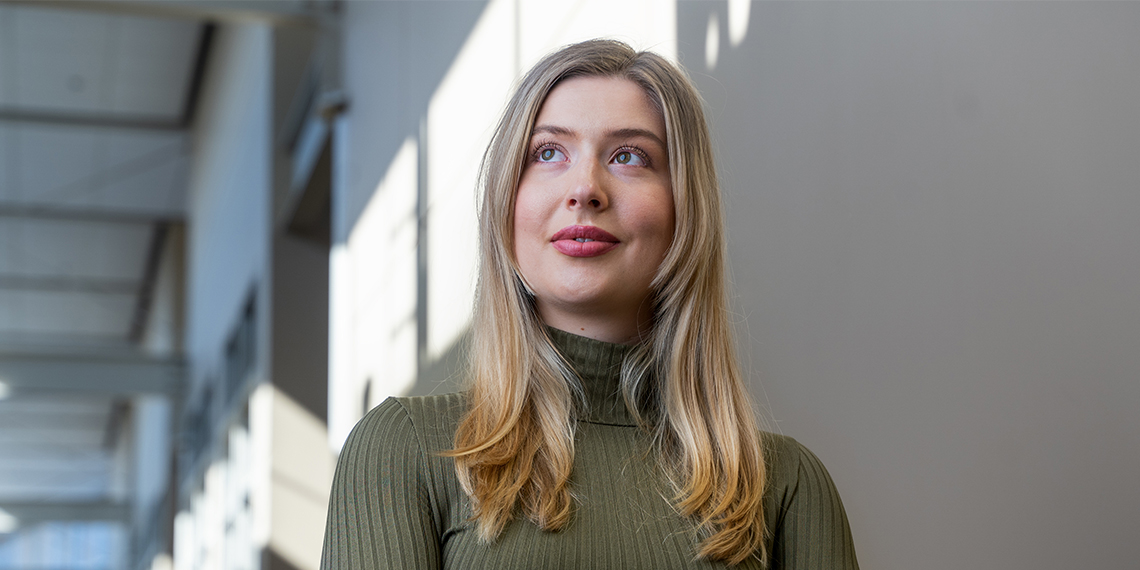 Melina Monlux ('21) knows exactly what it's like to be at the top of your game, while facing the lowest of lows.
A graduating senior studying biology and Spanish with a minor in chemistry, Monlux has culminated her college experience with extensive chemistry research, founding a club and finding herself.
Monlux always knew she'd be a Zag. Coming from Seattle, she grew up watching basketball games and wearing Zag gear. So, when the time came to choose, Gonzaga was a natural fit. What she didn't expect to find was an incredible support system in the form of faculty and staff.
"There is such a network here so you really get to know your professors and that has been super rewarding for me," she said. "I've been able to have some really intense structural support that I might not have had elsewhere. It's given me opportunities to do research at a very young age."
Monlux first started researching her sophomore year at GU. After weighing her options and talking with several faculty members, she settled on a chemistry lab alongside professor of chemistry and biochemistry and department chair Jennifer Niven Shepherd.
"Her project was just so fascinating," Monlux said. "She was doing work on parasites and microbial organisms and their anaerobic respiration chain, which is basically how these organisms survive in the human body without oxygen."
While chemistry was not one of her original interests, Shepherd's research had a clinical application for the medical field. The instant intrigue and the connection Monlux felt with Shepherd were enough to seal the deal.
"Dr. Shepherd is an outstanding human being," Monlux said. "She is one of the most driven individuals I've ever met in my life and I saw a lot of qualities in her that I both aspire to and also could relate to."
The same internal dedication that drove Monlux to early success in the lab actually caused her incredible stress both physically and mentally. For this reason she advises incoming students not to be so hard on themselves.
"I was a perfectionist to an absolute insane degree and it got me in some really unfortunate situations," she said. "I had anorexia for the last three years and I had to stop doing research because I had to seek treatment and do school while being in treatment for seven hours a day."
The rigorous treatment process tested Monlux, but she came out knowing so much more about herself and the way she wants to live her life.
"I learned so much through that process, about what is really important and how to value everything that you are in that exact moment and just to be mindful about the way we walk through life," she said. "I've learned that getting an 'A' in every single class does not define who I am and doesn't matter in the long run. Even though I have these goals in life, it's really important everyday to take a moment for yourself because if you can't do that, then what are you doing?"
Among research and studies, Monlux found time to do just that. In a move to follow her passions, she founded the club Students Empowering Women (SEW).
"For the past four years, I've felt a bit isolated as a woman," she said. "Not necessarily in any tangible sense but just the fact we are on a Catholic campus and a lot of times women's issues aren't labelled as women's issues and don't really get brought out into the open, if you want any kind of feminist framework you have to seek that out."
The club and this space helped Monlux create the university she wanted to see – one where she knows she can truly live through a feminist perspective. Members also started an after school mentorship program for local elementary schools that allows girls to ask the club any questions they might have related to being a woman.
"How to speak confidently and clearly in class, what to do when you feel like boys are bullying you – things like that where you might not feel like you want to go talk to your teacher. We want them to have a big sister figure."
There's no better place for advocacy than a college campus, Monlux said, and she doesn't know if she's ready to take it on in the real world but she's ready to try.
"I'm so passionate about it, and seeing other people become passionate about it alongside me has been really cool," she said.
Next year Monlux is moving to Nashville with the Jesuit Volunteer Corp. She will put her Spanish to good use while supporting a legal firm that helps migrant farm workers with legal claims against their employers.
"I'm really excited to work with the kinds of populations I'm passionate about helping and want to learn more about," she said.
Academics
Student Life
College of Arts & Sciences
Undergraduate Admissions
Biology
Chemistry
Spanish